Giving Thanks
13 creative ways to encourage gratefulness this Thanksgiving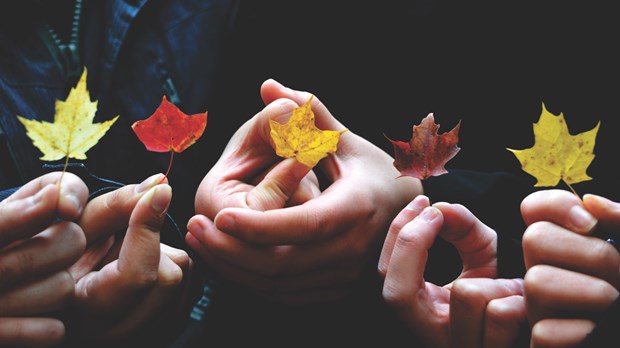 Image: PROVIDENCE DOUSET / UNSPLASH
Turkey Day! It's the name little ones often use to refer to Thanksgiving. And no wonder. From the moment we put that big bird in the oven till the last of the leftovers are gone, the focus of Thanksgiving is usually the food. But most of us would like to move "beyond the turkey" and teach our kids what it really means to be thankful.
This year, take advantage of the Thanksgiving season and use it as a chance to nurture a sense of real gratitude in your family. The Bible tells us to "give thanks to the Lord, for he is good" (Psalm 107:1) and to "enter his gates with thanksgiving" (Psalm 100:4). That attitude is often lost in our "I want more" culture, and encouraging thankfulness in children is no small task. But when children understand what it means to be grateful, they begin to develop an awareness of all that God has given them as well as a sense of real contentment. These ideas can help:
SHARE SOME HISTORY
Make your children aware of America's early history and the true background of Thanksgiving.
1. Read about it. Check out children's books that recount great stories for this season, like Squanto and the Miracle of Thanksgiving by Eric Metaxas (Tommy Nelson). Historically accurate accounts of the story of Pocahontas also give your children a better understanding of the circumstances surrounding Thanksgiving.
2. Go hunting. Plan a Pilgrim scavenger hunt. Give each participant a basket and a list of items the Pilgrims might have been familiar with. Then hide these objects throughout the house or the yard for your kids to find: dried corn, small pumpkins, pinecones, a toy boat, small Native American figures.
TELL A STORY
Children of all ages love stories. Take advantage of their natural interest by using stories to reinforce the importance of gratitude in our lives.
3. Act it out. Read the story of the ten lepers (Luke 17:11-19). Remind your children that Jesus was pleased with the one man who returned to give thanks for being healed. Provide rags for bandages and let your children play the roles of the lepers and Jesus.
4. Make some noise. Look up the story of the Israelites' celebration after the walls of Jerusalem were rebuilt (Nehemiah 12:27-46). Talk about the instruments they used and the two great choirs that marched atop the walls to the temple. Your kids will love the idea of the joyous, active "thanksgiving" that could be heard "far away" (Nehemiah 12:43b).
Put together a home-grown band using real or handmade instruments. Practice joyful praise songs and march around the "walls".
5. Think differently. Corrie ten Boom's book The Hiding Place (Bantam) teaches a great lesson in thankfulness. Share Corrie's story with your kids, pointing out her struggle to be "thankful in all things." She even thanked God for fleas in her barracks. She later learned that the fleas kept the guards away and allowed Corrie and others to study the Bible undisturbed.
6. Create a chain reaction. Let your children make a God is Good chain. Gather scissors, stickers, pencils, crayons, glue and construction paper. Cut the paper in strips and ask your kids to think about the many ways God is good. Have them write or draw these attributes on the strips, then connect them to form a chain and hang it in a place where it will remind your family of God's goodness.
FOCUS ON BLESSINGS
Choose a family project for November that will draw your focus to God's goodness.
7. Make a Blessing Basket. Place a pretty fall basket containing a pencil and pad of paper in an easy-to-reach location. Throughout the month, encourage family members to jot down ways God has blessed them. Younger children can draw or cut out pictures from magazines. Read these together and give God thanks each day or set aside some time on Thanksgiving Day.
8. Trim a Tree of Thanks. Draw and cut out a large paper tree with lots of loose leaves in autumn colors. Mount the tree in a prominent place and put the leaves nearby in a box with glue and markers. Ask your family to write things they are thankful for on the leaves, filling the tree by the end of the month. Have your kids consider the following question:
"If I could keep only the gifts I've thanked God for today, what would I have?" Ask younger children: "What do you want to thank God for today?" Encourage your family to add to the tree daily.
9. Host a Thank-You Contest. Make a colorful chart containing the names of family members. Talk about the importance of expressing gratitude to God and those around us. Throughout the month of November, every time a person is thanked, he or she can put a sticker beside the name of the family member who said thank you. At the end of the month, the biggest "thanksgiver" receives a small reward.
SERVE UP A MEMORY
Since you can't escape the food factor, bring an eternal perspective to the table. Consider adding these touches to the family feast:
10. Find your seat. Have the children make a placecard for each place setting. On one side, write names of guests and family; on the other, type a Scripture verse about being thankful. Let each person read a verse before the blessing.
11. Encourage sharing. Place a paper leaf at each place with an "assignment" written on it. Each person adds to the festivities by completing his or her assignment. Assignments might include:
Read Psalm 100.
Share a Thanksgiving memory (use this on several paper leaves).
Sing a Thanksgiving song (good for preschoolers).
Lead the group in a praise chorus (have copies of the lyrics available).
Say the blessing for our meal.
12. Count your blessings. Follow a tradition started by Focus on the Family's James Dobson. Place several kernels of corn at each plate. At the start of the meal, drop the kernels in a basket as you each give thanks for God's goodness in the previous year?one thanksgiving for each kernel. Candy corn works well for this, too!
13. Set the mood. Give an unlit votive candle to each person. Begin by lighting your own candle and thanking God for specific blessings. Then continue the process around the table until all the candles are lit, making sure to keep the flames away from small children. Lead your family in a candlelight service of thanksgiving.
Lettie Kirkpatrick is a freelance writer who lives in East Tennessee.
Read more articles that highlight writing by Christian women at ChristianityToday.com/Women
Giving Thanks
Read These Next