A Midlife Marriage
Tying the knot midway through life has its own set of challenges—and triumphs.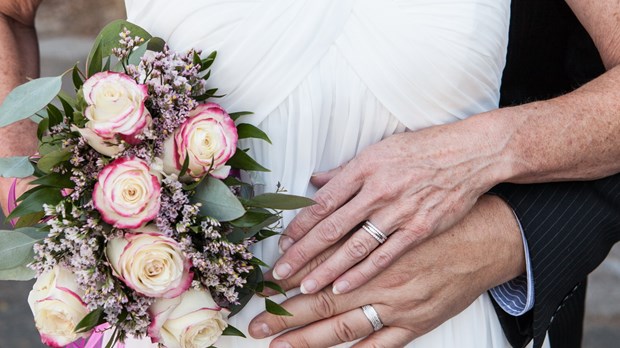 Image: LOA STUDIOS / SHUTTERSTOCK
Reaching out my hand, I showed off the sapphire engagement ring Dan had just given me.
"A bride?" one friend exclaimed. "At your age?"
I admit, to think of myself as a "bride" at age 50 was difficult. When I married my first husband, Larry, I was 23 and freshly graduated from college. I walked down the aisle clutching my father's arm and praying Larry and I would get enough wedding gifts to set up housekeeping. We were bursting with plans for a home and the eventual patter of tiny feet. Never did I imagine a rare genetic disease would strike Larry in his late 30s and take his life an agonizing 15 years later.
I'd known Dan for years; we were family friends. His first wife died of cancer when their twins were 12. So we were somewhat surprised to find ourselves smitten in our mature years.
But it really wasn't so strange. Brides over age 35 are a major part of today's marriage picture. Some put off marriage to pursue a career, or take longer to meet the right person. Others, such as me, outlive their spouse. Still others fall prey to rising divorce statistics. Whatever the reason, more and more couples are getting married older. And they're discovering that, with a little work, midlife marriage can bring some wonderful benefits.
Firm Financial Footing
Midlife couples are more likely to be financially secure than much younger newlyweds. While financial security and independence certainly don't guarantee marital success, they can lessen marital stress. And more discretionary money allows more freedom to enjoy special time together. After we'd been married almost a year, Dan went to England on business. Because of our greater financial security, I was able to go along and celebrate our first anniversary in London.
However, many couples—even the supposedly older and wiser ones—say "I do" without discussing their finances first. No wonder national statistics indicate 70 percent of divorcing couples blames arguments over finances as the primary cause of marriage failure. Whatever the financial circumstances, later-in-life partners may have developed vastly different ideas about spending and saving, or may have never before been accountable to anyone else for their spending habits. And if children from a previous marriage are involved, a whole gamut of financial issues and pressures arises from blending families.
"We who marry later in life have lived long enough to know the value of time together."
Bringing up the subject of money isn't rude. Couples need to talk through it thoroughly and openly, and continue talking until they fully understand each other's financial philosophy, present financial situation, and financial goals and fears.
A Flexible Back Bone
Like it or not, life is a lesson in dealing with the unexpected. Mature couples are apt to have faced experiences that honed them and made them better able to focus on the big picture and to overlook the little blips.
Of course, emotional maturity doesn't automatically come with age, nor does it necessarily result in mellowing. Some people become more set in their ways and less able to bend with change. Also, many who've always lived alone develop a strong sense of independence they've no intention of abandoning.
When 42-year-old Suzy, a never-married-and-proud-of-it corporate trainer, married Nick, the divorced father of two grown children, she informed him, "I'm planning to be on the road every other week. I've been on my own too long to start squeezing myself into anyone else's lifestyle." Nick said she should do what she needed to do. For two years, Suzy continued to travel regularly. Now, five years later and mostly at home, she says, "Marriage taught me I don't want to be alone as much as I thought. Our spare room is plenty far away for my alone-time."
Individual partners carry deeply engrained habits and long-held attitudes into later-in-life marriages. Dan's more of a perfectionist than I am (I'm resigned to his rearranging dishes the "right" way before I run the dishwasher; he ignores my stuffing bank receipts into my desk drawer instead of filing them neatly). He's generous; I'm frugal. He's a Democrat; I'm a Republican (though we've discovered a surprising amount of common ground).
Flexibility is a requisite for blending two distinct people into a cohesive couple. Flexibility requires sharing viewpoints gently and listening to each other attentively. It means praying together over sticky issues and working together to find where one or both spouses can bend in order to withstand the inevitable winds of trial.
Seasoned Sexuality
Another benefit to midlife marriage is that partners may already have become well informed and comfortable about their body. Many married-befores learned to relax and enjoy their partner, and to emphasize deep sharing and tender playfulness over immediate physical gratification. They have the confidence and the experience to understand how to nurture and reaffirm each other.
However, some also have struggled with sexual difficulties in a previous marriage, or have had to overcome emotional baggage from an unhealthy sexual past. They risk carrying negative issues into their marriage. Sessions with a competent, qualified Christian counselor can do wonders to help start the marriage on happier footing.
The good news about sex is that it's so much more about attitude and mindset than about physical aptitude. Even those without previous sexual experience, or those too intimidated to talk about their sexuality, can move beyond insecurities and fears to appreciate all God intended their marriage relationship to be.
Treasured Time
When I was a child, I never thought about the future. Then in my 20s, I busily laid plans that stretched on and on with no end in sight. Now in my 50s, I see life differently. I've struggled through unemployment, I've rebuilt my home after it burned to the ground, I've been my husband Larry's long-term caregiver, I've endured his death, and I've been a single parent.
We who marry later in life have lived long enough to know the value of time together. Whatever else they do, wise couples develop the intimacy of kindness. It doesn't sound all that profound, but it works. Studies show happy, stable couples are ones who treat each other with kindness and respect.
Cheryl was 39 and Jon 43 when they married, both for the first time. "We'd been married four years when Jon's mother told me he doesn't like Chinese food," Cheryl says. "I was shocked, because every couple weeks we had dinner at the Golden Dragon. When I asked Jon why, he said, 'Because you like Chinese food so much, and I enjoy seeing you enjoy yourself.'"
Like Jon and Cheryl, Dan and I've made it a priority to enjoy whatever time we have together as much as we can. When we married, we lugged a trunk-load of experiences along with us. Some were good, some were bad, some were just life. No, our marriage isn't perfect. Just yesterday we got into a silly argument. But this morning, Dan awakened me with a kiss and a cup of fresh, made-from-scratch hot cocoa—strong and dark, just how I like it. Then we sat and talked, declared our love for each other, and prayed together.
Our time together is too precious to waste. We're committed to living happily even after.
Kay Marshall Strom, the author of more than 30 books, including A Savvy Couple's Guide to Marrying After 35 (InterVarsity), lives with her husband in California. Visit her website: www.kaystrom.com.
Read more articles that highlight writing by Christian women at ChristianityToday.com/Women
A Midlife Marriage
Read These Next