A Roadmap for Your Marriage
Get your marriage to where you want it to go.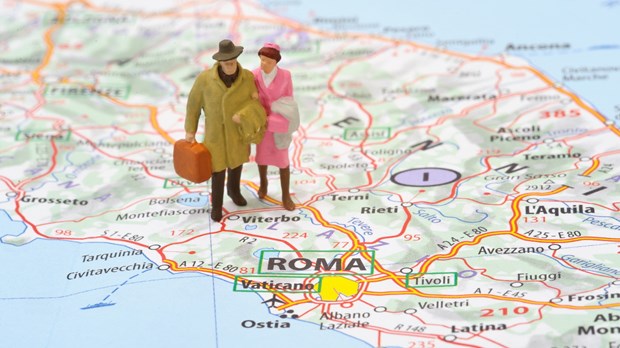 "That was our exit!" I pointed out to Les. "You should have turned."
"I thought we were supposed to stay on this road until we got to a light," he said.
It was dark and rainy, and we were desperately late for a dinner appointment at a Seattle restaurant. In exasperation, I pointed to a spot on the map. "Right here is where we're supposed to be." Les studied the map under the dome light. Then he started laughing.
"What's so funny?" I demanded.
"This is a map of Tacoma, not Seattle," he said, still laughing. I had to admit it was pretty funny, and our laughter was welcome relief from the anxiety and tension of being lost.
It helps to know where you're going, especially when it comes to marriage. "Let your eyes look straight ahead, fix your gaze directly before you," counsels King Solomon in Proverbs 4:25-26. "Make level paths for your feet and take only ways that are firm."
That's good advice whether you are trying to find your way through city streets or charting the course of your marriage. Of course, no matter how much planning you do, no marriage is exempt from a few missed turns. But you can do more than you think you can to successfully navigate the marriage journey and enjoy the comfort and confidence that comes in finding your way together.
The answer begins with having a purpose, a shared marital mission that helps you chart a course. Too many couples get lost because they forgot why they got married to begin with. They had lofty ideals, goals and dreams when they were entering marriage. But amid the hassles of life, they gradually lost sight of their target. They end up feeling frustrated and aimless, frittering away their married life.
We've experienced our share of matrimonial wandering. A couple of weekends ago, we were both frustrated and sulking because neither of us was getting our needs met. Leslie wanted some down time, a relaxing day with no demands. I wanted a productive work day to tackle a long-overdue household project. Here we were with a rare Saturday to ourselves, and we were pouting, whining and arguing because each of us was convinced our needs weren't going to be met. And we were probably right.
"Why are we doing this?" Leslie finally asked me. Her question took us back to the purpose statement we worked out for our marriage over the last few years. In quiet moments of contemplation, we had drafted this statement of shared purpose:
"Understanding that only God meets all our needs, we will love each other with empathy and try to model a healthy relationship to the young couples we mentor." That's part of our marital mission, and it reminds us that we can't expect the other always to meet our needs—only God can do that. This simple truth enabled us to set aside our bickering and salvage a weekend that was about to be ruined. Each of us put ourself in the other person's shoes, each of us made a minor compromise, and we stepped over our conflict.
Revisiting our mission statement reminds us of the reasons we got married, a reminder we all need from time to time. But if drafting a formal statement doesn't fit your style, there are countless other ways to keep your marriage's mission on your mind. We know one husband who carries a key chain attached to a small plaque that reads, "Love is a decision." It's a meaningful reminder that he chose his marriage. And that simple statement helps him cultivate his commitment to his wife.
We know of a woman who displays on her desk a copy of the prayer that was said at her wedding. Re-reading that prayer takes her back to the "mission" of her marriage. For some couples, the simple act of carrying a photo of each other keeps before them the reason they are married—to love sacrificially and to help each other grow in grace. Some couples repeat or revise their wedding vows every few years. Any time a significant change occurs—having children, changing jobs, any sudden turn in the road—you need to fix your eyes once again on your shared "mission."
Aristotle likened having a purpose statement to "archers aiming at a definite mark." When we do the same, according to the Greek philosopher, we are "more likely to attain what we want." And in keeping with Solomon's wisdom, we are also more likely to fix our gaze directly before us while making a level path for our feet. And our marriage.
Leslie Parrott, Ed.D., and Les Parrott III, Ph.D., are co-directors of the Center for Relationship Development at Seattle Pacific University.
Read more articles that highlight writing by Christian women at ChristianityToday.com/Women
A Roadmap for Your Marriage
Read These Next
Partners or Parents?

How to make sure the rigors of child-rearing pull you together rather than push you apart

Journey Through Passion Pursuit

More Than Great Sex

Whether you're single or married, your sexuality is inseparable from your spirituality.