Putting Sex on the To-Do List
Making love with my husband just wasn't one of my priorities.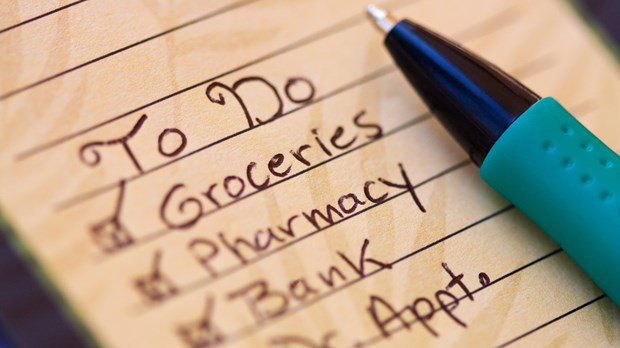 Image: MELINDA FAWVER / SHUTTERSTOCK.COM
I'd returned from running errands one afternoon when I walked into the house and saw my husband give me "The Look." The screen door banged behind me as my twin preschoolers ran over to me and wrapped themselves around each leg, squealing with delight. As I reached down to hug them, my husband gave me his signature shake of the head and said, "Hey, honey … " And I, as usual, rolled my eyes as I peeled the girls off my legs.
If your husband's anything like mine, you know what the "dot, dot, dot" means. Those little punctuation marks come at the most inconvenient times! I mean, come on, I'd just picked up the dry cleaning, bought his cousin a wedding gift, found new shoes for our twins, shopped for his favorite food for dinner that night. And now this—another chore. I was cranky and still had laundry to do. Not to mention I could hear my pillow calling in the distance.
But God had some lessons for me that night, and many more nights to follow. As I continued to shrug off my husband's sexual advances, tension continued to build. I grew colder, and he continually felt rejected. It was time to face the facts: I didn't want to have sex. I was too busy, too tired, and flat out didn't have the desire. I had two little people calling my name all day, wiping their noses on my pants, and vying for their turn on my lap. When the twins' bedtime arrived, I wanted personal space. Sex wasn't something I needed or wanted, so it wasn't high on my list of priorities. I was annoyed that sex always seemed to be something my husband wanted.
When we were first married, lovemaking wasn't a problem. In fact, it was a priority. We were so blissfully in love! How was it possible there would come a day I wouldn't desire my husband? Insert twin newborns, house upkeep, his graduate program, our church commitments, my home office, and somehow in all the mayhem I'd said "sayonara" to sex. But after I emerged from the haze of our new responsibilities, I remembered I had a spouse—not a roommate. The lovemaking that seemed so easy before had to be scheduled in, and what was romantic about that? It was hardly worth it to me.
We'd been married 8 years, and we could have 50 more to go! Something had to give.
I felt weird praying about sex, but I did. By God's grace, he reminded me of his words in Philippians 4:6, "Do not be anxious about anything, but in everything, by prayer and petition, with thanks-giving, present your requests to God." He didn't say "everything minus sex"—he said "everything." I forged on. My prayers included requests for increased desire and willingness on my part, but mostly for my husband to stop asking so much.
As I continued to pray daily for a solution to our "sex problem," I also talked to my close Christian girlfriends about the issue when we were at lunch together. Was I surprised! This taboo subject ignited a discussion in which everyone talked at once with hands flying. The "uh-huhs" of agreement were loud and clear!
Once we realized all we'd been doing was complaining, we switched into solution mode. "It's all about us being less selfish," my friend Patty Oropeza, who's been married 12 years, said. "We shouldn't wait for our husband to meet our needs before we focus on meeting his—someone has to start."
I nodded in agreement, but I also took a deep breath. I felt what I did all day was meet other people's needs. Whether it was caring for my children, working in ministry, or washing my husband's clothes, by the end of the day I wanted to be done need-meeting. I wanted my pillow and a magazine. But God prompted me: Are the "needs" you meet for your husband the needs he wants met? If our daughters weren't perfectly primped, he didn't complain. If the kitchen floor needed mopping, he didn't say a word. And if he didn't have any socks to wear, he simply threw them in the washer himself. I soon realized I regularly said "no" to the one thing he asked of me. I sure wasn't making myself available to my husband by militantly adhering to my plan for the day and my ever-trusty checklist. Would the world end if I didn't get my tires rotated? I'd been so focused on what I wanted to get done and what my children needed, I'd cut my hubby out of the picture.
As I sat deep in thought, twisting my napkin, Cynthia McCauley, wife of five years and mother of two, chimed in, "I don't think we'll ever understand men's need for sex. Men don't have to wait to be 'in the mood.' Women are much more finicky! We need to be more open to our husband, and make ourselves available."
Patty piped up again, "An easy way to start this process would be to look good for our husband regularly. We should stop wearing our flannels to bed, and start wearing lipstick more during the day. There's a limit, of course, but maybe if we focus a little more on the physical, it would help us personally."
So my typical fashion statement of a ponytail and sweatpants wasn't cutting it? I knew it wasn't, but it made getting ready in the morning a lot easier. Smiling, Cynthia said, "My mother-in-law had 12 different lipsticks in her purse at the same time to look her best for her husband. Why can't I be like that?"
We finished our lunch and were still idling at the table when I surprised myself and said, "We're in an important position as wives. We have the power to tear down or build up our husband by the things we say and do—or by the things we don't say and don't do. It's time for me to make some changes." I heard a few "amens" after I stepped off my soapbox. How had my constant rejection of my husband been affecting him? I grimaced. I'd been asking God to change my husband and his need for sex, when all this time I'd needed to change my attitude.
Shortly after this eye-opening chat with my friends, I talked with my pastor's wife, Janice Orate, who heads the women's ministry at our church. She'd admonished us during a women's Bible study to meet our husbands' physical needs with selfless love. Married for 20 years and the mom of three, Janice knew of what she spoke. "This subject is so important for women, yet we often don't discuss it," she'd told us. As Janice and I chatted, she reminded me that in Ephesians 5, the apostle Paul talks about the importance of putting our husband second only to God. And she warned that if a wife became too consumed with the lives of her children, there wouldn't be much of a marriage left after they grew up and moved away.
"Women think they can't pray about their sexual relationship with their husband, but they can!" Janice added. "So pray for God to give you strength after a long day. Even pray for increased desire—don't be embarrassed. God's given sex to married couples as a gift. He's ordained it." A gift? Not a chore. I continued to pray.
So all I had to do was wear silky pajamas, lose the ponytail, buy new lipstick (and actually wear it!), and check with my husband regularly to see if he wanted to have sex. Recipe for a happy marriage? Hardly. Something was still missing; I wasn't getting my needs met. I wanted him to acknowledge how hard I worked, how well I managed a household, mothered two children, kept my career going from home, served in ministry, and still managed to remember my mother's birthday. I wanted him to tell me how pretty I was and hold my hand. Me, me, me! But how could I expect this out of him after being the ice queen for months? I remembered what Patty said during lunch about how someone needs to take the initiative—so I took action. Someone had to start the cycle to get us back on track.
So one day, as I returned from grocery shopping and crossed the living room with bags in hand, I shot my husband "The Look." His eyes popped out as he said, "Are you looking at me?" I grinned and nodded as I ushered our girls in front of a video with a fresh pack of Smarties. Mommy explained a new activity to the twins called "Quiet Time." Without objection from the candy lovers, my husband and I escaped.
That day marked a turning point in our marriage. As I continued to make myself more available to my husband—even occasionally approaching him out of the blue—the cycle of needs being met began to flow. He started to take my hand as we walked our girls to the park. I found myself trying on new shades of lipstick. He bragged about my selfless efforts as a mother to our neighbors. With a much-needed attitude adjustment from God, I rediscovered emotional and physical intimacy with the man he gave me as a husband.
Now don't get me wrong, we haven't stocked up on Barry White CDs. And I haven't raided Victoria's Secret. But the impact of my husband and me reconnecting as lovers has improved our marriage in ways I didn't foresee. We're more patient, more gentle with each other; we're more apt to look for ways to ease each other's daily burdens. And, sure, I still need an attitude check from time to time. But now that I've given this area of my life over to God, he loves to nudge me towards the candy dish as my husband cues up a video for our girls. God's so good. Got Smarties?
Jill Eggleton Brett, a freelance writer, lives in California with her family.
Read more articles that highlight writing by Christian women at ChristianityToday.com/Women
Putting Sex on the To-Do List
Read These Next