The Prayers that Changed Husbands
When Tami Chelew got serious about talking to God about her mate, she couldn't believe what happened.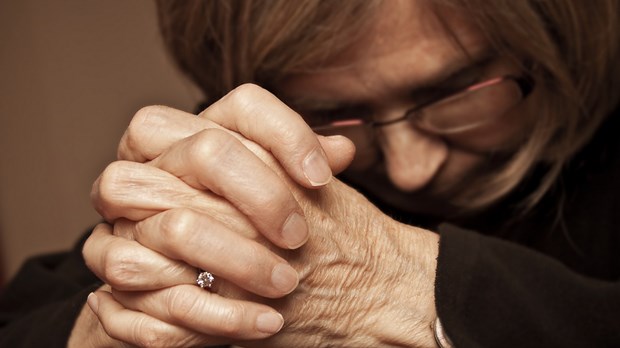 Lord, please change Dan," Tami Chelew prayed—not once but many times during her 12-year marriage. Tami admits she was afraid her husband was slipping away from God. His life was filled with stress as he worked fulltime, attended graduate school, and carried the full financial burden for their family.
Tami begged, argued, cajoled, cried, and flat out told Dan he should spend more time praying and studying his Bible—especially during that stressful season. She even strategically placed a Bible at the foot of their bed as a hint.
"I tried everything I could think of to get him to change," says Tami. "I played mother, counselor, spiritual advisor—even Holy Spirit," she adds, smiling and embarrassed as she recalls her controlling behavior.
Then one day after another episode in which she watched her husband choose again not to seek God's wisdom and help in a stressful situation, Tami became desperate—and fed up. She stretched out on her living room floor, face down, and prayed like she'd never prayed before.
"God," she cried. "Dan is yours. Please take charge of his life—because I can't do it any more."
Something wonderful happened in that moment. "I felt the burden of my husband's relationship with God release from my grip. I knew God would answer my request," Tami says. This was the "turning point" in her marriage that she'd wanted for so long.
As Tami lay on the floor, she felt God present her with an idea for how to handle her husband. Instead of pestering him about getting spiritually in sync with God, she could pray for him—really pray for him—and get together with other wives for a consistent and regular prayer time.
Tami wasn't sure how to make that happen, so she left it up to God—since it was his idea.
"Okay, Lord," she said, "if you bring the women, I'll do it."
The next day Tami received a call from her friend Cindy. Just before they ended their conversation, Cindy asked Tami if she'd like to get together to pray for their husbands.
"I nearly dropped the phone," says Tami. "I'd never seen God work so fast!"
That was the confirmation she needed to move forward. "We looked at our calendars," says Tami, "and chose Friday mornings as our time to pray together for our husbands."
Wives In Prayer was born that first meeting. Tami and Cindy made a commitment to get together each week. Soon their friend Caryn joined them and then other women were calling, eager to be part of this unique group of praying wives. That was 11 years ago—and Tami is still hosting Wives in Prayer meetings in her home.
"I've seen God take my prayers and those of like-minded women and answer them beyond anything we could have hoped for or imagined," she says, still amazed at how much has occurred by simply praying.
No longer does Tami put the Bible at the foot of their bed as a reminder. Dan's faith is flourishing. Each morning before leaving for work, Dan reads his Bible for direction, wisdom, and strength for his day. And Tami watches in awe from the sidelines!
Connecting to God
As Tami and her group of women continued to meet, word began to spread throughout the region, and even country, about their Wives in Prayer group.
So what exactly do these wives do?
Each meeting lasts one hour, and includes four elements:
1. Worship. The women open with three praise songs to help them focus on Christ and a specific attribute of his character, such as "Counselor."
2. Confession. They ask God to forgive them for any sin that would hinder them from having their prayers answered. The women realize God needs to work in their lives before he can be free to work in their husbands' lives.
3. Thanksgiving. They thank God for answered prayer and for what he continues to do in their husbands' lives.
4. Intercession. They pray Scripture for their husbands with a particular focus, such as growing strong in their faith.
"In John 15:7, Jesus tells us that if we remain in him and his words remain in us, we will receive what we ask for," says Tami. "Praying Scripture aligns our prayers with what God desires for our husbands and for our marriages. We insert our husband's name in the verse and pray it back to God. This makes our prayers more personal and powerful."
For example, using Jeremiah 29:11 as the basis for a prayer, Tami might say: "God, I pray that you would bless Dan and prosper him. I thank you that the plans you have for my husband are for good, not for evil, to give him hope and a future."
Finally, the women pray in their own words for a specific need for their husbands. These requests stay within the group. They might include prayers for safety while traveling, guidance and help in meeting a deadline at work, or strength and wisdom for decisions regarding aging parents.
Why not just pray on your own? "This group is really about experiencing the power of agreement prayer, which Jesus talks about in Matthew 18:20 when he says, 'Where two or three come together in my name, there am I with them,'" says Tami. "A woman isn't praying for her husband on her own, but in a group with other like-minded wives."
Amazing Answers
"It's exciting to see how marriages have been changed when wives pray," Tami says. "One woman's husband had been diagnosed with cancer. As a result it appeared they'd not be able to have children. We prayed the Scripture prayers for him, specifically that God would heal his body and bless him and his wife with the ability to conceive. At the end of the year, his cancer was in remission and she was pregnant."
Tami shares about another praying wife whose husband was belligerent, emotionally unstable, and verbally and mentally abusive to her and their children. "Their children asked their mother to leave because life in their home was so miserable," says Tami. "She wanted to leave, but felt God asking her to stay. Last fall she began a prayer group in her office." Since these women have been praying together, she's seen real change in her husband—his emotions are more stable, he's nicer to be around, and is now open to Christian counseling. She even admitted she's falling in love with him all over again. They recently celebrated their twentieth anniversary.
Yet Tami is quick to point out that even if the husband remained a jerk, the prayer group still "works." All stories won't necessarily have these happily-ever-after endings. But God still does amazing things in the lives of these women. "God always answers our prayers, just maybe not the way we imagine or expect."
Tami's been delighted to see how God has answered her prayers for her husband. But she's been surprised to discover her prayers have also yielded some unexpected rewards: Dan has also become an intercessor.
"He's much more interested in prayer," says Tami. "We pray together before our day begins. He prays with our daughters before they go to school. We pray before we go to church. We pray at night before we go to bed, thanking God for the day.
"God has blessed our family financially, spiritually, and relationally in more ways than I can count. I know God desires to answer our prayers!"
Ultimately, prayer is your best protection. Going through marriage without prayer is like walking a high wire without a safety net. Always remember that prayer succeeds when all else fails.
Husbands Who Pray
"I always wanted to have deep, lasting friendships with men," says Harold*, regarding the men's prayer group he formed three years ago in Laguna Beach, California. Through business and church he met three other men who expressed the same desire. The four of them decided to meet once a week with two goals in mind: praying for their wives and families, and praying for God's grace and guidance in their business affairs. Today, the group is so important to each man, no one misses a meeting except for an emergency. They'll even rearrange their business appointments, if necessary.
"We meet every Friday at a local coffee shop for an hour and a half," says Harold, "spending the first 30 to 40 minutes eating, sharing concerns, and writing down each other's requests in our prayer journals. After breakfast we pray for one another."
James 5:16 has become their guiding verse: "Confess your sins to each other and pray for each other so that you may be healed."
In addition to the weekly meeting, they get together once a month for four hours of "listening" prayer. At that time the men take turns sharing a prayer request. The others jot down the need. Then all are silent, as they listen for the promptings of the Holy Spirit for each individual. They write in their journals whatever comes to them. It might be a word of encouragement, a Scripture verse, or an image, but no advice! Then they pray aloud for each man.
From Sharing to Confessing
Harold says it's been powerful to see the changes the Holy Spirit has brought about. "The first year we stuck to safe topics," he says. "You know how guys are. It's difficult for us to open up." But in the several years that have followed, no topic is out of bounds. The men confess to one another sins of lust, judgment, pride, fear, anger.
"We talk freely about our marriages," says Harold. "We're committed to praying for our wives and supporting their growth."
They do so in a practical way, as well. Every six weeks the couples meet together for dinner. This is a wonderful opportunity for each man to become acquainted with the other men's wives—the ones they've been praying for.
Paul's wife, Patsy, has struggled with a negative attitude that's affected their marriage for 42 years. As he became vulnerable to the other men about this problem, Paul realized he needed to look at himself, as well. "I began to ask myself, How am I contributing to the atmosphere and what can I do to change?" he says. God prompted him through prayer and the other men's insight to be more attentive to Patsy instead of keeping his distance.
"When she's making dinner, for example, I usually sit in the other room and wait till she calls me to the table. Then I realized she might appreciate some help since she works all day, too. I could also hang out in the kitchen with her and talk, you know, share something of my day."
After six months of concerted prayer and changes in his behavior toward Patsy, Paul recently reported to the men that she'd written him a note saying she wanted them to be more "joyful and playful with each other." Paul was ecstatic. It's brought new life to their marriage.
Everything Changes
Leonard's wife has had muscular dystrophy for 18 years of their 25-year marriage. Louann functions pretty well, but to do so requires diligent daily exercise and physical therapy. Leonard asked prayer for a shift in her focus—away from others to herself so there's enough time in her day to stick to the routine that will increase her strength and energy. "It's easy for her to become discouraged about her illness," says Leonard. "But I'm part of the problem, too. I need to be more sensitive to her needs, and anticipate how I can be helpful. My work schedule has changed, and that's been difficult for her, too."
Leonard says that within weeks of focused prayer he saw a profound change in Louann's outlook. She enrolled in a therapy program for people with her condition, and she's making time for morning walks with friends. When she left on a trip recently, she hugged him good-bye and spoke words of encouragement about his new job.
Sam's wife is introverted. She doesn't make friends easily and has few interests outside their home. This has been a burden for Sam. He feels that he's her only outlet. The first time the couples met for dinner, for example, she remained quiet and disengaged. The men continued to pray for her weekly. Six weeks later when they met again she smiled and talked throughout the evening!
Harold's prayer for his wife is that she find more joy in life. "She is a responsible, organized person," he says, "to an extreme." Then he adds playfully, "My daughter and I have a silent pact to get Rita to laugh at least once a day. If she smiles or laughs more often, it's a bonus."
God has answered the men's prayers for Harold's wife, too. He recently received a card in the mail from Rita with a picture of a little girl laughing. The accompanying note said: "You're the only one who can make me laugh."
"I treasure that card," he says, choking up at this meaningful gesture.
The most important relationship in the life of each of these men—after Jesus Christ—is his wife. He knows he can expect miracles if he'll confess his sins to his friends and pray for one another. Then not only will he be healed, but so will his wife—and each wife for whom he prays.
* names have been changed
Karen O'Connor, author of Addicted to Shopping (Harvest House Publishers), lives with her husband in California. You can reach Karen at KarenOConnor.com.
Copyright © 2005 by the author or Christianity Today/Marriage Partnership magazine.
Read more articles that highlight writing by Christian women at ChristianityToday.com/Women
The Prayers that Changed Husbands
Read These Next
My Husband's Secret Life

For 13 years of our marriage, John practiced a gay lifestyle. How could I ever trust or love him again?