Look Again!
Old habits keep us from truly seeing and hearing God.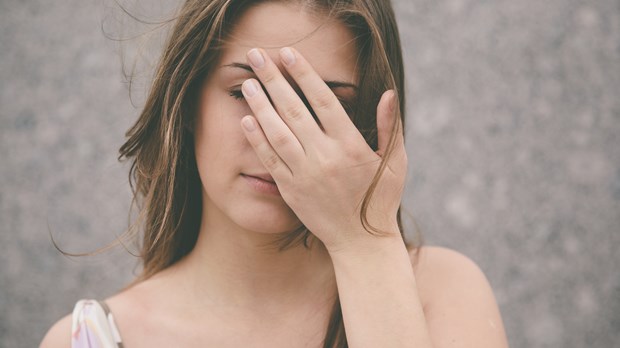 Do you ever wonder why some things are invisible to us? I can walk down a street and look right through people. Not until they say my name do I actually see them.
Or a child can stand in front of the refrigerator and ask, "Where's the salsa?" And we have to hand it to him—when it was right in front of his nose the whole time.
I also miss hearing things. I tell my husband, "You didn't tell me!"
He replies, "Oh, but I did."
It's an irony, I suppose, but even the sighted and hearing can be blind and deaf.
This irony runs deeply through the pages of Scripture. I recently stumbled on a passage that framed this all too well: "Hear, you deaf; look, you blind, and see! … You have seen many things, but have paid no attention; your ears are open, but you hear nothing" (Isaiah 42:18, 20, italics added).
Awake to God
God puts a premium on the simple disciplines of seeing and hearing. These two qualities—a seeing eye, a hearing ear—represent a heart awake to God.
Moses learned to pay attention and so heard from God. One day while herding sheep in the wilderness of Midian, he . It seemed to be on fire, but it wasn't burning up. The desert is a strange place—the shimmering heat, light, solitude—it can all play tricks on you. Mirages happen. Moses could have thought, Why bother? It's just a trick of the eye. But Moses turned his mind from the sheep and said, "I will go over and see this strange sight—why the bush does not burn up" (Exodus 3:3).
This single act of paying attention to something in nature—a burning bush—changed his life. "When the LORD saw that he had gone over to look, God called to him from within the bush" (Exodus 3:4). God wasn't concerned about the fact that the last 40 years of Moses' résumé read like a parking lot attendant. God was looking for someone who was present enough to see and hear. When God called, "Moses. Moses," Moses paid attention and said, "Here I am."
That, "Here I am" landed Moses on holy ground. When we are present even to a burning bush, we might find we've landed on holy ground. The discipline of seeing and hearing isn't some esoteric expertise you learn in graduate school. It isn't a gift doled out only to the beautiful or resolute. It's something available to us all. Seeing and hearing are gifts available for those who are present. "Listen, listen to me and eat what is good, and your soul will delight in the richest of fare. Give ear and come to me; hear me, that your soul may live" (Isaiah 55:2-3).
Jesus echoed this same concern when he said, "He who has ears to hear, let him hear" (Mark 4:9).
It's not enough just to have eyes and ears. We need to learn how to hear and see one another as well as God. The world isn't short of revelation or even myriads of transcendences. But we have habits that sabotage these two basic senses.
1. We don't expect to hear or see anything. We've been there; done that. It's all same old same old. We're just having coffee with a friend. We're going to church again. We aren't expecting divine messages. We aren't expecting to see into anyone's soul.
Expectations often determine what we see and hear. Jesus couldn't do miracles in his hometown because his neighbors couldn't see him as anything but the kid down the block. C. S. Lewis says, "God is walking this world incognito. The question is whether or not we are awake and expecting God to show up."
2. We multitask. I like that I can multitask. But I keep reading that people who multitask aren't really present to others. I became aware of this one day as I was talking on the phone and typing on my lap top at the same time. The caller started to cry and I couldn't figure out what I'd missed. Pulled up short, I knew I had to change. Now when the phone rings I put my hand on the receiver and pray, "Lord, help me be present."
3. We're focused on outside noise and interference and/or internal noise and interference. Are you ever so preoccupied with what's going down around you that you can't focus on anything else? The internal stress is more real than the children asking for a ride to a friend's house, or a husband wanting an amorous moment. But outside interference gets me too. I can be so obsessed with having clean counters that I can't hear the guest in my kitchen. I'm learning to monitor my internal and external noise. What am I listening to? Am I simply replaying a worry tape? I don't want to miss out on loving others. But I can't do it when I'm preoccupied.
4. We hurry into our future so fast we fail to live in the present. In fact, the present is just a crack between the past and the future. No one can meet God or a friend in the future. The only time you have for relationship is the present moment. Slow down. Say, "no." Live the life you've been given.
5. We're addicted to critiquing and setting people straight. When we're more interested in what we have to say, when we'd rather prove someone wrong than prove them a brother or sister, we miss things. We harden ourselves to the possibility of God speaking to us through them. But God delights to speak through whomever he chooses.
GOD CALLS YOU by name just as he called Moses or Samuel or Martha. Are you present? Do you think that kind of calling doesn't happen these days? Are you tuned in or out? What expectations are running your life? Can you imagine the God who dreamed you up before the morning stars sang together still has things to reveal to you?
One evening Jacob passed a night in a "certain place" between Beersheba and Haran. In the morning he said, "Surely the LORD is in this place, and I was not aware of it …. How awesome is this place! This is none other than the house of God; this is the gate of heaven" (Genesis 28:16-17).
The "gate of heaven" is at hand. Are you looking? God has come looking for you. And he has set people, places, even the strange and unusual in your life so you can know him.
Paul writes in Ephesians 1:18-19: "I pray … that the eyes of your heart may be enlightened in order that you may know the hope to which he has called you, the riches of his glorious inheritance in the saints, and his incomparably great power for us who believe." To that I say, Amen.
Read more articles that highlight writing by Christian women at ChristianityToday.com/Women
Look Again!
Read These Next