When Friendships Go too Far
Guarding against emotional affairs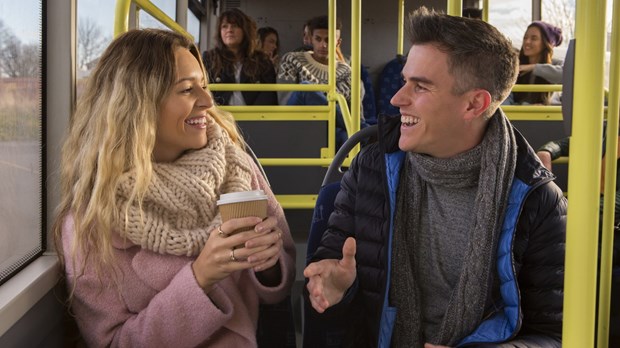 Image: DGLIMAGES / SHUTTERSTOCK
Overnight, I went from a career-oriented woman in love with my husband to a woman who felt like a single stay-at-home mom—even though I was still married. My husband not only worked 55 hours a week, but he was also in school. Often I wouldn't see him until 10:30 at night.
This left me with all the responsibilities of running our home and parenting our children. While it may not seem like a big deal, Chris' absence seemed to drive me over the edge as I experienced a whole new definition of lonely. Then, as if the enemy enjoyed playing with me, an old friend from the B.C. days (before I came to Christ) resurfaced. This friend, whom I will call John Doe, was engaged to be married and had just returned from serving in Afghanistan. (We had lost touch after I gave my life to Christ.) The conversations started innocently enough, from catching up to reminiscing about the old days.
The Dangers of Friending the Opposite Sex
Soon I was talking to John more than my husband. We exchanged text messages, phone calls, and emails until one day he wanted more than I ever expected him to ask of me. Shattered by the reality of this emotional affair, I knew it was best to tell my husband.
Though I hadn't physically cheated, the fact that I had a deep emotional connection with this other man was more than my husband could bear. He felt John knew more about me than he did. I had clearly made the right choice to cut off all contact with John, but I still reaped the consequences of my actions. The relationship left a relentless void in my heart. I was more isolated, ashamed, and lonely than ever.
It wasn't until I heard God's voice at a women's retreat that I understood why that void was there (and why Satan had been able to play me like a fiddle). My heart had been aching for so long from loneliness and insecurity that had I stopped hearing God's voice. Unknowingly, I had begun to look for something more tangible to fill it.
Sitting alone in my seat at the retreat, I knew God was ready to scoop me back into his arms. He spoke, "I'll take these chains, this bondage, and ransom for you. Abandon your heart, your desires, and let me come to you. I am moving. You may not see me, but I am conquering in the Spirit. I'm still right here where I always was. You, Heather, must return to me for me to heal you. My heart is breaking for you as you go through this, but there is so much glory, honor, and victory once you arrive on the other side."
I was in complete awe of how God's words were romancing my heart. That void in my heart was gone; it was full of him. I continued to sit, humbled by his presence and his words to me.
God Will Be Your Husband
One of the most fascinating word images God has used to reveal himself is ish—meaning "husband." This name for God is found, for example, when God describes himself as Israel's husband in Hosea 2:16, 19-20 and in Isaiah 54:5-8. God wants us to look to him first and fill our needs with his time and his Word. Though in our eyes, a marriage is considered a promise between two people, it takes three to make it work. The third person is God.
"I will be your Ish. I will give you the intimacy you crave, the romance you long for. For I created you, and only the Master can make you complete. I gave you the longing for attention because I want to fulfill it. I want to love you more than any man can here on this earth. I know the depths of your heart, the longing in your soul, and the need to be completely loved. Only I can love and cherish you in a way that is inexhaustible. I want to pursue your heart, to prize it. All others will forsake you, yes, even the man I placed by your side will not love you as much as I will. Just remember that I created you. I alone am completely captivated by the depth of your beauty, every heartbeat, every thought, and every breath you take. Even the scars you bear. I love you so deeply and know you so intimately that there is no end of me and no beginning of you. Even when you wander, I will be here waiting, ready to embrace you."
Imagine the God of the universe telling you that he loves you and is captivated by you. God wants to fill the emptiness in our hearts that no one else can fill.
God changed my marriage when he showed me the deep love he has for me, regardless of my mistakes. I am so humbled at his mercy. God wants to make it perfectly clear to us that we are never alone. His presence is ever with us, his words ever ready to speak to our hearts. He fills the lonely places in our hearts.
How to Protect Your Marriage
After I broke all communication with John and turned to God with my loneliness, I examined my actions and took steps to protect my marriage. Here are a few things I learned, which may benefit your marriage as well.
Five-Minute Rule
When I see male friends or acquaintances, I do not spend more than five minutes talking to them in public unless my husband is with me. Even if I run into my friend at Wal-mart, I limit communication. Just because my friend may be a godly man, doesn't mean he isn't prone to temptation.
If you work outside the home, keep your relationships professional. Do not go on lunch dates alone with the opposite sex unless it cannot be avoided.
Passwords
My husband and I hold each other accountable with our mobile phones, emails, social networking, and all other forms of communication. We give each other full and direct access to our accounts. We know each other's passwords and other account information. This helps us build trust and keep conversations limited, since we know our spouse can check anytime.
When not in use, leave the computer and mobile phones in the family room or the busiest room in your home.
Sharpen Your Tools
Attend a marriage retreat, such as "Weekend to Remember" getaways, sponsored by Family Life.
Go on dates as a couple. Put your phones away and don't talk about your kids. Focus on each other. If you can't find a sitter or funds are limited, go on a mini-date; put the kids to bed early and retreat to your bedroom. The important thing is to have "face time" to continue to build your connection.
Walk the Walk and Talk the Talk
Safeguard and strengthen your marriage by communicating. Tell each other your thoughts, needs, and fears. Demonstrate what a healthy marriage looks like in front of your children. This step alone will help protect your marriage because you want the best for your children, and this means being your best for your marriage.
Pick up a good marriage book. Try Love and Respect by Dr. Emerson Eggerichs or The Love Dare by Stephen Kendrick and Alex Kendrick.
Go to God
In my book Mama Needs a Time-Out, I share 22 names of God and how they apply to motherhood and marriage. Remember, one of those names is Ish. When you are feeling lonely, go to God; he has promised to fill that void.
Pray daily for protection of your marriage. Ask God to reveal your weaknesses, then take the appropriate steps to safeguard your marriage. If you are unsure how to pray, pick up one of my favorite books, The Power of a Praying Wife by Stormie Omartian.
Heather Riggleman is an over-caffeinated mom to three kids and is still married to her high school sweetheart. She is a founder of Her View From Home. With her new book, Mama Needs A Time-Out, she has become a favorite speaker all across Nebraska, where she lives.
Read more articles that highlight writing by Christian women at ChristianityToday.com/Women
When Friendships Go too Far
Read These Next