Romance Doesn't Have to Be Expensive
How to build intimacy in ways money can't buy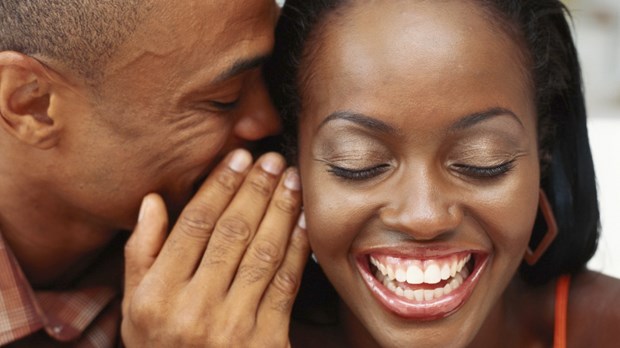 Unfailing love and truth have met together. Righteousness and peace have kissed! (Psalm 85:10).
"I'd rather be with you than anyone," my husband said as we walked hand-in-hand down Ocean Avenue in Carmel, California, one sunny afternoon, visiting one art gallery after another. By the time we returned to our car, we had spent $20,000—in our imaginations. We'd enjoyed hours of fun and culture without once pulling out our credit cards. For 30 years, gallery hopping has been one of our favorite romantic pastimes.
But we also find romance in unlikely places. I remember one late afternoon following many hours raking pine needles and pulling weeds in the yard of our cozy weekend cabin. I hobbled into the house—exhausted. All I wanted was a warm tub and a bowl of hot soup!
Charles stayed behind to put away the gardening tools. I settled into the soapy water, took a deep breath, and relaxed for the first time that day. But not for long.
A hard rap on the bathroom window captured my attention. I ran my hand over the steamy windowpane and looked out. There stood Charles smiling at me, his face smudged, his eyes bright. He pulled off his cap and wiped the beads of perspiration that poured down his face.
"What's up?" I called.
"Not much," he answered. "I miss you, that's all. The sun's almost down," he added gently, pointing toward the mountains, "and I want you here beside me as the day ends."
A little shiver ran down my spine. Here was a gesture so simple, a gift so lovely, it took my breath away—and brought me down to where I ought to be. I suddenly had a fresh vision of Jesus in my husband's words and in his face. I realized I was being a Martha when it was clearly time to be a Mary. We had each other. We had the Lord. We had this day. We didn't need to go anywhere or spend any money to enjoy each other.
I grabbed a towel, slipped into my bathrobe, and dashed out back—just in time to enjoy the simple pleasure of watching, arm in arm with my husband, the golden sun slip behind the hills. There we stood, he in grubby overalls and I in a ratty bathrobe—feeling more romantic than we had since our honeymoon! And it didn't cost a thing. No time since has meant as much to me.
This experience got me thinking about other ways to add a touch of romance to my marriage without spending money. Eating a meal on our front porch together while watching the birds, enjoying our flowerbed, and spending a few minutes in prayer; making a date for a movie and popcorn at home in our bathrobes and slippers. It's easy to slip into bed when the movie ends—especially if it's a romantic film!
Then I wondered if other couples have their intimate ways of romancing each other on a budget. I decided to find out by asking some of my close friends to share what they do. Here are their unique responses.
Reminiscing through the Years
Kathi and Al were born and grew up in the same town in Southern California, just a few blocks from one another. "Even our siblings were friends during our childhood," said Kathi. "Because our 'sweetheart relationship' began when we were in our early teens, we have a lot of fond memories of those youthful days—and quite a few pictures and souvenirs too."
To spark the romance they've shared all these years, Kathi and Al set aside time to go through their albums together and reminisce. "Much of the time we find ourselves marveling that so many years have flown by. Some of our grandchildren are now the age we were then. Other times we relate to what my grandmother used to say in her eighties: 'Inside I'm still 16.' We've decided the best part about our long history together," added Kathi, "is that we will always be 16 to each other."
Making Time for One Another
Susanne said she and her husband, Lee, like to take walks and short trips where they stay clear of work projects and "just enjoy simple things. What brings us closest together is when we sit and talk about where we are, how we feel, what God is doing in our lives, and try to really hear each other and understand the other's heart. There seems to be so little time to do this, so we make the time."
Laughing Together
Laura and her husband, Brendan, love being playful with each other. "I get a kick out of rhyming words at random," said Laura. "For example, one of us might say:
'I really enjoyed that slice of bread.'
'Well don't let it go to your head,' counters the other.
'Let's talk about something instead.'
'Sure, like the book I just read?'
"Pretty soon we get into a fit of laughter. We give up the game when we're out of ideas and can't create anything new. I love how our silliness lightens our mood and draws us closer. We share this special connection with lots of hugs and kisses too. Money can't buy that!"
Strolling the Beach
"My husband, Don, and I love to walk our dog, Kelly, on the beach and then watch her race through the surf," said Carol. "Other times we sit and read or talk. The serenity of the surroundings and getting away from our day-to-day environment allows us to relax together and just be. Those times really help us reconnect." And they don't cost a dime.
Deepening Intimacy
Loyd and Sherry walk among the redwoods near their home and watch the sunset at the beach. "These outings remind us that life is a lot bigger than we are," said Sherry. "When the sun goes down we can trust it will rise again tomorrow."
She also enjoys watching her quiet husband transform into a 'chatterbox' when they go for a motorcycle ride. "I've learned so many things about him through my helmet intercom," she said, "things he might not have shared in some other setting."
But spending a whole day together in bed is at the top of their list of romantic things to do that money can't buy. "This experience has been a real high point in our relationship," said Sherry. They don't indulge in it often (maybe once every 10 years or so in their 37-year marriage) because it's just so hard to pull off when raising kids and running a business, "but in those rare, luminous days," Sherry added wistfully, "we have grown deeply in our intimacy. Focusing on nothing but each other for a full 24 hours takes us places we never knew existed. We've learned so much more about each other mentally, physically, and spiritually on those occasions." Over the years Loyd and Sherry remember and talk about some of those sweet and intimate details shared "when we spent one of those glorious days together in bed."
Sharing Special Places
Keith and Rayann unwind and reconnect by sitting together and talking—but not about life's pressures, problems or priorities. Those topics are for another day. The cozy times "draw us together physically, emotionally, and mentally, which encourage further intimacy," said Rayann. "It's funny how 'romance' comes naturally when you're on the same page—and couch!"
Growing up on the Gulf Coast, the couple learned to enjoy the water, so during their 27 years of marriage, they've collected a few 'secret spots' where they share quiet time. "We hold hands and walk the bridge over the back bay, we snuggle on a quilt at one lake and watch the geese, we sit close in the car at another lake and watch the boats come in and out, or we take a picnic to the park and ride our bikes along the beach. We take in the view and bond with each other, and sometimes, 'romance' follows us home. Wink, wink!"
Other people offered one-liners about how they find romance in ways money can't buy. Here are a few:
A picnic at sunset in the park and then a moonlit walk.
A date in the hot tub without kids and pets.
A ride on a bicycle built for two.
Never let a lack of money keep you from romancing your spouse! Invest in your marriage for a lifetime by saying "I love you" in unique and romantic ways that money can't buy.
Karen O'Connor is a retreat speaker, award-winning author, and writing mentor from Watsonville, California. Visit Karen's web site: www.karenoconnor.com.
Read more articles that highlight writing by Christian women at ChristianityToday.com/Women
Romance Doesn't Have to Be Expensive
Read These Next