John 16:33
In this life we will have trouble, but Christ has overcome the world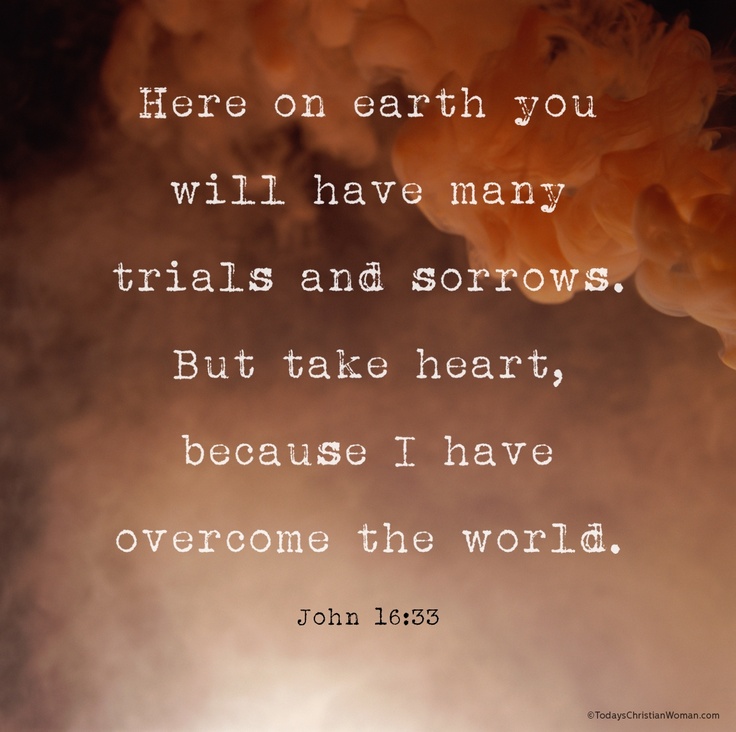 When I'm running a marathon, I keep reminding myself that pain is a totally natural and expected part of the race. I don't give up at the first twinge, or even at severe pain. I battle through it. I have to put up with some pain if I want to finish the race. As Christians we forget that Jesus' words, "Here on earth you will have many trials and sorrows. But take heart, because I have overcome the world" (John 16:33). But too many Christians forget the eternal importance of our race—which includes our relationships.
Pain can't be the focus of your race.
When some couples hit bumps or pain, they split up, citing "irreconcilable differences" as the cause. What they're really saying is that they encountered a bit of pain and just gave up! If you never learn how to put up with pain, every relationship you enter into will head down the same path. Pain isn't the end—it's a sign that something needs to be done. In fact, the presence of pain can be a turning point to better things, if you let it.
In a marathon, if I keep thinking about how painful it is, there's a big temptation to give up. So I try to focus on more pleasant things—the scenery, the joy of running, the anticipation of finishing, other runners (especially those dressed in silly outfits), anything to divert my attention from the pain. It's amazing how often the pain is actually more mental than physical.
The same is true in marriage. Instead of focusing on the annoying habit, such as a spouse's snoring or struggle keeping the checkbook balanced, focus on your partner's great sense of humor or his willingness always to switch off the lights, or any of a hundred other endearing qualities. It's amazing how trivial the irritations become when we remove them from the center of our thoughts.
Adapted from TCW article "Training for the Long Haul" by Billy Milton.
Read These Next
Ezekiel 36:26

My husband and I have both learned God can take a heart of stone and make it flesh