God's Marriage Counseling
Our marriage thrives on the right advice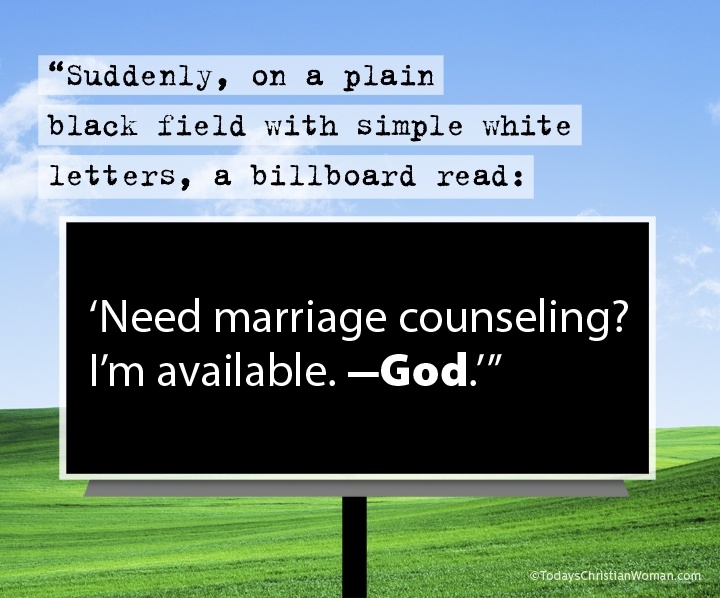 Driving through Bakersfield on our way home from Thanksgiving, I read billboards to stay awake. They came one after another, then another. Suddenly, on a plain black field with simple white letters, one read: "Need marriage counseling? I'm available. -God."
I laughed out loud.
Loyd, asleep in the passenger seat, roused. "What's so funny?" He rubbed his eyes.
I told him about the billboard and he chuckled too, then settled back down to sleep as I drove on.
Married 35 years, we both know we've stayed together because God has always been available with strong, straightforward marriage counsel. We were both tickled to see this truth stated so bluntly.
From the beginning, Loyd and I committed to making our marriage work. We had read in , " 'I hate divorce!' says the LORD, the God of Israel." And we learned in that if we loved God, we would obey him. We believed divorce wasn't an option, but we still used the word to threaten and hurt each other until our seven-year-itch. In an argument that year, when Loyd dropped the "D" word, I looked him straight in the eye and asked, "Are you really ever going to leave me?"
"No." He scowled.
"Well, I'm not going to leave you either, so how about we start being nice to each other?"
From that moment on, we chose to never go there again. Our minds changed and the word quit passing our lips. Divorce truly was not an option for us, so we quit pretending it was. Now that even acting as if we were going to walk away wasn't an alternative, we knew we had to face our problems head-on, work out what we could, and exert ourselves to accept what we couldn't resolve.
At that point, God counseled us one-on-one as he worked to help each of us transform from the inside out.
Excerpted from TCW article "God's Perfect Marriage Counseling" by Sherry Van Zante.
Read These Next
John 16:33

In this life we will have trouble, but Christ has overcome the world