Surviving Marriage's Winters
With prayerful work and a new perspective, we saw spring come again.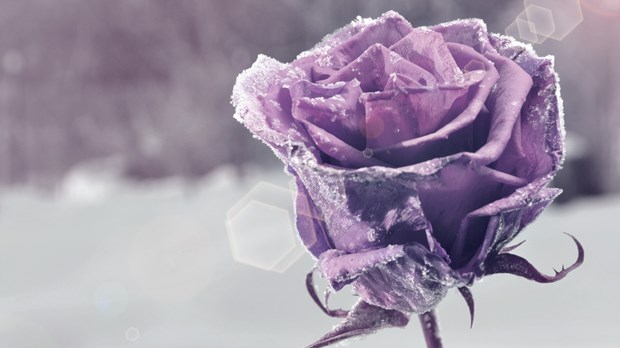 Image: MARTIN CAPEK / SHUTTERSTOCK.COM
I'm mesmerized by spring. Flowers I thought were crushed and lifeless under the weight of months of snow come back to life. I'm most fascinated by crocuses, the earliest-blooming flowers. Their stems push through inches of frost and ice, braving the cold to broadcast their dedication and beauty. The first glimpse of green despite the freezing surroundings makes me stop in my tracks and admire something I forgot even existed.
I'm beginning to see how similar my marriage is to that delicate crocus. Like most relationships, my husband and I couldn't get enough of each other when we were dating. We stayed up much too late talking on the phone and spent the majority of our free time together. Our relationship went to an even deeper level after we got married. We laughed way too much. Had food fights. Shared our hearts and dreams. But then something happened.
Last winter, as the snow fell and life became barren, our marriage followed suit. I can't pinpoint what changed. Perhaps it came from years of issues we thought were resolved yet really stayed just below the surface, ready to jump back to the forefront whenever we got into a fight. Maybe it came as a result of the fact that I was working on a big project that demanded more of my time and energy. Maybe it was the seven-year itch I'd heard others warn me about. I can't say. All I know is that everything in our relationship changed and I didn't like it. More accurately, I didn't like my husband. I voiced my complaints. Loudly.
My closest friends knew everything my husband said or did that most affected me. Allen heard all about my heartache and disappointment. He began to feel hopeless and his level of confidence plummeted. As my finger wagged and triggered his insecurities, he retaliated, unconsciously trying to bring me down to where I took him. We began our dance on broken glass.
I wanted out. Desperately. Like a pilot in a downward spiral, I was ready to hit the ejector seat. Part of me wanted to fight for the love I had once cherished, yet a greater part wanted to protect what little was left of my breaking heart.
Hope in a Dictionary and a Mirror
I fell into a pattern of survival, clinging to anything that would help support or sustain me through that trying time. I found solace by talking to friends, knowing they loved me and my husband enough to remain unbiased and pray for us as a couple rather than just listen to my side and tell me what they thought I wanted to hear. But my greatest source of comfort came from a passage of Scripture I'd long held on to: Psalm 91.
A friend compelled me to take its words to heart as she memorized them. I quietly followed suit as they offered relief and a promise I wouldn't find elsewhere. The words resonated with me at a deeper level than ever before. As I began committing them to memory, I found myself constantly stopping at verse 4: "He will cover you with his feathers, and under his wings you will find refuge; his faithfulness will be your shield and rampart."
Ah, to be covered under the Almighty's feathers! I recalled a picture a friend showed me, a snowy mess inside a large bird's nest. She pointed out the mother eagle, buried under inches of snow, who remained unwavering in her determination to protect her unborn eaglets.
I craved to be covered by God's feathers, knowing he could shield me from the attacks I felt at the hand of my husband (who ironically felt attacked by me!). I celebrated that the verse said God's faithfulness would be my shield, rejoicing that his faithfulness wasn't determined by my actions of the day or the level of my devotion.
But what did it mean when it said he'd be my rampart? As I recited the verses, I kept stopping at the word I couldn't understand. I ran down to my computer and looked it up, then gasped in amazement at the definition:
1. A defensive wall of a castle or walled city, having a broad top with a walkway and typically a stone parapet.
2. A defensive or protective barrier.
A protective barrier! That was what I most needed! I'm most affected by the way someone verbally treats me. The things flowing from my husband's mouth were ravaging my soul. I longed for something to protect me from him.
I drew a picture of a stick figure surrounded by a large wall, with hurtful, angry words bouncing into the cement and unable to penetrate my heart. I didn't always have to defend or retaliate; I could simply trust in my rampart and his faithfulness. I pasted the picture to my mirror as a constant reminder, but I also drew my first-ever visual prayer and taped that next to the first image. My prayer consisted of two people holding hands, standing in unity with a large rampart around them.
With time, I began noticing a pattern: whenever I taught Bible study, my marital satisfaction plummeted. Sure, I found great fulfillment in sharing with others the principles God had laid on my heart, but as I was in my third round of teaching, I noticed the trend. Our marriage was off-the-charts crazy whenever I taught. What better place to attack me than my marriage?
I doubled the number of people on my prayer team, being vulnerable enough to share our struggles and asking them to not only pray for those going through the study, but especially for the one teaching it and her marriage. I wish I could say that caused a tremendous change, but I can't. Perhaps we're still married only due to those many coveted prayers, or perhaps it was those prayers that allowed the mirror to speak to me in yet another way.
You see, I'd developed that all-too-easy pattern of noticing everything Allen did wrong. I saw his imperfections and began highlighting them. I let him know how they affected me. He felt defeated and lost all motivation to change or work on our marriage. But one day, perhaps while I was studying those pictures taped to my mirror, I began to look at myself.
Here I was in yet another relationship where I felt devalued and unloved. While some would say it was my husband's fault, I began to realize there was one common denominator between all of those failed/failing relationships: me. I began asking tough questions and seeking the guidance of those who could help answer them. What is it with me that brings out certain negative traits in people? How am I causing these reactions? What am I secretly seeking or doing that gets me back into the same situation?
They were questions I thought I'd resolved in counseling after finding out my first husband cheated on me during most of our marriage. While I hold a great deal of respect for counselors, this time I went to the only source that truly knows my unspoken needs and desires. I found incredible promise and solace in James 1. Sure, I'd heard those verses before about being joyful in trials because they produce perseverance. When things first started getting bad with my husband, I'd adopted that attitude, but as the days turned to months, my perseverance—and joy—waned. But there, nestled just a few verses into James, I found something I'd never noticed before: "If any of you lacks wisdom, you should ask God, who gives generously to all without finding fault, and it will be given to you" (James 1:5, NIV).
Generous wisdom without judgment! God wasn't going to belittle me by asking why I respond in certain ways. He wasn't going to demean me by showing me all my faults and highlighting them in a way that would make me feel small, insignificant, and ready to give up. He just wanted to lavish on me his pure, generous wisdom.
I began accompanying my visual prayer with pleadings for God's wisdom. As a result, my gaze shifted off my husband and onto God and his role in my life. This freed Allen to work on his issues since I no longer kept pointing out his every fault, while letting me work through the things God brought to my attention.
Buried Treasure
Gary Chapman says in his book Love is a Verb, "When love plays hide-and-seek, it's not a simple game … Finding closeness again may take lots of effort. We may have to dig into painful memories … But when we uncover hidden love, it's like finding a treasure."
Our treasure came in the form of a stem. A little green shoot pushing up through the snow, reminding me that what I thought was dead and lifeless would once again blossom. I almost threw away the flower because I didn't believe it could bloom again. What I didn't know was that it was simply going through a painful but necessary time of apparent death so it could weather the storms.
What will our flower look like? I don't know yet, but I have a feeling it will be more beautiful than ever.
As I nestle in the arms of my husband and we dream about our future together, I've noticed my rampart is much bigger. It doesn't just surround me. It encompasses my marriage. And my prayer is no longer taped to my mirror: it's evidenced in our marriage.
Stacy Voss is an author, a speaker, and founder of Eyes of Your Heart Ministries. She lives in Colorado with the husband she is once again grateful for, their two energetic young kids, and a tender black lab.
Read more articles that highlight writing by Christian women at ChristianityToday.com/Women
Surviving Marriage's Winters
Read These Next