5 Marriage "Rules" Every Couple Should Break—Sometimes
Some surprising advice from experienced spouses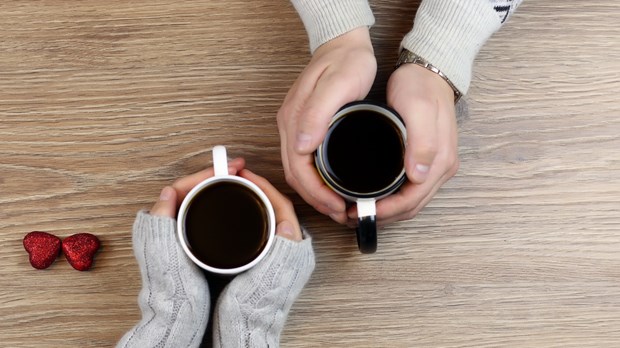 Image: ALEXKICH / SHUTTERSTOCK
My mother gave my husband, Charles, and me what she called a "silly" gift as part of her wedding present to us. It's a plaque we still have hanging on a kitchen wall after 30 years of marriage. "Never yell at each other unless the house is on fire." Every time I look at it I chuckle. It's a good "rule" to follow, though I don't always.
Other rules also make their way into our marriages, and they're not so good to follow—at least not without question. In fact, I believe some of them are worth "breaking"—maybe even abandoning. For example, can a marriage really be lived on a 50-50 basis? What about finances? When it comes to spending and saving, does the one who earns more have a bigger say in such matters? Is it important to have full agreement before making a decision? Living by rules can actually hurt a relationship if the couple does not take time to talk about their expectations and desires before they make a commitment.
For some couples there are no rules and never have been. My husband and I are among that group. Neither of us likes to be held captive to a certain way of relating. But we do want to follow Paul's admonition in Philippians 4:8: "And now, dear brothers and sisters, one final thing. Fix your thoughts on what is true, and honorable, and right, and pure, and lovely, and admirable. Think about things that are excellent and worthy of praise." We don't do this perfectly. In fact, sometimes we follow it very imperfectly, but we keep going back to it.
To add to the conversation, I asked three couples to chime in with their opinions and experience related to the following five rules, chosen because they seem to have the most "charge."
"What does each rule mean to you?" I asked, "and why do you keep, toss, or break it in your relationship?" Here are their candid responses.
Rule #1: Share Everything 50-50
Michele and Dean (from Pennsylvania):
"Oh, my," said Michele. "If anything, this 'rule' is one that could destroy a marriage instead of building it up. My husband and I are in this together, 100-100."
One year Michele underwent three surgeries in eleven months, suffering debilitating pain from three herniated neck discs. She was unable to do anything during her two-month recovery time. "My husband, Dean, after working an 11-hour day, unloaded the groceries, made supper, cleaned up the dishes, and took care of me. He never once complained or showed a bad attitude."
Michele then did her part for Dean when he was busy one summer building front and back decks on their house. "I took over mowing grass, tending to the garden, and burning garbage. We're empty-nesters now, but throughout our 39-year marriage, each of us has done whatever it takes to make it work."
Sue and Jim (from Washington State):
"We each do whatever is needed," said Sue. "If one is not feeling well or is 12unable to perform a usual chore, the other person does it. I do most of the cooking, but recently my husband has been doing the grocery shopping and errands, since I have difficulty standing or walking for extended distances. Jim does all the heavy chores, such as vacuuming, mopping floors, making the bed, taking out trash, and maintaining our cars, watering plants and so on—due to my chronic back problem."
Now that both are retired, Sue takes care of the finances, taxes, and bill paying. "But we discuss and share where the money goes," she said. "We carry out the admonition to share with and care for one's spouse."
Rachael and Steve (from Indiana):
"When we were raising our children, my husband's job as a small-town family physician often left me with responsibility for planet earth! But now, with a less demanding medical job and the kids grown up, we tend to follow fairly traditional roles—generally our strengths—but we help each other out when needed."
Rule #2: Focus on Common Interests
Michele and Dean:
Michele smiled, acknowledging that she wonders how her marriage to Dean has lasted as long as it has when she reflects on all that they don't have in common. "I love to read; he dislikes reading. He's an avid outdoorsman. I love the outdoors too, but I'd rather curl up with a good book. He loves the guy movies, such as Braveheart. I'd rather watch You've Got Mail. I'm spontaneous; Dean has to plan everything down to the hair-splitting detail, which drives me nuts. I love surprises; he likes stability. Yet I love the man and everything he is and isn't.
"Focusing on common interests doesn't leave room for growth," said Michele. "Allowing each other to pursue different interests fosters individuality, harmony, and expanding each other's borders. We give one another the freedom to be what we are and do what we enjoy." For example, Dean never complains when Michele attends a writer's conference and she supports him when he goes on hunting trips with his sons. "We miss each other during those times," said Michele, "but we like seeing the other one happy."
Sue and Jim:
"My husband and I share many common interests such as music, art, reading, traveling, theatre and movies, family, friends, genealogy and photography," said Sue. "Since moving to the Northwest, we really enjoy the seasonal changes. We also have our own interests. Jim loves sports and technical and military topics, computer software programs and data entry, and other 'guy' things. I like to garden, decorate, cook and compile photo albums. I love talking with friends and family and I like to plan and organize parties and reunions.
"In most cases, we're able and willing to shift gears when we're involved in one of our personal activities, as the opportunity arises for something we both enjoy."
Rachael and Steve:
"The ultimate common interest that forms our foundation is our relationship with God," said Rachael. "We share many others that help build and strengthen our marriage, but they are secondary: intellectual and artistic interests, music, watching basketball games, especially the Indiana University Hoosiers, and riding our tandem bicycle."
Rule #3: Reach Full Agreement Before Making Decisions
Michele and Dean:
"Full agreement? We'd probably never make a decision if we followed that rule. For most of our marriage, Dean left the decision-making to me. At times, I resented it, feeling like all the weight was on me, especially the consequences. Now we thoroughly discuss and research all the options, pray about it, then pursue the one that seems best. Dean still prefers that I make the decision, but I make sure he has plenty of input."
Sue and Jim:
"We generally share all major and many minor issues, purchases, opportunities, and choices with each other before making a decision. We don't always agree, but in most cases we honor each other's opinions." The couple said they've never held this custom as a "rule" so there is none to "break."
Rachael and Steve:
Rachael grinned. "We didn't discuss this one much—probably because Steve is trying to talk me into something right now!"
Rule #4: Pray Together Daily
Michele and Dean:
"We pray over meals daily and include anything else that may be on our minds and hearts. Forcing a daily prayer time together didn't work for us, so it's never been a rule. We each pursue our relationship with God individually. It's like a triangle, with God at the top and each of us at the lower angles. The closer we each get to God, the closer we get to each other."
Sue and Jim:
"We do not pray together," said Sue, "so this has never been a rule for us. We see prayer as an individual matter."
Rachael and Steve:
"We feel passionately about praying together and do so every morning before we get up. But it wasn't always that way!" said Rachael. "Actually, I wrote an article about this for Marriage Partnership a while back.
Rule #5: Resolve Disagreements before Going to Bed
Michele and Dean:
"We can disagree, but being disagreeable is unacceptable. If we disagree on something, we've found it's best to wait until the time is right to talk about it, when tempers, usually mine," said Michele, "aren't flaring and emotions aren't so sensitive. It may take a day or two, even longer, but forcing the issue doesn't work for us."
Sue and Jim:
"Our disagreements get resolved when both of us are ready, instead of on a schedule," said Sue. "It's more honest to make up or resolve our disagreement when it feels right, rather than because we have to. Therefore, this has never been a rule for us."
Rachael and Steve:
"We try to avoid going to bed angry with each other, as the Scripture says. But some disagreements take a long time to resolve. In the real world, some are never resolved," said Rachael, "but we're required to accept that we're different people with different approaches—and, hopefully, willing to offer extra hugs and extra grace when things get rocky."
I came away from these interviews feeling renewed and encouraged. I looked at my own marriage and those of the couples who shared their experiences, with a new point of view. Marriage is a living, breathing unit made up of two unique people who agree to love and support one another and to change and grow together as time goes by. It is not a staid partnership that is run by rules and unrealistic expectations. "Each man must love his wife as he loves himself, and the wife must respect her husband" (Ephesians 5:33).
The rest is optional!
Karen O'Connor is a retreat speaker, award-winning author, and writing mentor from Watsonville, California. Visit Karen's website: KarenOConnor.com.
Read more articles that highlight writing by Christian women at ChristianityToday.com/Women
5 Marriage "Rules" Every Couple Should Break—Sometimes
Read These Next