Harley Davidson Provides Water For Life
How the owners of the most successful Harley Davidson dealership in the country are using their business to bring clean water to communities around the world
One of an estimated 7.2 million female motorcyclists in the United States, Jennifer Smith enjoys riding her three-wheeled Harley Davidson black Ultra glide trike across the country. What sets her apart from the rest is the fact she and her husband Mark have used their passion for riding to raise more than $500,000 to assist clean water initiatives around the world.
"I believe that every person has a passion that God has positioned for each of them," Jennifer says. "So I asked myself, What are the resources that we can use to make a difference to advocate for others?"
Jennifer and her husband opened a Harley Davidson dealership out of Fort Worth, Texas, in 2006. Shortly after, Richard Stearns' book, The Hole in Our Gospel, woke Jennifer up to the reality of the clean water crisis.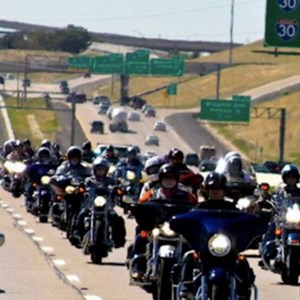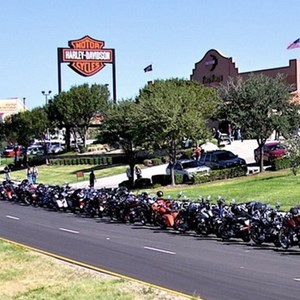 "The realization that a child dies every 15 seconds from lack of clean water was the crux for me," Jennifer says. "In America we take clean water for granted every day. We grab our morning coffee and we take a shower. I wouldn't last long without clean water."

The book encouraged her to sell possessions around her house that her family rarely used. In 2010, the Smiths invested the money earned into the initial startup of an annual "Water 4 Life" charity ride to support clean water initiatives around the world. Now in its fourth year, this year's ride will be September 14. Participation in the Water4Life Ride is free and, for each rider and passenger, Fort Worth Harley-Davidson donates $50 to World Vision.
Many local sponsors and volunteers help out at the annual ride, including the CMA (Christian Motorcycle Association) and The Thursday Boys, a local mentoring program for boys in Fort Worth. The riders in the rally get to participate in raffles, entertainment, and a free lunch once they reach their destination at Billy Bob's Texas, the world's largest honky-tonk.
Not all riders are Christians, Jennifer says, and everyone is welcome to join. The awareness she wants to create with this ride is that simple things can have a big impact for the people they are raising money for.
The heart of the matter
Jennifer had the opportunity to visit Africa at the beginning of this year to see firsthand what life was like for people who had unclean water, or limited access to water at all. She also met her World Vision sponsor child of nine years, who she says has blossomed into a beautiful young woman because of their help.

After her trip to Africa, Jennifer and her husband came home and decided to, in addition to their annual charity ride, raise half a million dollars for the projects that World Vision was creating in Africa.
Without any formal promotion or fundraising events, Jennifer and her husband raised $516,000 in a few months' time.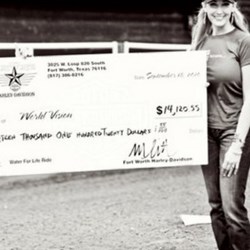 "I just prayed a prayer of faith that I had learned from a missionary named George Mueller: He had an orphanage and didn't ask for money, but he received money by praying about it," Jennifer says. "I've learned that you can pray big prayers. You can pray for things that are outside of your ability, and what's neat is that God can do something in one day that we could spend a lifetime doing."
Jennifer's guiding scripture and encouragement during this time was Matthew 10:42:
"If anyone gives even a cup of cold water to one of these little ones who is my disciple, truly I tell you, that person will certainly not lose their reward."
Jennifer believes that anyone can make a difference because God is faithful to help.
"If you want to advocate for something and there's something that's plucking at your heartstrings, don't be afraid to start where you're at," Jennifer says. "You might not have a Harley Davidson dealership, but you can start in your own home. God has given you everything you need to make it happen. Be creative for what you're passionate about. Don't be afraid, and don't be intimidated."
The 2013 Water4Life ride is this Saturday, September 14, at 10:30 a.m. Find out more on their website.
Sign up for TCW's email newsletter at this link for weekly updates and opportunities to win free books and music.
Cassie Jolene Schenck is TCW's former editorial intern. Follow her on Twitter @cassiejolene91.
Read more articles that highlight writing by Christian women at ChristianityToday.com/Women
Harley Davidson Provides Water For Life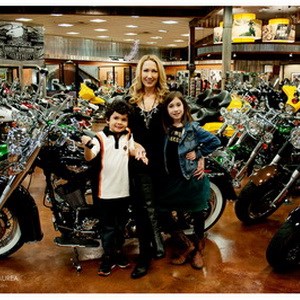 This slideshow is only available for subscribers.
Please log in or subscribe to view the slideshow.
Read These Next