Marriage Rings
Like cycles in a tree's life, our marriage revealed patterns of stress and growth.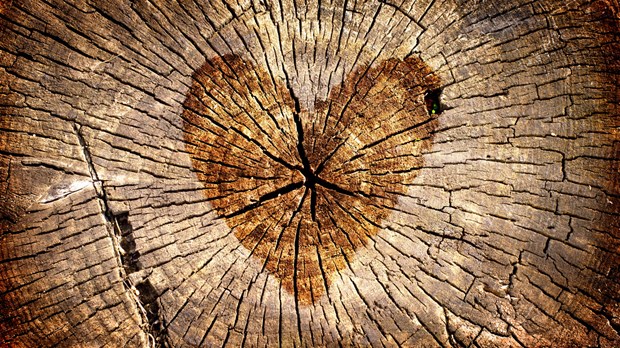 Image: IRAVGUSTIN / SHUTTERSTOCK.COM
We stood at a stump.
"When this tree was alive, it produced a layer of sapwood each year that can now be seen as a tree ring. When rings are close together . . . the conditions were tough . . . . If the rings are far apart . . . the tree had plenty of water and nutrients and grew a lot that year," I read aloud from the national park's pamphlet. For our summer holiday, we had come to explore Big Bear, and today we walked the Woodlands Trailhead.
Loyd and I stooped to take a closer look to analyze the rings.
Loyd's fingers tracked an area on the stump. He tapped a spot. "Look at these dense lines. The rings are so close here it's hard to tell where one ends and the other begins." He slid his palm to the center where the rings were big and wide. "But look how fast this tree grew at first."
Suddenly, there in the pattern of the rings, I saw a mirror of our marriage, the story of our relationship. Like the tree, we enjoyed rapid growth in the first few years—a time of constant gain. I thought my love for Loyd would keep growing like those expanding circles.
But in the past 37 years, we've experienced catastrophes and felt the ruthless demands of life. I've learned that our focus changes, and I've discovered that good times give way to hard times and change to good, back to hard, and then good again. Growth spirals like the rings of a tree—stunted under times of drought and flourishing under times of plenty.
The first time our relationship grew dry
Our first drought hit four years into our marriage. It hit and persisted. We were remodeling our first fixer-upper, and we had two young children. To support our family, Loyd put all of his time and energy into work, work, and always work, while I stayed home. One day during the seventh year of our marriage, in the third dry year of this cycle, I woke up and considered the man in bed with me. Who is this man, and what am I doing with him?
I've read that drought stress may not kill a tree directly, but it weakens the tree and sets it up for more serious secondary insect and disease infestations. That was me. I was set up for temptation. I just wanted to feel good again.
This dry season in marriage is so widespread it has a name: "the seven-year itch." The flood of responsibilities at this stage makes life seem like all work and no play. Shocked as the enjoyable feelings drain away, many people start thinking they made a mistake, married the wrong person, and they scramble to escape.
Others in this stage shout to their spouses, "I never loved you." But I knew that wasn't true for me. When I walked down the aisle and into a life with Loyd, I loved him with everything in me. But I didn't feel love for him at this time. I didn't feel anything. I was numb, but I was committed to our marriage.
If I believed I never loved Loyd, I would only be admitting I never loved him unconditionally. Conditional love is based on my feelings and on how my needs are met. I didn't want to be a conditional lover of my husband, so I chose to remember I had responsibilities bigger than my desires.
Water for this thirsty marriage
Though I wanted to know how to get the love I wanted, the Lord urged me to look at the kind of love I was giving. When I decided to give rather than worry about what I wasn't getting, I became an investor in my marriage rather than a consumer. I chose to love my husband, though I no longer felt in love with him. True love, a wise friend once told me, is an action, not a feeling.
I worked hard to water our thirsty marriage, as I focused on the good things. I talked with Loyd, and we went to our pastor for counseling. I bought and read book after book on marriage, and struggled to apply the teaching. At our pastor's suggestion, I started getting up in the dark to make Loyd coffee. In those quiet times, we talked. Pretty soon Loyd started coming home earlier and our talking became easier. After a time, less than a year, I found myself in love with him again.
After those few months of work, I realized how fickle my feelings were. If I had left during that first hard time, I would have never seen how my feelings could change again, and again, and again.
Times of drought—a pattern emerges
Over the years of my marriage, my feelings have cycled around several times. At 13 years, a drought hit during my push to finish graduate school and our effort to build a house. Once again we pulled our time and energy away from our marriage, and our relationship went dormant. More dry spells hit at 18 years with a mid-life crisis, and at 24 with an empty nest. All these passages are classic times for marriages to fail. They are times of pressure, stress, and confusion. The cycles are not unique to our marriage.
Right now, we're facing another drought. Financial struggles have squeezed us dry. We're afraid. We're blaming each other. We're angry. But we've learned that we can be angry with each other and still love.
There is nothing worse than the ache in my stomach that comes when Loyd and I just can't get along. I grieve. I mourn. But I know hard times give way to good times, and relating to my husband will be easier again.
Accepting the cycles and learning to grow
Conflict and struggle are a part of life. This phase we're in won't be the last time Loyd and I have to survive a dry spell. But roots go deeper in times of drought so growth can occur on another level.
God is revealing tracks of stubbornness in me. I struggle to learn and grow. Learning requires practice, so here's what I'm working on:
clearly and honestly saying what I want
not punishing Loyd when he doesn't do what I want him to do
acknowledging I can't read Loyd's mind, nor can I interpret his motives and intentions
not reacting based on my assumptions
thinking the best of Loyd
being civil
showing respect
being willing to have hard conversations
giving eye contact, listening, being willing to hear Loyd, and attempting to understand
stopping a discussion when frustration is building and taking a break
avoiding putting Loyd down in any way
resisting my tendency to withdraw
I've heard it said, "The grass isn't greener on the other side of the fence; the grass is greener where you water it." I'm practicing these actions to water our relationship until it becomes healthy again.
I learned something I didn't expect to learn on our nature walk. Marriages are as vulnerable to hard conditions as trees are to drought. And cycles are the natural state of things. Daylight gives way to darkness day after day. The moon waxes and wanes. Tides ebb and flow. Feasts turn to famine. Droughts change to floods. Cycles are everywhere, including in marriage.
I'm glad I've worked to water our relationship. I'm thankful Loyd has also chosen to join the fight to keep our marriage alive. Together we've had the courage to be imperfect, so we're not living with a stump. We can't see a tree growing. We can only observe its growth after it's happened. So it is with a marriage.
Sherry Van Zante works with her husband Loyd in their photography business, cares for a granddaughter, and she serves as a Stephen Minister, a MOPS mentor mom, and the editor of the blog for women at her church. Get to know her at sherryvanzante.ditdat.com.
Subscribe to TCW's free e-newsletter at this link for weekly updates and opportunities to win free books and music.
Read more articles that highlight writing by Christian women at ChristianityToday.com/Women
Marriage Rings
Read These Next
Haute Couture in Haiti

How Dorcas Ministry Shop is revitalizing the economy—and women's lives—in Port au Prince

A Gay Son's Tribute to His Mom

For years I ran toward drugs and gay relationships while my mother persisted in prayer and trusted in God's faithfulness.