Solving the Global Water Crisis
It takes more than wells to solve this worldwide problem.
Water is a basic human necessity. Many of us carry a water bottle or pour a glass on instinct with the "eight-glasses-a-day" mantra ringing in our minds. Yet for a large number of people around the world, the question is less, "Should I take the time to fill my Nalgene this morning?" and more, "Will this be the cup of water that leaves me bedridden for the next several days?" or, "Should I go to school today or go to the well to get water for my family?" These are questions most Americans never have to ask. So why does this conversation matter to us?
Let's give the statistics some legs:
Approximately 780 million people around the world lack access to safe water. That's the entire population of North America. Plus Russia. Plus France. Plus Spain.
In sub-Saharan Africa, 61 percent of the population lacks access to safe water, and in the most impoverished rural areas, up to 90 percent of people are without clean water—causing women and children around the world to walk hours upon end to provide for their families. "Around the world, communities are trapped in debilitating poverty because they constantly suffer from water-related diseases and parasites, and/or because they spend long stretches of their time carrying water over long distances," according to Living Water International.
Water not only affects health, it also affects agriculture, which has implications for food supply as well as international trade and thus, economic stability. Really, water means life, and without it, individuals and communities are unable to thrive.
So why does this matter to us?
"A dollar can provide water for a year for someone in Africa," Jena Nardella, 31-year-old founder of Blood:Water Mission, says. "It's hard to live in the tension of knowing the amount of money I spent on eating out or on a trip to Target that I didn't really need to do could have had a lasting impact on a person. You have to live in that tension but try not to be paralyzed by it. Change happens one community, one dollar, one person at a time."
Global context
Christians, governments, and non-profits worldwide have taken significant action to remedy the global water crisis in recent decades, and it has improved markedly as a result. In 2002, the United Nations launched a colossal global improvement plan to create a better planet for present and future generations. They established eight Millennium Development Goals, ranging from eradicating hunger, to promoting gender equality, to ensuring environmental stability. One of these goals was to cut the proportion of the population without sustainable access to safe drinking water and basic sanitation in half, and this goal has been accomplished: Between 1990 and 2010, more than 2 billion people gained access to clean water—but access is only the beginning.
"When our partners submit proposals for water projects, about 50 percent of the proposal deals with hardware: Is it going to be spring protection, a biosand filter, a new drilled borehole, or a hand-dug well?" Stacie Zellmer, charity: water's faith partnerships manager, says. "The other half is laying out their plan for community engagement. A lot of people think you can put in a well, and it just runs, but there is a lot of training on water sanitation and hygiene in the community to make sure they aren't contaminating the water from the well to point of use."
Every water project involves several months of community mobilization prior to anything being installed in a village. Organizations use the acronym "WASH" (Water, Sanitation, and Hygiene) to refer to their educational initiatives on the ground. World Vision invests about $90 million per year to operate WASH programs in 57 countries, and Blood:Water Mission trains representatives in the field to teach people about healthy water, sanitation, and hygiene practices through more than 30 hours of classroom-style learning, including maps of disease pathways and steps for hand-washing. Graduation consists of a community presentation and home visit scouting for a latrine, tippy-tap (handwashing station), and drying rack for dishes.
Because so much global water work to date has happened at a community level, regional and state-level challenges are now emerging. One of these challenges stems from the fact that water, like any other commodity, has a price, and naturally that requires economic strategizing in order to ensure that communities are actually—holistically—being helped by the international aid they are receiving.
In order to address these issues on the governmental side, the U.S. State Department created the U.S. Water Partnership in March 2013. Until recently, governmental and nongovernmental (NGOs) agencies operated separately, but this partnership will create a network for the U. S. public sector, NGOs, science institutions, and the private sector to share information and resources that will create more integrated solutions to global water issues. Since its start, the project has attracted many major players, including the Environmental Protection Agency, Ford Motor Company, Coca Cola, the Rockefeller Foundation.
In the non-profit sector, World Vision, Blood: Water Mission, Living Water International, and charity: water are just a few examples of organizations making a dent in these overwhelming numbers. Each organization comes at the water problem from a slightly different angle, and all are intentional about partnering with pre-existing organizations in local communities to provide opportunities for economic and social growth through clean water.
"We believe problems in Africa are best solved by Africans," Nardella says. "Every place we go has its own challenges, and the problems of clean water, sanitation, and hygiene will be best addressed by organizations based out of those places living with those challenges. We've always tried to have a posture of learning and collaboration."
Community collaboration
In 2004, Blood:Water invited Americans to find creative ways to raise money for water projects in sub-Saharan Africa using ordinary means: lemonade stands, bake sales, and bike rides. At the same time, Blood:Water invited Africans to find creative ways to mobilize their communities for the provision of clean water.
"Over the course of seven years, we helped more than 1,000 communities in Africa gain access to safe water," Nardella says. "If a community has access to safe cleaning water and has established healthy sanitation and hygiene practices, they can move forward with education, agriculture, and more."
In a similar vein, charity: water contributes 100 percent of donations received directly to community water projects constructed by local water-providing organizations around the world. As of June 2013, charity: water has helped provide clean water to more than 3 million people through 8,661 water projects in 20 countries. Each donor receives photos and GPS coordinates of their funded project, and their plans for donor involvement are big.
"Our goal is to install a GPS center on every project so every donor can see the daily flow rate," Zellmer says. "If the project were to go offline and break we'd know within 24 hours. This will allow us to know that we have to send maintenance."
Communities are being transformed around the world both sociologically and economically as a result of receiving clean water. According to UNESCO, every $1 invested in improved water supply and sanitation can yield from $4 to $12 for the local economy, depending on the type of project. Community members in sub-Saharan Africa have also instigated annual soccer tournaments that support clean hygiene practices.
How you can help
In the U. S., Christian women are developing and dedicating their gifts to fundraising for clean water projects around the world. Jennifer Smith is one example of a woman who has taken her passion and contributed to a cause greater than herself. In partnership with World Vision, she hosts an annual "water4life" Harley Davidson motorcycle ride based out of the shop she and her husband own in Dallas/Fort Worth to raise money for water projects worldwide.
"I couldn't imagine giving my babies dirty, diseased water," Smith says. "I believe that God has positioned us with resources to make a difference for others, so it was natural for us to do that through this motorcycle ride."
Other women have been creative in their efforts as well. Tracy Lin and Ivy Ku dedicated their Lenten Bible study season to raising money to build wells. Their group named the idea "Project 1040" with the original goal of building 10 wells in 40 days. They committed to drinking only water and walking 6 km, or approximately 3.7 miles, every day (the distance most people in impoverished regions travel to get to a water source).
"In some small way, we reflect Christ's own willingness to physically take on our pains, our humanity, and our worldly problems," Lin and Ku say in a blog post. "For us, Lent has become a time to discover new insights and lessons on justice."
Their Bible study group was able to raise more than $160,000 to put toward 16 wells during Lent—enough to provide 8,000 people with clean water daily.
Caring, thoughtful organizations and individuals are utilizing their time, energy, and funds to bring clean water to people who need it. You can join them. Whether you dedicate your time in prayer, choose to give financially, or help raise awareness or fundraise, empathy is the root of change. When we care enough about our neighbor to go out of our way for him or her, that is when we are truly acting as Christ would: "Your love for one another will prove to the world that you are my disciples" (John 13:35).
Subscribe to TCW at this link for full access to our September/October 2013 issue, "How Far Would You Go?: Bringing Life-Giving Water to the Ends of the Earth."
Sign up for TCW's free e-newsletter at this link for weekly updates and opportunities to win free books and music.
Allison J. Althoff is online editor for TodaysChristianWoman.com; Cassie Jolene Schenck and Amber Stenberg are TCW's former editorial interns.
Read more articles that highlight writing by Christian women at ChristianityToday.com/Women
Solving the Global Water Crisis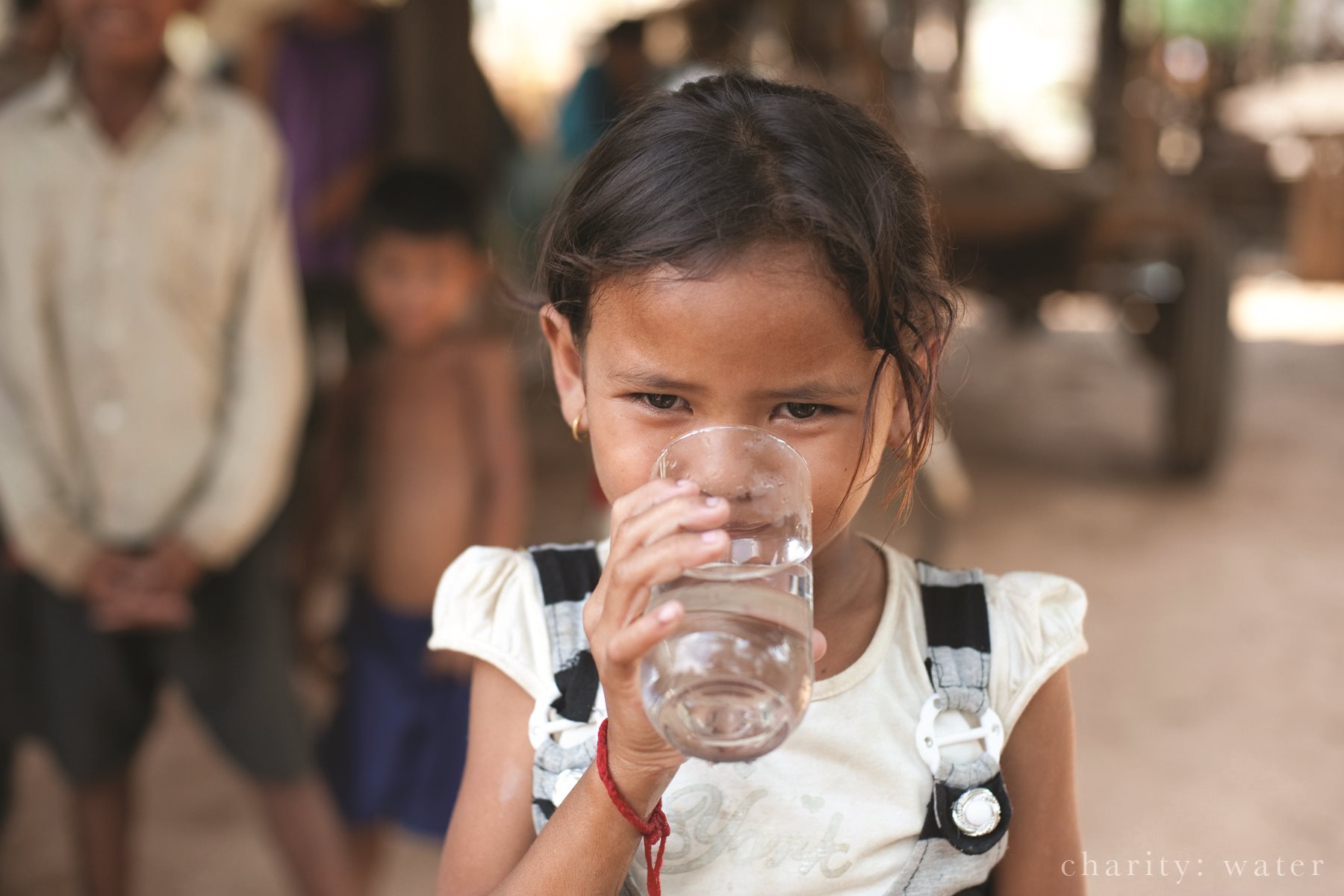 This slideshow is only available for subscribers.
Please log in or subscribe to view the slideshow.
Read These Next