Notes on a Legal Pad
How my dad—and God—helped me pick the right school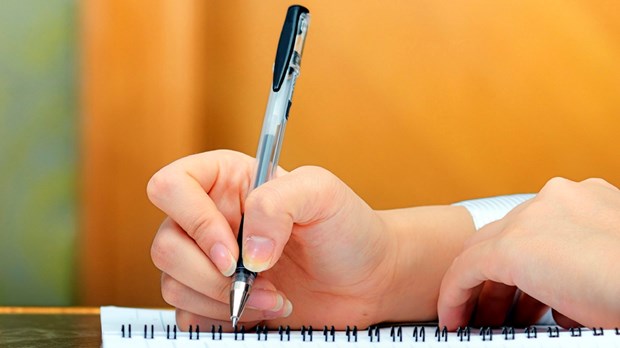 I agonized over where to go to college. I waffled. I wondered. I worried. Should I go to a private Christian college or a state school? What in the world would I major in? What could our family afford?
And lurking behind those baffling questions were deeper—unspoken—concerns: What new friends would I make? Would I be lonely? Would I meet my future husband there? Would I find my niche? Would I pick the right field of study and future career? Ultimately, would I mess up my entire life by picking the wrong school?
My parents and I had a lot of conversations in those days. I remember spending several evenings with my dad charting out a list of pros and cons, strengths and weaknesses, of the six different schools I was looking at. We huddled around his yellow legal pad, comparing student-to-teacher ratios, course offerings, distance from home, spiritual climate, and finances.
Now, as a parent myself, I can imagine some of the unspoken questions in my dad's heart as we took notes together on that yellow pad. Behind the notes about costs, scholarship options, liberal arts versus state schools, and so on, deep concerns must have also formed the background of the college-choice process. Would his "little girl" be able to handle the inevitable temptations young adults face in college? Would I choose my major wisely? Would I meet a good guy? And, especially, would I hold onto my faith?
Would I choose my major wisely? Would I meet a good guy? And, especially, would I hold onto my faith?
Selecting a university with your child is a very weighty decision because it has implications for the course of his or her life. Today, young adults do make critical choices during the college years that have a dramatic impact upon their sense of identity, their spiritual formation, their future work, and possibly even their future family. You're choosing a new home—a new community he'll be a part of—for the next several years of his life. How can you make the right choice?
By being wise and prayerful.
We can help a bit with the wisdom part. In this special edition of Today's Christian Woman, you'll find the information you need for your child to transition smoothly into college.
A great place to start is with Mark Moring's "A Parent's Guide to College Decisions." This insightful article will help you and your child think through a variety of options and assess some critical values that can guide your college choice. "College Life" will give you a unique snapshot of what university life actually looks like for many young adults today. And if you're considering a secular campus rather than a Christian one, check out "My Call to Attend a Secular College" by Lyla Lawless. The truth is, faith can grow dramatically at a non-Christian school too!
Whatever college you choose, your relationship with your child is about to change dramatically. As she leaves the nest, will you be ready to parent in a new way? "Parenting Emerging Adults" by Maria Cowell will give you guidance to navigate the new territory of being "Mom" to someone who is no longer a child.
These resources—and your own research—can help in the wisdom department. The prayerfulness? That's up to you.
I know my parents labored in prayer over my college choice—and God both heard and answered. Despite all our discussions and column-comparing, our yellow legal pad didn't lead us to a clear decision. I was disappointed when God seemed to be firmly closing a door (financially) at my top choice school, while apparently swinging the door wide-open to a school I wasn't very interested in. But as we prayed and talked further, I followed my dad's advice about what seemed to be God's lead.
But as we prayed and talked further, I followed my dad's advice about what seemed to be God's lead.
Looking back, I see that it was the perfect choice for me. Even the hard parts—some loneliness, some faith challenges—ended up growing me as a person and strengthening my relationship with Christ. Some Christian professors I encountered profoundly influenced my sense of calling and my love of learning. I eventually landed in a major that guided me toward the career I have today. A campus ministry I joined fostered a spiritual maturation in me that stretched and grew my adolescent devotion into an adult faith. And—though this certainly doesn't happen for everyone—I did meet my "Mr. Right" at the university.
Where will your child end up? What challenges will he or she encounter? How will your child's faith grow and change through it all? You won't find all the answers spelled out in black-and-white here—or anywhere!—but you can find guidance in God's love and sovereign direction. And as you weigh all the options, we at TCW hope this college guide can serve as a helpful starting point for your research—and your prayer.
Grace for you and your child's journey,
Kelli B. Trujillo
Editor

Follow me @kbtrujillo and @TCWomancom
Read more articles that highlight writing by Christian women at ChristianityToday.com/Women
Notes on a Legal Pad
Read These Next