Why Women Belong in Seminary
3 reasons to consider formal training if you've been called to ministry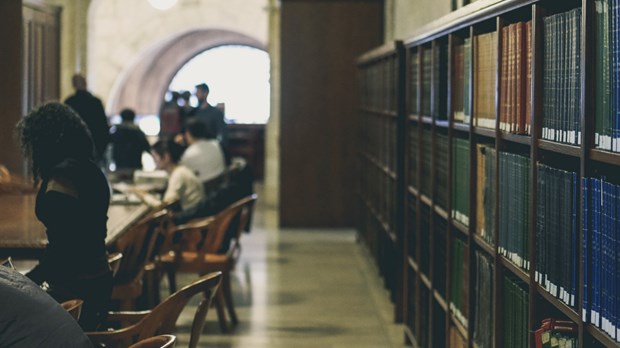 It was a fall breakfast event, and I sat in a large room full of women. The tables looked beautiful, and the space was full of energy. My husband and I had just started attending a new church, and this was my first women's event. I was excited to hear what the speaker had to say.
Unfortunately, I don't remember much of her message. I do remember her comparing women to shoes—maybe that our personalities are like different shoes, or that our lifestyles are like shoes—something like that. But that's the only thing I can recall.
After she concluded, I sat there feeling disappointed about the lack of substance and biblical teaching.
Churches need women on staff who are trained to care for the women in their church, and to minister to women in ways that women are uniquely equipped to do.
Rather than criticize the state of female teaching in the church, however, I would like to suggest a course of action. It's time to do something to raise the bar for women in the church, and it's going to require something big from some of you.
For some of you women reading this, it's time to think about seminary.
Among evangelicals, women have tended to stay away from seminary. In the United States, approximately 30 percent of students seeking the Master of Divinity (M.Div.) degree are women. However, that percentage drops to about 21 percent among evangelical seminaries.
But it doesn't have to be this way. The church deserves better, and God calls us to more, so here are three reasons why you, if you have a call to ministry, should seriously consider seminary:
1) It holds you accountable.
When it comes to teaching, you don't have to reinvent the wheel. You don't have to solve the mystery of the Trinity or reconcile the complexities of Scripture. Why? Because Christians long before you already asked those questions, and usually they can supply you with the answers.
As believers we belong to an invisible church, a great cloud of witnesses that spans across history and speaks into our lives. Our brothers and sisters who have gone before us, they not only handed down truths that we can rely on, but they made mistakes that we do not have to make again.
Although we tend to think of seminary as an exercise in memorizing doctrine, I think of it as putting myself under the covering of the larger church. Rather than repeat the mistakes of earlier Christians (mistakes in practice and mistaken beliefs), I can avoid those pitfalls. And rather than interpret Scripture on my own, I can draw on the help of thousands of Christians past.
Too often, ministers (men and women alike) are teaching in isolation from this God-given accountability. The result is not only teachings without substance, but teachings without true life.
2) It's a matter of stewardship.
In 1 Corinthians 12, the apostle Paul explains that all gifts are given "for the common good" (verse 7). He goes on to paint a picture of beautiful interdependence, a community in which every member has a valuable, God-given role, without which the church would be crippled.
Historically, the church has recognized that gifts of teaching and pastoring are best stewarded through theological education. That is why most churches expect lead pastors to have some theological training. Of course, God can and does use individuals without theological education. Most notably, the 12 disciples were all unlearned men.
Even so, there is wisdom in training Christians who have a call to ministry. There are also practical reasons for formal theological education, just as there are practical reasons for lawyers to attend law school, and doctors to attend medical school.
Unfortunately, many women do not seek this kind of training. That is not to say that God isn't using these women—if you are a woman in ministry with no formal training, God is surely using you!—but we should not be satisfied with this as our norm. It should not be standard practice that women with a call to ministry are without formal ministry training. This should not be the standard among women anymore than it should be among men.
3) Half the church is female.
A few months ago I went to the hospital for emergency surgery. My pastor came to visit me while I was there, but before he arrived he explained that should his wife be unavailable to accompany him, he would not come.
Within evangelical churches this practice is common. Pastors are often hesitant to counsel or meet with the women in their church. For various reasons, male pastors have boundaries that prevent them from pastoring women as freely as they do men.
What results is a pastoral gap of sorts. Women need the same kind of pastoral care as men, but they don't always have access to the same resources. On this front, churches need women on staff who are trained to care for and minister to women in ways that women are uniquely equipped to do.
For these reasons, and many more, I attended seminary. The experience was both hard and wonderful. Although I didn't realize it at the time, I was building a solid foundation for my ministry and teaching. My education became a compass of sorts, one that helped me navigate tough seasons and complex issues with clarity and faithfulness.
So, my dear sister, if you have a call to ministry, I challenge you to steward that call. Consider submitting your gift to the formation of the church by pursuing a seminary education. It is an investment into your God-created design and an investment into the church where you serve.
If you have a friend or family member with a clear gift for ministry, tell her. Name her gifts. Pray for her.
But my challenge does not end there. Paul created a legacy of naming believers' gifts and calling them out to serve. He didn't simply encourage it; he demanded it. Paul begged believers to use their gifts for the good of the whole.
Likewise, friends, encourage your sisters! If you have a friend or family member with a clear gift for ministry, tell her. Name her gifts. Pray for her. And exhort her to do something as radical as going to seminary. Until she is using her gifts for the body of Christ, we are a crippled body indeed.
Subscribe to TCW at this link, and sign up for our free e-newsletter to become part of a community of women striving to love God and live fearlessly in the grit of everyday life.
Sharon Hodde Miller is a writer and a doctoral student at Trinity Evangelical Divinity School. Before beginning her PhD in Educational Studies, Sharon earned her Master of Divinity from Duke Divinity School. She currently lives in the Chicago area with her husband and son, and blogs at SheWorships.com. Follow her@SHoddeMiller.
Read more articles that highlight writing by Christian women at ChristianityToday.com/Women
Why Women Belong in Seminary
Read These Next