Summer-Style Learning
Transform a long summer into a fun, educational adventure!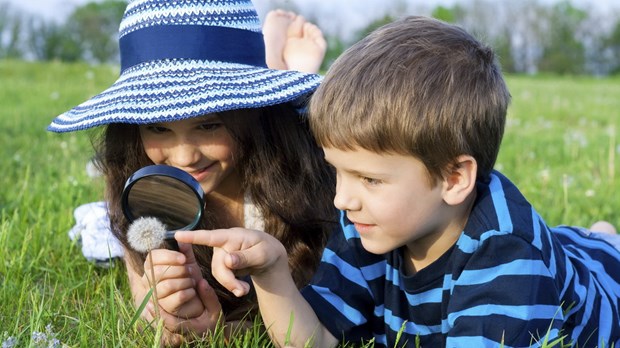 Just because the textbooks are out of sight for a couple of months doesn't mean the learning has to stop. In fact, if kids are having fun, they don't even realize they're learning in the process. That's what I call summer school fun!
You can create a fun "summer school" of purposeful learning—and lifelong memories—for your kids. But don't panic and think that you have to fill your calendar with summertime activities. Summer-style learning doesn't have to involve nonstop schedules. In fact, for the most part and with a little forethought, such learning happens as life happens.
12 fun ideas for your family
Here are just some of the many ways your kids can spend their summer break learning and having fun!
1. Exercise those green thumbs.
Because gardening has many stages, you don't need to have a garden already started. If you did take advantage of springtime planting, have a weekly weed-pulling party. Or your kids may simply enjoy trying to grow a few plants of their own. Kids can experientially learn what grows best where and how to plant and care for their plants.
Maybe you can't plant anything where you live. No problem! Take a short drive to a nearby you-pick-it farm and begin an annual tradition. Our summertime favorite is corn. Pick it, shuck it, boil it, freeze it . . . eat it! (And lots of it.) We love tasting the different varieties of corn on the cob and voting on our favorite.
2. Get involved in the county fair.
Kids don't need to be a member of 4-H to participate in local fair activities. Contests are held in myriad categories: photography, knitting, crafts, baking, and so on.
My niece, a long-time member of 4-H, competes in the farm animal arena, showcasing her dairy cattle, goats, and even her pet rabbit! She's won many awards, but more importantly she has gained a vast knowledge of training animals, presenting them for competition, and so much more.
3. Volunteer.
Volunteering is an excellent way to serve others and learn valuable skills at the same time. This summer, three of my girls will be volunteering one day a week at a local nursing home. They will be delivering mail, helping in the beauty salon, taking residents for walks and to various activities, assisting with crafts and games, and much more.
If your children are younger, a family volunteering project works just as well. A few ideas to consider include serving at a local food bank, community service projects (our family picks up trash), or church clean-up days.
4. Build something.
Last summer, our family tore down our old, wobbly porch deck and built a new, bigger one. This summer we're going to construct a new swing set in anticipation of our adopted son coming home from Haiti.
The kids have so much fun building right alongside Dad and Mom that they don't even realize how much they're learning in the process. Measuring, cutting, proper tool use, safety, and teamwork are just some of the skills they are developing. Building projects can be as simple as a birdhouse or as complex as a treehouse, but kids of all ages love to build and learn together in the process.
5. Hold a Read-a-thon.
No parent likes to see skills lost as the summer weeks go by. A read-a-thon can keep kids of all reading levels up-to-date. For non-readers, parents (or older siblings) can read with them. Here's how it works: Set a finish date and a reading goal, using either the number of pages or books according to their ages and reading levels. When the goal is met, it's reward time—maybe a pizza party, an outing to play miniature golf, or a trip to the zoo.
6. Let the cooking begin.
My kids like to help prepare meals or bake cookies and breads, but time is limited during the school year. Summertime is the perfect opportunity for them to improve their baking skills and come up with new creations. The best part is that they are learning skills that will stick with them throughout their lives. They're also brushing up on math as they learn about fractions, measuring tools, and how to double or reduce recipes.
7. Create "summer days" boxes.
Nip the "I'm bored" refrains in the bud by being prepared. Gather multiple boxes or plastic bins and label each one: "Crafts," "Science," "Dress up," "Water play," and so on. Then fill them with age-appropriate contents. Our "Science" bin, for example, includes magnets of various shapes and sizes, a small electrical circuit kit, bird and flower identification guides, a magnifying glass, bug catcher containers, and more. Hands-on exploration will bring learning and memories that last.
8. Make your summer vacation a learning experience.
Yes, the beach is great and you can certainly learn a lot by relaxing on the shore. But don't stop there! Visit some local museums, historical sites, and points-of-interest.
A critical part of going on a family vacation is all the planning—another great learning opportunity! Get the kids involved with maps—calculating distance, estimating gas expenses, choosing the best route. Have them research the local area for other fun activities, cost (if any), and other "free" sightseeing or tours that everyone may enjoy.
9. Hold a family yard sale.
We organize an annual summertime yard sale and easily net $1,000 or more. The best part is that the whole family chips in with cleaning items to sell, putting price stickers on, boxing up items, making posters, and setting things up for the sale.
On the two days that we hold the yard sale, my kids continue to help by adding up sales, making change, and bagging up items for customers. Last summer they also ran a bake sale in conjunction with the yard sale and sold nearly everything! Holding a yard sale is a great learning experience and brings in some extra cash for vacation, summer camp, or whatever the family decides on.
10. Embrace nature.
Summertime is full of outdoor learning activities, such as bird watching, bug collecting, flower identification, flashlight tag, camping, star gazing, and more. In God's creation, the possibilities are nearly endless. The more kids explore, the more they learn. Let them get dirty, collect worms, go fishing, and make their own s'mores. Sure, it's messy. But it's fun and they're learning. Other nature ideas include going on a family hike, setting up a treasure hunt or a nature scavenger hunt, and holding a nature photography contest by awarding small prizes for the funniest, most original, and the prettiest photos.
11. Explore astronomy.
Job 9:9 tells us that God "made all the stars—the Bear and Orion, the Pleiades and the constellations of the southern sky." Have your kids research constellations and plan a night outside (with a campfire, perhaps) finding the various constellations.
They may also enjoy doing some online research about upcoming astronomy "events" that will be taking place this summer. (Hints: the Delta Aquarids Meteor Shower and the Perseid Meteor Shower will both be occurring, as well as the conjunction of Venus and Jupiter, a rare phenomenon in which the planets will appear very close together.)
12. Make a summer fun jar.
Write down various fun activities for your kids on strips of paper—some that can be done on their own, as well as some to be done as a family. Fold the papers in half and place them into a large jar. On an uneventful day, allow your child to choose a slip of paper from the jar. Some activity ideas include inventing a new ice cream flavor, developing a new board game, making a kite, going on a camera adventure and then making their own ABC photo book, creating an obstacle course in the yard, and catching lighting bugs at dusk.
Fun and learning
Summer doesn't have to be a time of endless boredom and mental lethargy for your kids. With a little effort and creativity, you can turn their summer into a time of fun and learning.
The possibilities are endless and when summer comes to an end, kids and parents alike will be amazed at just how much learning took place. "Summer school" fun provides some of the best hands-on and real-life learning that are available. You—and your kids—don't want to miss it!
Tammy Darling is a freelance writer living in Three Springs, Pennsylvania.
Read more articles that highlight writing by Christian women at ChristianityToday.com/Women
Summer-Style Learning
Read These Next