World-Changing Moms
Danielle and Jolene thought it was just a normal playdate, but God had other plans.
Two years ago, two moms sat together during a playdate in a small Indiana town. As their children played, Danielle Black and Jolene Shrock talked about Ethiopia. Both of them had recently adopted children from the country and their experiences had made big impressions on their hearts. Little did they know that their playdate discussion would eventually culminate in a non-profit organization called Awake & Alive. With the support of their husbands, friends, and other leaders, these two women who had no experience in forming non-profits would soon enough be blessing the lives of children and families halfway around the world.
The possibility of failing and letting so many people down seemed palpable.
A heart for Africa
"Awake & Alive was the culmination, for me, of a deep love for Africa and my Savior, and wanting to live out my faith in tangible ways," explains Danielle, a mother of four (including her adopted daughter from Ethiopia). After spending a college semester in Kenya, she had always assumed that at some point in her life she would live in Africa. "To say Africa got into my heart and soul would be an understatement," she says. "I even have a tattoo of Africa and a heart on my foot."
As often happens, life seemed to get in the way of her plans. Danielle married and began having children, leaving her to wonder if her vision for living in Africa would ever happen. "Thankfully," she says, "through our Ethiopian adoption, my connection with Jolene, and the desire to live the life we're all called to as Christians and through a really profound prayer time with an amazing group of ladies, I realized that while it wasn't how I thought it would be, my love for Africa and connection to it was still very much a part of my journey—in the present, as well as the past."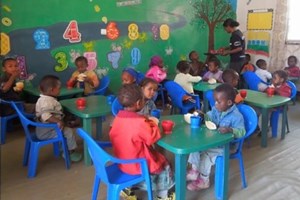 Jolene's attention turned to Africa when she and her husband, Darin, desired to start a family but weren't able to do it on their own. "Adoption was clearly spoken into my heart . . . Ethiopia chose us," explains Jolene, who is now the mother to three adopted children. "After several trips to Ethiopia and having our hearts totally broken by the orphan crisis, Darin was one hundred percent behind my desire to do more for the country that has given us so much. We knew that adoption was a great avenue for thousands of children. But we knew the statistics: 4.6 million orphans are in Ethiopia alone. We knew we had to do something to help those who never have the opportunity to be adopted."
A vision for Kechene
Danielle and Jolene had a vision to start a school in the slum community of Kechene, Ethiopia. "Many people believe that people in Kechene have what they call 'an evil eye,' meaning if eye contact is made with a person of Kechene, you too can become cursed," Jolene explains. Instead of perpetuating that curse, they decided to take the love of God into the community by building the Bright Future Academy through the work of Awake & Alive.
Their initial goal for the school was to offer 35 students the opportunity to receive three meals a day, an education, medical care, and peace of mind for the families. There was just one problem: They needed to raise $44,000 to make this dream a reality.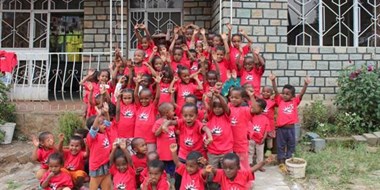 "When we knew we were to move forward with starting the school, fear was a very real presence for me at the beginning. These were real people we were talking about and raising $44,000 annually seemed like an impossibility for two moms—a hair stylist and an English teacher," Black admits. "The possibility of failing and letting so many people down seemed palpable. But for me, in the beginning and throughout, when fear would rear its ugly head, I knew through the Holy Spirit that it wasn't a healthy fear that was making us wise. It was a debilitating fear that would keep us from taking part in what God was doing. Looking back on it now, I am so thankful that God gave us the strength to not give in to fear, but instead to allow love to override even our deepest fears."
As for reaching their goal, Jolene says, "And of course God did not disappoint. We met that goal three months ahead of schedule."
'There is no doubt in my mind that my life could look very differently had I not listened to that small voice calling me to adopt,' Jolene says.
The two women recently returned from a trip to Kechene where they got to see the fruit of their labor. "The first class of academy kids stood before their mothers, grandmothers, and caregivers, reciting English and singing songs proudly," Danielle describes. "They were more self-confident and more full of hope than when we had seen them in September. We also had the privilege of hearing their mothers and grandmothers stand up in the group and say how much hope they had and how much they were blessed by us and the staff at Bright Future Academy through what was happening in the lives of their children."
While they celebrate in the successes so far, they are also looking to the future. Next year the academy will add another class, bringing the total number of students to 70. Awake & Alive's ultimate goal is for the school to eventually become a self-sustaining academy for kindergarten through 12th grade. When the community can sustain the school, Awake & Alive will be able to bless a new community.
Enjoying the ride
For Danielle and Jolene, making the decision to start Awake & Alive really wasn't a choice. Because of their faith, they believed they needed to take action. "Our faith in Christ is not just about what is going on in our heads, but what we're doing with our hands," Danille says. "Going back into the classroom this year here in America, I am so disheartened when I'm trying to help students and they don't know anything they're passionate about. We are created to be passionate, to have purpose, and that passion and purpose is not just about us, but about our unique place in the world around us. We were created to do good works, and we won't be complete unless we are doing just that."
But, if you ask Jolene, there really was no choice when it came to starting the non-profit organization. "It is so much fun to be in God's will because, honestly, the decision was not really ours," she clarifies. " When all the signs pointed to 'yes,' all we could do was hold on and enjoy the ride, as well as return praise to the one who loves us so much that he chose us to take on such an amazing task."
What could've ended as a nice playdate with interesting stories became a shared vision that is now touching the lives of children and families in an Ethiopian slum.
God's bigger plans
Two years ago, these two moms discovered they had a common interest. They shared in a passionate conversation and while it would've been easy to leave it at that, they didn't stop there. What could've ended as a nice playdate with interesting stories became a shared vision that is now touching the lives of children and families in an Ethiopian slum.
They've learned a lot during the course of their journey, such as the importance of listening to God's calling on their lives, not being afraid to step up and take action, and knowing the importance of surrounding themselves with capable and educated individuals who share in their vision. But perhaps the greatest lesson they've learned is that by living out their faith, incredible things are possible.
"There is no doubt in my mind that my life could look very differently had I not listened to that small voice calling me to adopt," Jolene says. "I was on a track of being consumed with myself and my little world. But praise God, he has bigger plans for my life. I never would have dreamed of such a life for myself. And the exciting thing is that God has bigger and better plans for our lives then we could ever imagine if we just listen."
Meagan Church is a writer, a reader, a black coffee drinker; a runner, a golfer and a lover of nature; a wife, a mother and a wannabe world changer. Meagan is currently writing a book on the journey to modern motherhood. Find her at Unexpectant.com or on Twitter @unexpectant.
Read more articles that highlight writing by Christian women at ChristianityToday.com/Women
World-Changing Moms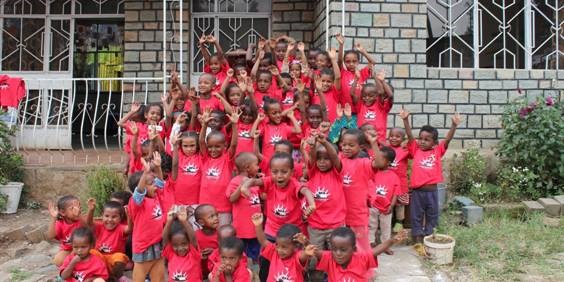 This slideshow is only available for subscribers.
Please log in or subscribe to view the slideshow.
Read These Next