Unlocking the Secret of Generosity
How to open your heart and your wallet to give generously and fearlessly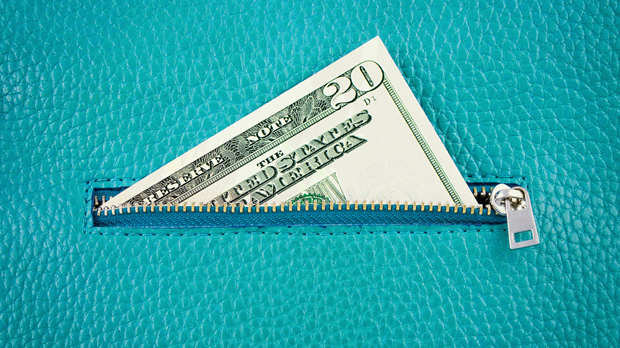 I was stingy. I was selfish. I was fearful. And I was broke. Money? It washed through my household like water through a sieve. Bills? Overdue or overwhelming. Budget? Never considered or created. Bounty? Too elusive to even imagine.
Financially and spiritually, that is, I was a mess. But I didn't know the secret of generosity: to get more, one must give. Even when it comes to money, the truly generous give all the more.
Charles Spurgeon, the great 19th-century Baptist preacher, explained this beautiful irony in his unique way: flowers in bloom give their fragrance—and "rivers run into the sea" () . . . generously.
Spurgeon went on: "The sea feeds the clouds, the clouds empty out their treasures, the earth gives back the rain in fertility, and so it is an endless chain of giving generosity."
Then there was me. Worried about finances and desperate for more, I felt defeated and dismayed—working and serving hard, but always coming up short, financially and in other areas.
Then God painted a picture, showing me what real generosity looks like—changing my attitude about money and much more.
Giving Like God
On a cold spring night at my busy Denver church, a benefit for a big nonprofit had just concluded. The packed audience was asked to leave donations in offering plates as they left the sanctuary.
Then God painted a picture, showing me what real generosity looks like—changing my attitude about money and much more.
As a church usher that night, I scooted to attention—standing at my post by the big sanctuary doors. I expected a big rush of people ready to donate, especially following a renowned speaker's keynote and a rousing 100-voice community choir.
But the well-dressed crowd rushed past the offering plate. Only a few dropped in donations. Then a not-so-prominent woman, slowed by leg braces, made her way up the center aisle.
Wearing a misshapen coat and worn hat, she finally stopped and struggled to turn—adjusting her braced legs with every move—to face my offering plate. She greeted me with a big smile, her striking accent sounding West African. Then, still smiling, she opened a faded purse and dug to the bottom for what seemed like endless minutes before finally lifting out a few coins. With a look of joy and grace, she placed her few coins in the offering plate, said thank you, and turned slowly to struggle away.
And this, said God, is what generosity looks like. Intentional. Grateful. Cheerful. Missing this, said the Lord, is why you struggle so hard to get. Because you won't give. Because you haven't learned what an unassuming woman so graciously showed you: I own it all.
In the Bible, puts it this way: "The earth is the LORD's, and everything in it."
In King David's view: "Yours, O LORD, is the greatness, the power, the glory, the victory, and the majesty. Everything in the heavens and on earth is yours, O LORD, and this is your kingdom. We adore you as the one who is over all things" ().
And this is what generosity looks like. Intentional. Grateful. Cheerful.
This insight should alert any of us still clinging to what we don't own in the first place—our time, talents, property, and purses. Such a person, wrote Spurgeon, "is a piece of grit in the machinery"—like a wheel "running in opposite direction to the wheels of God's great engine."
Not a generous giver? You're "out of date," Spurgeon said, "and out of place." Out of God's order altogether.
Seeking After God
But what if you don't have anything to give? You're willing to share but lack any extra? You long to be charitable but run out before you give? You seek to tithe but fear to try? Those were my excuses for years. Why give to others when I can't seem to take care of my own household?
Seeking the Lord to unravel this snarl, I found him pointing me to some basic truths:
God created us to be givers. Not reservoirs, says Dr. Charles Stanley; not "stockpiling money for our selfish desires, but as channels, willing to share" God's gifts. As Jesus taught in : "Give, and you will receive. Your gift will return to you in full—pressed down, shaken together to make room for more, running over, and poured into your lap. The amount you give will determine the amount you get back."

Seek first to know God. Then "he will give you everything you need" (). What will God generously provide us? Contentment. Joy. Perspective. Wisdom. In longing to know God deeper, you'll discover more ways to be and give like him—without limits. A meal to an elderly neighbor. A visit to a homebound senior. A kind word to an anxious child. A timely donation to a favorite nonprofit. And your tithe. Even a few pennies given bravely with love, in God's eyes, are .

Trust God to provide. Then you can boldly go to him, as I dared, and say: "I trust you, Lord, to provide. But I can't see my provision. Show me what you've provided, please!" In my case, God pointed me first back to my writing—my acquired skill (and passion), graciously opening doors to write and earn while also encouraging others. A widowed friend recently opened her empty-nest home to two foreign students, gaining income and companionship. Another generous friend, a great cook, is now a caterer. For all of us, however, our start was dependence on God.

Desire less. As G. K. Chesterton said, "There are two ways to get enough; one is to accumulate more and more, the other is to desire less." Not the big house. Not the pricey shoes. Not the world's things. "For the world offers only a craving for physical pleasure, a craving for everything we see, and pride in our achievements and possessions. These are not from the Father," says 1 John 2:16–17, "but are from this world. And this world is fading away, along with everything that people crave. But anyone who does what pleases God will live forever."

Be humbly grateful. Feeling stingy? Step back and count your blessings.

Ask God for what you need, so you can share. As James, the brother of Jesus, said: "And even when you ask, you don't get it because your motives are all wrong—you want only what will give you pleasure" (James 4:3).

Give what God desires. For what does it profit a person, asks Matthew 16:26, "if you gain the whole world but lose your own soul?" Getting and going your own way, in the end, .
Giving Gets Rewards
Giving what God gave you, however, gets rewarded. "Give, and you will receive" (). Giving reflects the nature of God. "The cheerful giver," Spurgeon adds, "is marching to the music of the spheres. He is in order with God's great natural laws, and God, therefore, loves him, since he sees his own work in him."
King Solomon of the Bible wrote it this way: "The generous will prosper; those who refresh others will themselves be refreshed" (Proverbs 11:25).
And from the writer of the Book of Hebrews: "God is not unjust. He will not forget how hard you have worked for him and how you have shown your love to him by caring for other believers, as you still do" (Hebrews 6:10).
Also, as we give, God guards our storehouse. In , God urged his people to tithe and offered this assurance: "'Your crops will be abundant, for I will guard them from insects and disease. Your grapes will not fall from the vine before they are ripe,' says the LORD of Heaven's Armies" (verse 11). Believing this, we can trust in God, taking the courageous path of generous giving rather than struggling to hold tightly to "our" money and possessions.
God will honor our giving. With a financial "reward"? With so much heavenly bounty we can't measure or contain it. With wisdom, joy, renewed trust and contentment—including financial peace that turns our panic into practical, godly strategies for managing every dime, dollar, or other provision from God. Not for our glory, but for his. Not for our satisfaction, but to serve his world. "Try it! Put me to the test!" God says (Malachi 3:10). Surely, that's a dare worth answering.
Yielding Our Hearts
Even so, many arguments could be made for withholding our gifts. God could've made such arguments himself! Yet God so loved the world—this ungrateful, sinful, selfish, disappointing world—that .
What a powerful model. We give richly for that reason. That's how God gave to us.
We can trust in God, taking the courageous path of generous giving rather than struggling to hold tightly to "our" money and possessions.
When we yield our hearts fully to him, giving back to God and his world, everything changes. As Randy Alcorn explains: "At the moment of release, the light turns on. The magic spell is broken. My mind clears, and I recognize God as owner, myself as servant, and other people as intended beneficiaries of what God has entrusted to me."
Giving generously, Alcorn adds in his book Money, Possessions, and Eternity, "doesn't strip me of vested interest; rather, it shifts my vested interest from earth to heaven—from self to God."
A century earlier, C. S. Lewis said when we discover that our every moment, movement, and mammon are given to us by God, and that we can't "give Him anything that was not in a sense His own already," at that point, "God can really get to work. It is after this that real life begins. The man is awake now."
And so is the woman. So let us give, working with God. Our real life beginning, now awake.
Patricia Raybon inspires leaders and believers with her award-winning books and essays on mountain-moving faith. Her upcoming book is a vulnerable conversation with her youngest daughter, Alana Raybon, titled Undivided: A Muslim Daughter, Her Christian Mother, Their Path to Peace (April 2015, Thomas Nelson). The book's prequel is I Told the Mountain to Move, Patricia's acclaimed memoir on prayer. Learn more at PatriciaRaybon.com.
Read more articles that highlight writing by Christian women at ChristianityToday.com/Women
Unlocking the Secret of Generosity
Read These Next
My Worries about Money

I needed to trust God for financial help. He'd been faithful in the past. Would he be faithful again?