When He Has the Headache
How to navigate diverse sex drives in marriage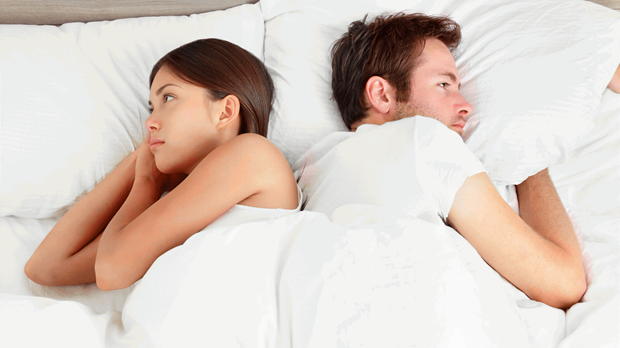 I did not relish the possibility that I was the only Christian woman who had a stronger sex drive than my husband, but for the first decade of our marriage, that's exactly how I felt. When I shared my dilemma with close friends, I typically got blank stares. One friend facetiously asked, "You mean you actually like sex?" Indeed, I do.
Our culture complicates and contributes to this predicament by idolizing sex and trying to convince men that they won't make it through the week unless they are sexually active. According to my husband, "As an American male, if you aren't thinking about, talking about, or having sex on a daily basis, it's easy to get the message that there's something wrong with you." (My husband is not the only man who refuses this worldly mindset, but he does seem to be in the minority.) Sadly, this skewed message often infiltrates the church.
As Christian women, what we most often hear from the pulpit or at conferences is essentially, "Women, we all understand that you aren't as interested in sex as your husband, but try to be a good wife and give him what he wants." This perspective does not resonate with my experience and feels both reductionist and demeaning. I would often come away from these events thinking, If God made me a sexual being, why am I getting the message that there's something wrong with me if I enjoy sex?
A Shameful Secret
The reality that I am interested in sex more frequently than my husband has caused some tension in our 23-year marriage. Though we do a fair amount of public speaking on taboo subjects, this one has not gotten much air time because, to be completely honest, we have both felt some degree of shame.
Before we could make progress on this issue, we had to acknowledge these feelings of inadequacy and shame.
Overcoming shame connected to our sexuality is a big deal. For some mysterious reason, shame is attached to our gender. (Remember how Adam and Eve covered their genitalia in the Garden?) My husband felt the shame of not living up to the culture's—as well as his wife's—expectations. I often experienced his "no" as a personal rejection, as if I was undesirable.
Before we could make progress on this issue, we had to acknowledge these feelings of inadequacy and shame. Additionally, he needed assurance of my committed love and respect, and he needed to know that I was not judging him. I needed to know that he found me attractive and desirable, particularly when he was not interested in being intimate.
During our years of pastoring, we've counseled enough couples to know that we actually aren't alone in battling shame. People feel ashamed for a multitude of reasons, including lack of bonding with parents, abandonment, abuse, sustained teasing, or bullying. For some individuals, a diminished libido might be connected to any of these issues (as is the case for my husband who was molested as a teenager).
Pursuing Honest, Courageous Communication
Discussing core issues such as those connected to our sexuality requires an added level of gentleness, compassion, and intentionality. Honest communication and a commitment to working through these issues help us to avoid turning our bedrooms into a battleground.
When it's obvious that something subterranean is going on in our marriage, my husband and I bookmark it and commit to talk it through during the coming week. We have learned the hard way that difficult conversations are better off happening during a walk on Saturday morning rather than when we're about to be intimate. Such intentionality keeps us moving forward because marital issues don't magically resolve without sustained effort, regardless of how much we wish they would.
What's happening in the bedroom is a reflection of our entire relationship.
In terms of communication, there is a delicate balance we need to achieve as we work through this. Though my husband and I committed early on to not deceive each other, I have learned that sometimes "an intelligent person remains silent" (). After having multiple defining conversations, he does not necessarily need to hear me express my frustration when he's not interested. This requires a tremendous amount of self-control, and I'll admit that I often fail. We have also learned to give each other a "soft no." (Yes, there have been times and even seasons when I'm the one declining!) When one of us wants to be intimate, if the other one is not game, we offer some form of physical connection (perhaps a hug or kiss), and suggest an alternate time.
Sex isn't simply about the plumbing; struggles couples face in this area may have nothing to do with physiological causes. What's happening in the bedroom is a reflection of our entire relationship. We've sat with many couples who are in the midst of processing sexual issues when they realize that they have deep pockets of bitterness toward one another. While it's understandable that frustration may build up as we deal with long-term issues, bitterness, anger, and withholding forgiveness are not conducive to a vibrant intimate life. Check in with each other on a regular basis, asking simple questions such as "Are we in a good place?" or "Is there anything I've done that has bothered or hurt you recently?"
The Year That Almost Broke Us
Despite all of our communication and intentionality, year 10 of our marriage was extraordinarily difficult. The stress of young children, multiple jobs, and a health crisis I faced left us both feeling stretched and weary. In times like this, sex can actually mitigate some of the conflict and tension—unless your sex life is a point of conflict and tension, in which case things can get very complicated.
In the midst of a tearful conversation one evening, I admitted that I felt like giving up and simply resigning to the reality that this issue might never be resolved. He insisted that I not give up because my sustained desire provided an impetus for him to grow. Make no mistake, holding out hope is a vulnerable and sometimes painful option, but God can—and will—sustain you.
The processing that we did that year yielded a good harvest: empathy. I don't have emotional barriers to sex but I do have physical ones (exhaustion and fibromyalgia pain). It's the reverse for my husband. He's committed to being emotionally present when we are intimate, which I deeply appreciate. The residual shame connected to his molestation as a teenager compounded by his long, demanding work days can sometimes feel like an insurmountable hurdle. By seeking to understand each other more deeply and by asking God to fill us with what we needed, we have been able to replace accusations with mercy, and despair with hope.
Learn How to Fight the Actual Enemy, Not Each Other
As you work through these sensitive issues, it helps to remember that we are in the midst of a fierce battle. Because a sacred marriage reveals the image of God, the Enemy of our souls deeply opposes it and endeavors to turn us against each other. In order for our marriages to continue growing, we must commit to staying on the same team and fighting against our actual enemy—rather than each other.
Because a sacred marriage reveals the image of God, the Enemy of our souls deeply opposes it and endeavors to turn us against each other.
Some nights when I've longed for sexual intimacy but we've not been able to connect, I can sense the accuser tempting me to think the worst about my husband, tempting me toward cynicism, or tempting me to get my needs met elsewhere. Though I feel vulnerable in these moments, I have learned to exercise the authority given to me by Christ and push back against the darkness. Practically speaking, this might mean reading Scripture, singing worship songs, confessing my ugly thoughts to a friend the next day, or purposefully demonstrating my love and commitment to my husband. It's a choice to fight for a good marriage.
Remember the Big Picture
As with any relational conflict, this issue offers us the opportunity to become more like Christ: to learn how to love, sacrifice, and extend mercy and grace. Marriage provides a sacred context for this transformation to take place. I'm not advocating that we should try to shut down our sexuality in the hope of eliminating tension, or that we should over-spiritualize our problems. But we do need to remain mindful that culture indoctrinates us with the unhealthy and unhelpful expectations that marriage must satisfy all of our needs, particularly our sexual ones. While there is a level of truth to this (for example, our friends cannot fill our sexual needs), expecting or demanding that our spouse satisfy our every need is idolatry, not love.
As I look back over the last 23 years of marriage, I can see that we have made slow and steady progress on this issue. I have come to a place of peace about our differences and no longer try to coerce my husband to be like me. We have created many venues for connecting on deep levels. When we do have sex, we are both completely free to enjoy each other and receive the moment as a God-given gift. Even if I might still prefer to have sex more often than we do, I am choosing to be thankful for him and for what we do have.
Dorothy Littell Greco uses words and images to help folks find transformation through Jesus Christ and see the beauty in everyday life. She currently lives outside Boston with her husband and two of her three sons. You can follow her via Facebook or by visiting her site: DorothyGreco.com.
Read more articles that highlight writing by Christian women at ChristianityToday.com/Women
When He Has the Headache
Read These Next