Sexual Temptation Is a Team Sport
Don't keep secrets in shame—when you're fighting each other, you can't stand together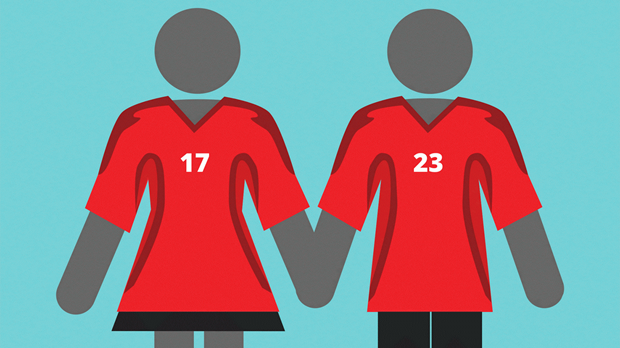 I grew up cheering for my favorite teams in Cleveland: the Browns and the Indians. But now I care more about the ultimate team sport—marriage.
Do you think about you and your spouse as being on the same team when it comes to temptation? Very rarely does a husband or wife even discuss how they are tempted sexually unless one of them catches the other in the act: sending flirtatious texts to a coworker, watching something sexually explicit, reconnecting with an old flame on Facebook, or lying about why you were late coming home from the office.
Regardless of which of you is tempted, when you are a team, you'll begin to see it as your problem together as a couple.
Because of the shame and feelings of rejection associated with sexual temptations, most people keep it a secret from their spouse. That compounds the problem and causes an even greater divide. I don't mean that a wife should take responsibility for her husband's purity or vice versa. However, when sexual sin and temptation hits one of you, it affects both of you. Satan will use pornography, inappropriate emotional attachments, and other forms of temptation to further divide you if he can define your husband as "the problem" or "the enemy." As long as you're fighting each other, you cannot stand together.
So how do you become a team? Here are a few strategies:
First, you have to learn to communicate to each other without judgment. If you don't know how your husband struggles, how can you help him? If he doesn't know how you struggle, how can he help you? Initially, this can be a difficult conversation but it's critical to becoming a team. Over the years, my husband and I have learned to ask each other questions like, "How are you doing? Are you struggling with (specific temptations we have shared in the past)? Is there anything I can do to help you focus on us?" We don't ask these questions because we are paranoid, but because we know the reality of marriage. Every husband and wife will likely face sexual temptation at some point in marriage.
Second, you play defense together. Where is your marriage vulnerable? What needs do you have that are not being met, leaving you open to temptation? How can you put up "walls" or "hedges" to protect against temptation? For example, you might decide to never have a meal alone with someone of the opposite sex. Always try to take that phone call from your spouse. Keep all texts, voice mails, and email accounts available to each other so that secret friendships don't have a chance to grow.
Third, play offense together. Don't just wait for temptation to attack your marriage. Work on your sexual and romantic relationship so that you do not leave room for the enemy to attack. I believe so strongly in this that I wrote a Bible study with Linda Dillow called Passion Pursuit. Christian marriages are far more vulnerable to sexual temptation when there is no romantic adventure or sexual excitement. Plus, playing offense is a lot more fun than marriage counseling!
Finally, great teams always have good coaching. The road of intimacy can be a difficult one. Mike and I have encountered some very painful challenges through our 19 years of marriage. We have come through the storms stronger because together we are eager for wise counsel. We believe that God created marriage and sexuality, so we seek God's wisdom. Sometimes he provides it through the advice of a friend or mentor. Other times, we are convicted or encouraged straight from Scripture.
Whatever temptations you and your husband may be facing, address them. Don't wish them away or minimize the danger of a little fantasy or flirtation. Ask the Lord to show you how to fight as a team and enjoy the fullness of authentic intimacy in your marriage.
Juli Slattery is a widely known clinical psychologist, author, speaker, and broadcast media professional. She co-founded Authentic Intimacy, and is co-author of Passion Pursuit: What Kind of Love Are You Making?
Read more articles that highlight writing by Christian women at ChristianityToday.com/Women
Sexual Temptation Is a Team Sport
Read These Next