Not Your Average "Road Trip"
The Art of Simple's Tsh Oxenreider and her daughter, Tatum, on their worldwide family adventure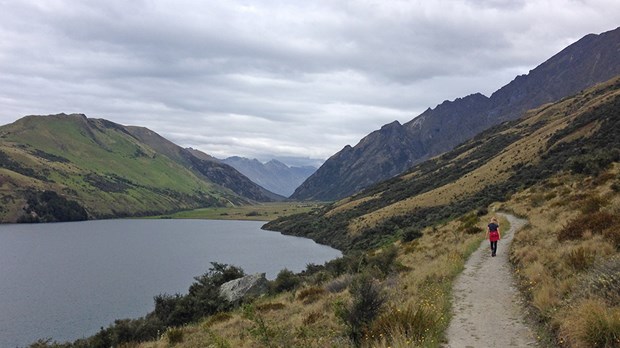 It was a frigid 19-degree day when I connected via Skype with Tsh Oxenreider (author of Notes from a Blue Bike and host of "The Art of Simple" podcast and website) and her nine-year-old daughter, Tatum. In contrast to my Midwest winter weather, Tsh and Tatum were enjoying Thailand's 90-degree weather where, Tatum quickly informed me, they had a room by the pool where they'd been swimming—and eating ice cream—a lot.
Tsh and Tatum, along with Tsh's husband, Kyle, and their sons aged four and seven, are in the middle of a year-long, worldwide travel adventure they're sharing with the rest of us via their blog, Twitter, and the Instagram hashtag #WorldwideOx. I connected with the mother-daughter pair to learn more about how—and why—a family of five is traveling the globe.
TCW: Tatum, what's been your favorite part of the trip so far?
Tatum: I think the elephant reserve that we went to [in Thailand]. It was really cool.
Tsh: It's one of the only ethical elephant preserves in Southeast Asia, where they don't have elephants do tricks or give rides or anything. They actually rescue elephants that were trapped in some form of slavery, like from illegal logging or circus kind of stuff, so a lot of times they are injured.
Tatum: It was like a retirement home for elephants.
Tsh: Yes, it's kind of just like rehab for elephants. It was really cool to see them being nursed back to health, and then the kids got to bathe them and feed them, and learn a lot about them.
Tatum: I also loved Ocean Park—that was really fun.
Tsh: That's a place in Hong Kong where she got to see a giant panda.
TCW: Tatum, what part of your trip are you most looking forward to?
Tatum: Australia. I've already got the accent down!
TCW: Tsh, can you tell me a little more about the scope of your trip?
Tsh: You caught us at the early part of our trip, so we've "only" been to China, Hong Kong, and Thailand so far. Next we'll go to Singapore, Australia and New Zealand, Sri Lanka, and then we'll head over to Africa: Uganda, Ethiopia, South Africa, Kenya, and Morocco. From Morocco we'll go to Europe, and we'll be there for a couple months. We'd like to also hit South America, but it just depends on timing. If we don't go to South America on this trip, we'll do it another time. We're kind of life-long travelers.
TCW: What motivated you to go on this huge, global adventure?
Tsh: We are choosing to show our kids that this is a priority for us. We explain all the time that this isn't because we have tons of money. (We're working while we're on this trip.) We've just angled our lives so that we made this particular season a priority. We want to have a family culture that values more than just the conventional definition of what's important. Even if we go back to the States and just have a typical suburban life again, our kids will have had this one season where they were given a chance to see different cultures-where they were given a chance to live out of backpacks; where they saw the day-to-day experience of trip planning, budgeting, and figuring out transportation; where they saw their parents deal with cultural differences and model that. For me, this has definitely been a valuable use of our time and money as we foster our family culture. I know that there are plenty of other ways to expose your kids to the world, but this is just our family's choice. We hope to infuse travel continually into our life together.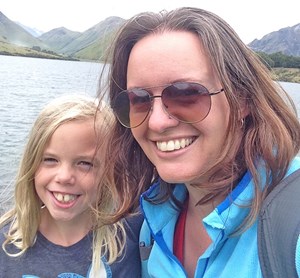 TCW: This trip you're on is really big. What has been most challenging about it?
Tatum: [Sighing] Brothers.
Tsh: The kids generally get along really well, but on a trip like this, when it's just them and they don't have their outside resources or friends or other things that they normally interact with and socialize, it can become one of those "best of friends, worst of enemies" situations.
They're around each other all the time, which will be good in the long term—but in the day-to-day, sometimes it can be pretty tiring.
TCW: Tsh, as a mom, would you say facilitating your kids' relationships has been the most challenging part too?
Tsh: I'd say, for me, that it goes a little deeper to just relationships in general. A trip like this is kind of like having a cup full of water and you're shaking it—it just shakes out what's already there and reveals things. When you're in your own home culture and challenges arise, you have ways to cope—maybe you need alone time, so you just go off and you find your happy place. But you don't have that on a trip like this, so you're forced to look at issues square in the eye. That's been hard, but it's also one of the good things.
TCW: So, Tatum, with all the changes and challenges, in your opinion what makes a trip like this worth it?
Tatum: It strengthens you—it makes you brave. And it helps you be okay with being alone sometimes.
TCW: What do you think God is showing you or teaching you during this adventure?
Tatum: Patience. [Turning to her mom] What are you laughing at?
Tsh: [Chuckling] I'm just laughing at how true that is. That's really true.
TCW: What about you, Tsh? What has God been teaching you?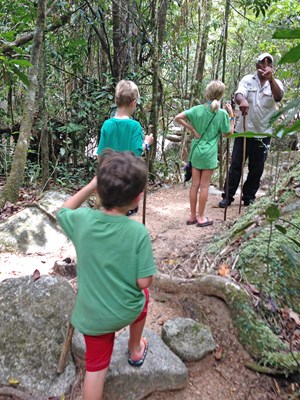 Tsh: When I start to miss things, to feel homesick, to think, Gosh, all I want to do right now is be in my own kitchen and just making soup—something nice and normal, God has been reminding me that life is short. It's that idea of being content right where God has you. He has something for you, no matter where you are, as long as you are attentive enough to listen for it—as long as you're looking for it.
Also, I have a Bible app on my phone and we're reading through the "one anothers" in the Bible together. Whenever there are stressors or we're tired out, I'll just get one of the verses, then we'll read it and talk about it, and then we'll pray for each other. The rest of the day the moods are so much better—we are kinder to each other. We're experiencing the simplicity of God's Word being central to our life without all the clutter of busyness or other day-to-day errands or checklists and busyness that we can get bogged down with in our "real" life.
TCW: What encouragement would you share with someone who wants to grow her family's global perspective?
Tsh: I don't want to unintentionally give the message to people that this is the best way or the right way or that everyone should do this, because there are plenty of families I know that care deeply about the world and yet never leave their home state. That's perfectly okay.
Aside from actual travel, we have so many resources now because of the Internet that it's not hard to introduce the world to your kids through books, through YouTube, through maps, through apps, through games. And of course foods, international recipes—there are a lot of
simple ways families can teach about different cultures, such as having a different ethnic food night.
"We're experiencing the simplicity of God's Word being central to our life"
That said, I really do think families should do their best to leave the country once together while they're under the same roof. So before your kids leave the house, try to go on a trip one time out of the U.S., or out of your home country. It doesn't have to be a huge trip or for a long time. But there is something inherently valuable about being in another culture that teaches you so much not just about that culture but about yourself. I would advocate for families saving up for that—making that part of their longterm budget.
But even if they can't do that, I think the experience of smaller trips is also valuable because of the process of traveling and being out of your comfort zone—of developing a learner's posture about life. You start to understand that you're there to learn from others rather than to give—you receive so much. That's a healthy thing for any family.
Read more articles that highlight writing by Christian women at ChristianityToday.com/Women
Not Your Average "Road Trip"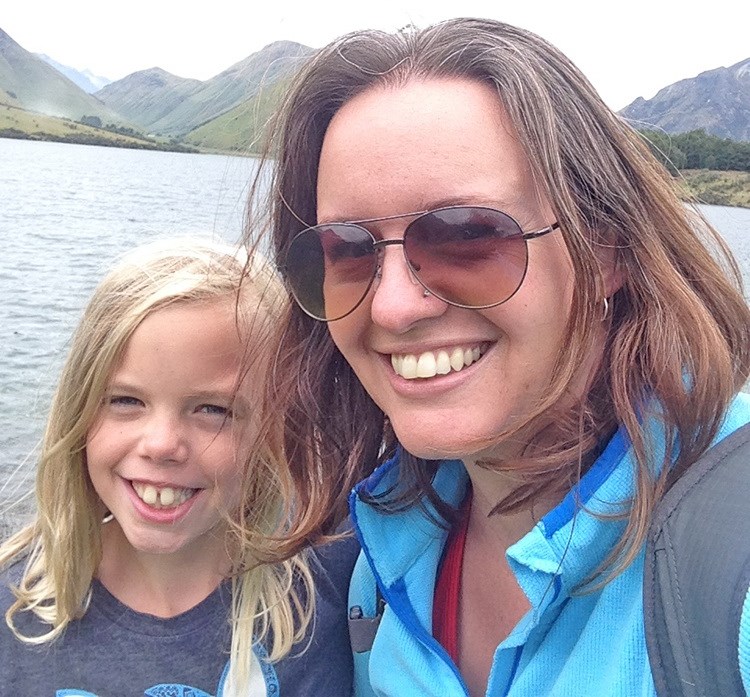 This slideshow is only available for subscribers.
Please log in or subscribe to view the slideshow.
Read These Next
Communism Really Was that Bad

Yes, their faith grew under Soviet Russia. But from this family's perspective, "religious freedom" has its problems too.