Adoption: A Second Chance at Life
How the Bamboo Project is changing the face of international adoption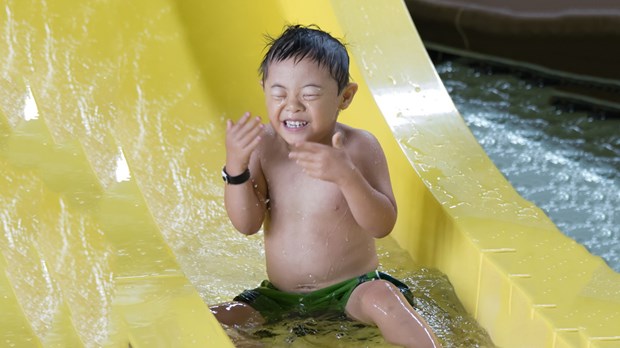 Image: PHOTO BY JULIE ELFERS
Desiree White was only 17 when she knew she would someday adopt a baby. Her epiphany wasn't accompanied by trumpets or shouts from a mountaintop but was confirmed by a quiet impression from the Holy Spirit during a routine airplane flight to Seattle, Washington.
"I saw a woman walking down the aisle with a toddler on her hip. There was nothing special about her, but the Lord said to me, That's going to be you someday. I knew that meant I was going to be an adoptive mother," she recalls. "I didn't question it at all."
Desiree kept the revelation to herself, thinking she would finish high school, go to college, get married, and then adopt.
But the Lord had a different plan.
It wasn't until she was almost 40 and still single that she held her little boy, Isaac, in her arms. Little did Desiree realize that when she said yes to God's nudging all those years ago and followed through with obedience as an adult she would be the catalyst for an international effort to find homes for babies with special needs who had been abandoned at orphanages and baby hatches across China.
The Journey Begins
Years after the Lord spoke to Desiree on the airplane, he quietly got her attention again, this time through a mental picture of a baby with Down syndrome.
At first, despite her nursing experience with babies with special needs, Desiree struggled with hard questions: Was she supposed to adopt a child with special needs? What would being a single mom look like? Is that acceptable in today's church? What about practical things like childcare and medical treatment?
However, she found overwhelming support and affirmation from what she calls her "league of wisdom": friends and counselors whom she could trust for advice.
Confident in her decision, Desiree approached Bethany Christian Services and stunned them with her request to adopt a baby with Down syndrome, the first such request they'd ever received. Desiree did not have a particular call to China, but as the adoption process proceeded it became clear that China would be her baby's birth country. Isaac became the first child formally acknowledged by the Chinese government as having Down syndrome to be released for adoption.
Desiree traveled to China with her mother and a good friend to pick up Isaac. She walked into the social welfare office excited though a bit nervous. "We turned the corner, and here comes this teeny little boy dressed in Jolly Rancher green, trying to walk. He had the brightest eyes, toddled right over to me, and promptly slapped me in the face," she recalls with laugh. "It was a toddler slap, of course. I don't recall the first 20 minutes because I was crying so hard. It was incredible."
Unusual Interest
A year later Desiree received a call from Bethany Christian Services and was floored to learn that the Chinese authorities had been keeping track of her case through her interactions with the agency. Government officials didn't understand why anyone would want to adopt a baby with special needs.
"They saw that Isaac was thriving. I was shocked that the Chinese government was now asking if we could help find more adoptive families," Desiree explains.
Isaac's adoption was the beginning of what would become the Bamboo Project, an outreach of Bethany Global that focuses on placement of Chinese babies with Down syndrome. In the summer of 2013, Bethany received files for 14 of these babies that were being released for adoption. To date, Bethany has placed 12 of the original 14 children and has another 30 waiting, according to Elisabeth McGinnis, international services coordinator with Bethany Global. Bethany works with six orphanages in China, and there are currently 200 babies with Down syndrome in those orphanages.
Elisabeth believes the success of the Bamboo Project reflects a shifting attitude in the Chinese government toward the adoption of unwanted babies, traditionally female babies but more recently babies with special needs.
Tip of the Iceberg
In 1992 China began allowing international adoptions, and 206 babies, primarily female infants, were adopted into the United States, according to the US Department of State. This was largely due to the one-child policy, introduced in 1979 as a way to control population and reduce widespread poverty. That resulted in high numbers of female babies being abandoned or killed, presumably so the parents could try again for a boy, seen as a guarantee of passing on the family name and providing security in their old age. According to the Department of State report on intercountry adoption for 2014, American families adopted 2,040 babies from China.
China's economic growth helped lessen enforcement of the one-child policy, resulting in slightly fewer female child abandonments, but China is still grappling with rising numbers of abandoned children of both genders with special needs. In 2013 China's Ministry of Civil Affairs began a baby hatch program whereby parents could legally abandon babies with no questions asked. More than 100,000 babies are abandoned in China annually, the Ministry of Civil Affairs reported in 2012. As of October 2015, China made headlines by abandoning their strict one-child policy; the ramifications of this change have yet to be seen.
Driven by Need
But even with this change in policy, there is still a great need to find adoptive parents for babies with special needs. It's not that Chinese parents don't love these babies, says Elisabeth, but they are overwhelmed with the financial challenge of caring for such a child in a society that is largely rural, poor, and lacking in medical care. She believes Bethany can play a pivotal role in this scenario.
"There was a time when the [Chinese government's] attitude was, 'Why would anyone willing take on a child with these additional needs?' But as we partner with them, the caregivers and officials see these babies are valued and loved, and not only that but they see how well they are doing once adopted. I really think the Bamboo Project has made a huge impact," she said.
"Most of these parents love their children very much but cannot provide what the babies need. That's why you will often see babies left outside an orphanage, in hatches, at a hospital or park—places they will be found," she added.
Open and Unafraid
Jessi Watson, 33, and her husband, Dan, adopted Emi from China as an infant with special needs. Emi, now 3 years old, joined a family that included two biological children, ages 6 and 9.
"Emi is a true orphan," Jessi said. "She was found without any identifying information. It was estimated she was two months old when she was abandoned 100 meters from the orphanage. Because she was found so close to the orphanage, not in a dumpster, I feel her mom probably felt stuck, loved her, and wanted her to be found. Maybe she was even hiding and watching and waiting for her baby to be picked up."
Like Desiree, Jessi felt the pull to adopt when she was a young girl. Because of her work as a registered nurse, she felt she and Dan could parent a child with special needs. Emi is partially tube-fed and has had medical challenges, but Jessi points out that people without a medical background can still consider adopting a baby with Down syndrome.
"You certainly need to do your research on what you are comfortable with, but be open," she encourages. "The child that is presented to you for adoption is not going to be the same child a year from now. They will thrive in a loving home." She adds, "We know of three families who have started the adoption process for a child with special needs because of our story and seeing Emi and her joy, purpose, and value."
A Testimony to God's Love
Desiree echoes this sentiment, saying that adopting kids with special needs can seem overwhelming with the finances, extra bureaucracy, and travel, but it really is about "one person saying yes and trusting the Lord will provide." Beyond the immediate benefit for the adopted children, Desiree firmly believes the success of the Bamboo Project is a testimony to God's love for all people.
"This is a statement to the international community that these children are loved and wanted and can have a long, happy life. If we as the Christian community can say that to China, then maybe China will make changes in their country, like making medical resources and therapy available for these children so that a birth mom can keep her child. It's the ripple effect of one person saying, 'Lord, I can do this.'"
Read more articles that highlight writing by Christian women at ChristianityToday.com/Women
Adoption: A Second Chance at Life
Read These Next