Beth Moore on Holy Affection
Jesus wants your emotion, not just your devotion.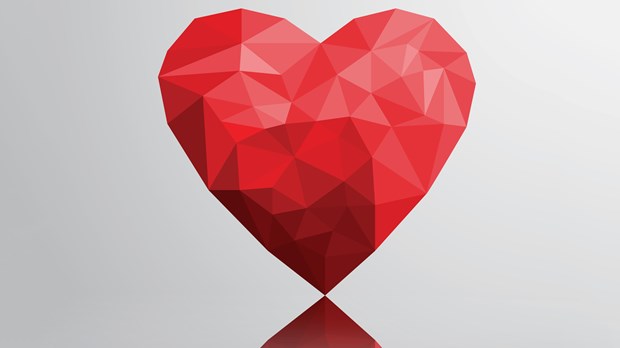 Image: OCTDESIGN / SHUTTERSTOCK
Love carries a feeling. Not every second of every minute, of course, but it has frequent enough feeling involved in it to characterize the whole attachment. Is that fair enough? We know this instinctively with every other relationship in the human experience. Set aside all the times we toss around the word love to convey how we feel about a movie or a meal and let's limit it to the real thing.
If I ask you which of your friends you really like and which of your friends you truly love, you'd answer the latter with the names of those who draw the deepest affections from you. If you're a mom and I ask you to describe your love for your children, your response would be incomplete without references to the feelings and emotions they stir up in you. Let's switch sides at the table and have you ask me a question.
How about this one: "Beth, do you love your husband?"
You'd want to punch me if I launched headlong into, "Of course I do! I cook for him every single day, I iron his shirts, gas up his car, drive right behind him in mine, and I do every single thing he tells me to do."
Wouldn't you want to say, "I didn't ask you if you work hard for your husband. I asked you if you loved him"?
We don't give a second thought to characterizing love primarily by feelings in our human relationships but, somehow, when it comes to Jesus, the definition shifts. The difference is understandable, of course. He is not visible. It's easy to subconsciously conclude that, since Jesus is unseeable, love for Jesus is probably unfeelable. With this view, love for Jesus is most about doing and least about feeling. Not only is this view misleading, it's woefully dissatisfying. In fact, Christ's point with Simon Peter in their dialogue in John 21 was that the doing he was assigning him ("feed my sheep") could only be sustained and satisfied for the long haul through the loving.
We're not talking about hyper-emotion and learning to levitate ourselves into spiritual hysteria with Jesus. That would no more be the goal in our relationship with him than it would be the goal in a marriage. Keith Moore put a ring on my finger 36 solid years ago. My affection for him often enough spikes feverishly, especially on sentimental occasions, or when I get home after several days away, or in a happy resolution after a big fat fight. Sometimes it spikes for no reason at all and takes me by surprise. But even in seasons between the fever-pitch, my relationship with Keith is overwhelmingly defined by a feeling. I feel a way about him that I do not feel about another person on the planet. My love for him, as flawed as I am, is too big to hide in my heart. It surfaces in skin and shows up in actions. Because I love him, I like to do things for him, but, if he asked me if I loved him, his heart would sink if I responded, "I cooked you dinner last night, didn't I?" Try to picture Christ asking Peter if he loved him and Peter saying, "I swam to you, didn't I?"
The love Jesus longs for is not just devotion. It's also emotion.
It's not just volition. It is also affection.
It is not just discipline. It is also passion.
It's not just routine. It is also romance.
And not just for Christ's sake but also for ours. Love is the catalyst. The holy cause and effect.
The person you are when you love Jesus with everything in you—with your whole heart, soul, mind, and strength—is the real you. The brilliant you. The bring-it you. The breathtaking you. The born-for-this you. The person you were born to be crawls out of the shell of a heart cracked wide-open to the audacious love of Christ. When your heart, your soul, your mind, and might are engaged in a wholly invasive holy affection, march yourself into the nearest bathroom and look in the mirror over the sink.
That's you.
And what that woman in that mirror in that condition of teeming affection most wants to do is most likely that woman's calling or the carrier of that direction. Does that woman in that mirror want to help the homeless, teach kindergartners, visit shut-ins, teach Bible classes, reach the unreached, write a book, work on an album, foster children, go to seminary, work with preteen girls, tutor underprivileged kids, work in law enforcement, fight human trafficking, finish creating that cookbook, pursue an acting career, become a college professor, manage money for nonprofits, run a corporation, do medical missions, volunteer at a women's shelter, or be a network news anchor?
When the blood in your veins runs hot with holy affection for the living Christ, what do you want to do most? Paul put it this way: Christ's love compels us. When Christ's love invades every cell in your body, what are you compelled to do? The follow-up question is critical. The answer to it is where the rubber meets the road, where dreams become realities and destinies that defy gravity finally get fulfilled. This is it: What would it take to do it? You answer those two questions—What are you most compelled by the love of Christ to do? and What would it take to do it?—then identify one first step toward that direction, and, child, you will find the next place to plant your food on your divinely planned path.
Don't tell me you're too young. Don't tell me you're too old. Don't tell me you're too scared. Don't tell me you're too busy. Get to it. Nobody but you can do it.
Beth Moore is a writer and teacher of best-selling books and Bible studies whose public speaking engagements carry her all over the United States. A dedicated wife and mother of two adult daughters, Moore is president and founder of Living Proof Ministries. This article was excerpted from Audacious by Beth Moore. Copyright © 2015 by B&H Publishing Group. Used with permission.
Read more articles that highlight writing by Christian women at ChristianityToday.com/Women
Beth Moore on Holy Affection
Read These Next