The Good Life?
Their pursuit of a picture-perfect marriage nearly cost Susan and Mark Wheeler everything—including each other.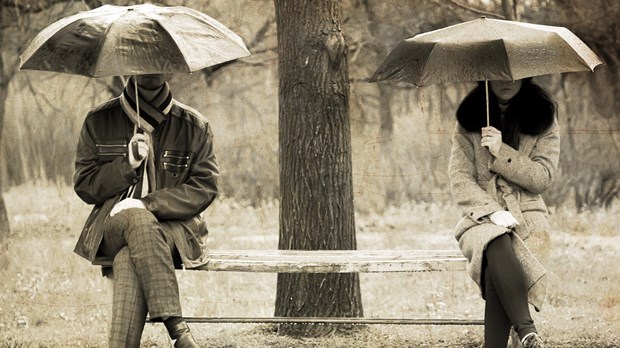 Susan Wheeler, an artist, can tell you all about marital bliss, beginning with a couple known as Edmond and Victoria Rose Boxwood.
They begin the morning with a picnic breakfast in a country meadow. Then they bike into town and spend the afternoon browsing through quaint shops and buying flowers from sidewalk florists. Later, they enjoy dinner by candlelight at a romantic French bistro and complete the day with a stroll along the river and a kiss in the warm glow of the setting sun.
Nothing could be more romantic. The trouble is, the couple with this picture-perfect marriage are rabbits, not people. Susan's paintings of the Boxwoods and other charming animals have captured the imaginations of hundreds of thousands of greeting-card buyers. Her art also appears on journals, gift packaging, nursery bedding, stationery, balloons and other products. The world she creates, known as Holly Pond Hill, is an elegant, cheerful place where rabbits host tea parties and mice waltz in starlit ballrooms.
It's a world born out of Susan's dreams. And it's the same dreamlike place that, several years ago, became Susan's refuge from the turmoil of her real-life marriage. How could a creative, artistic woman who was so in love with romance get stuck in a marriage teetering on the brink of divorce?
Dream or Nightmare?
Susan first met Mark Wheeler when she was fresh out of high school, and theirs was a classic love-at-first-sight story. Their courtship and early years of marriage went smoothly, in keeping with Susan's dream of what romance should be.
"When Mark and I first met, we were head-over-heels in love," she says from her home in Fredericksburg, Texas. "My mother warned us that if we didn't stop holding hands once in a while we would cripple our fingers."
Mark joins the conversation. "Susan and I met on a blind double date. Even though she was the other guy's date, we ended up having a great conversation; no small feat at a loud Aerosmith concert."
Mark, a college freshman, felt so comfortable with Susan that friendship and a sense of closeness came easily. They later became engaged, and when Mark completed his undergraduate degree in 1980 they got married.
He immediately returned to school to earn his MBA, so money was tight. But the Wheelers were happy just being together.
"I never guessed, at the time, that money would become a big issue for us later on," Mark says. "When I was in college, we didn't expect to live high on the hog. 'Roughing it' was fun because we assumed it wouldn't last very long."
Their money-related problems began when Mark entered the world of investment banking. After years of study, he was ready to reap the rewards. He expected his work to provide a luxurious lifestyle for his family.
Susan, too, was eager to put their days of student poverty behind them. She had grown up in a middle-income family and assumed that once Mark got established in his career, their standard of living would be comparable to her parents'. She dreamed of living in a nice home with every room decorated with lace, fresh-cut flowers and antique furniture. It's not surprising that the rabbit homes she paints for Holly Pond Hill match that description.
Without realizing it, the Wheelers were basing their happiness on money and possessions. Neither of them was a Christian, so they didn't sense the missing spiritual dimension in their lives. When Mark landed a good job at an investment bank in Houston, they saw life unfolding according to plan. But it was just then that things started to fall apart.
"The early eighties were a terrible time to begin a career in banking," Mark says. "All over the country, banks were reeling from severe loan crises. It was my job to lend money, and yet my bank was so gun-shy we avoided making risky loans of any kind. I had a hard time making my quota and earning my commissions."
He had believed that hard work would pay off in financial success. But now, as he struggled to be a good provider, his dream was proving illusory. Even with Susan's income from a job in commercial art, there never seemed to be enough money to cover all the bills. The mortgage payments on their home, and the expense of children—two girls and two boys in just five years—set the stage for epic battles over money.
Attack and Counterattack
Faced with constant financial pressure, Mark tried to rein in their spending. But his pleas for financial restraint went unheeded.
"We were remodeling an older home and I was spending money on everything from drapes to carpeting," Susan says. "I passionately loved decorating; and it was easy for me, as an artist, to visualize all the perfect touches."
Mark's admiration of Susan's creativity clashed with his growing concern over their financial condition. "Every room touched by Susan became a work of art," he says. "But as the budget man in the family, I tried to get her to visualize money flying out of the bank account. I started acting like a financial policeman, and we frequently argued."
Susan resorted to spending money behind Mark's back. She describes one day in particular when, before Mark left for work, they fought over redecorating the kitchen. Susan wanted to paint the wooden paneling and put up new wallpaper. She told Mark the paneling was so dark and depressing it made the kitchen unbearable to work in. He vetoed the project, saying it would take too much time and involve too much expense. So Susan decided if she wanted it done, she'd have to paint it herself.
"As soon as Mark was out the door, I went out and bought the paint," she says. "When he got home, the kitchen drawers were spread out around the swimming pool and I was painting the cabinets."
Mark blew his stack. He had a bad temper to begin with, and seeing the kitchen in shambles was like pouring gasoline on a fire. After he got through yelling at Susan, he decided to teach his wife a lesson by buying something for himself.
"Mostly out of spite," he admits, Mark spent money they didn't have on an old Corvette that needed work from bumper to bumper. It was a classic money pit. "Instead of feeling glad about the purchase," he recalls, "I felt terrible."
Repairs on the car consumed Mark's free time. The more time and money he spent on the car, the more Susan felt her resentment building.
"It was as if Mark were married to that car for two or three years," she says. "He would come home late, night after night, and we were constantly fighting."
The Corvette turned out to be a beautiful piece of machinery, but Mark was forced to sell it to keep his family solvent. Facing constant pressure at work and wondering how they would pay off the remainder of their debts, it became harder for Mark to control his temper. Every day, rushing to and from work, he would shout expletives at other drivers who got in his way. By the time he would get home, it wouldn't take much to make him fly off the handle.
Susan's anger was building as well. She kept long accounts of her resentments against her husband, and every argument put Mark deeper into emotional debt. One night, after an especially rancorous blowout, Susan attended a bachelorette party at a nightclub. She felt so depressed that she pictured herself going to a singles bar to find a new husband.
"I never told Mark," she says, "but I was seriously considering divorce. I felt like I needed to leave him or I'd explode."
Back from the Brink
Just as the Wheelers' seven-year marriage was about to become a divorce statistic, God started working in both their lives. Mark was switching radio stations during his long commute to work and tuned into a Christian station "by accident." He heard things he had never heard before—things like God sending his Holy Spirit as a counselor, a helper. And salvation being available through simple faith in Christ, rather than being earned by becoming a perfect person.
"I never knew I couldn't change my life all by myself," he says. "No matter how hard I tried to cool down, I always lost my temper. Now I saw that I needed to stop trying to control my circumstances and let the Lord change me."
After a few weeks of listening to the radio, Mark got down on his knees and prayed for forgiveness and help. That same day his swearing stopped completely, and he started gaining more control over his temper. At home, he decided to spend time playing with his children instead of obsessing about money and work. And he became far more patient and loving with Susan.
"It was a huge change," Susan says. "I wondered what had come over him. He was acting more like the old Mark, the Mark I had married. But there was also something new and wonderful about him."
Meanwhile, Susan was making friends with the manager of a nearby Victorian shop. The shopkeeper would invite Susan and another woman over for informal tea parties.
"There was something incredibly different about these two women," she says. "Whenever they talked about people, it was always in an uplifting way. It was never a gossip session."
When Susan found out her new friends were Christians, she tried to square her positive feelings about them with her negative impression of churchgoers. She and Mark had fallen away from their childhood churches, primarily because of what they considered too much meaningless ritual.
With Mark's encouragement, they attended a Sunday service at her friends' church. That morning the pastor invited anyone wanting healing to come to the altar for prayer. Susan responded to the invitation.
"As I was kneeling there, I saw a man out of the corner of my eye—a man with cancer—and he was weeping," she remembers. "Well, something inside me broke and I couldn't hold back my tears. What a relief it was to let go of my anger and resentment! From that point on, I knew God loved me and wanted to save my marriage."
Mark immediately noticed changes in Susan. She was happier, and she no longer needed to buy things to feel good about her life. Best of all, the years of unfulfilled material desires were no longer used as accusations against him.
"We'd actually sit down and talk about our priorities," Mark says.
Susan adds, "I really took Proverbs 14:1 to heart. 'The wise woman builds her house, but with her own hands the foolish one tears hers down.' I realized that my selfish desires were undermining the financial foundation of our family. For the sake of my family, I wanted to make do with less. My marriage and children were more important than my house."
Looking back on their years of strife, the Wheelers agree that the money issue was a symptom of a deeper problem. The real problem was selfishness—always thinking "me first."
"It didn't help that neither of us had anything outside ourselves to steer us away from our self-centeredness," Mark says. "No matter what we owned, we always felt poor and empty. We needed the Lord."
Susan traded her dream of a perfect life for a committed marriage in the real world. In the process, she and Mark discovered a relationship that far exceeds their earlier expectations.
"I can't imagine life without Mark," Susan says. "To this day our children pray at night, 'Thank you, Lord, for rescuing our whole family.' That's better than anything make-believe."
Paul Kortepeter is an editor, a freelance writer and a regular contributor to Marriage Partnership. He and his wife, Jennifer, live in Bloomington, Indiana, with their daughter.
Read more articles that highlight writing by Christian women at ChristianityToday.com/Women
The Good Life?
Read These Next