Dating is a Painful (Necessary) Process
5 women sound off on sex, dating, and the church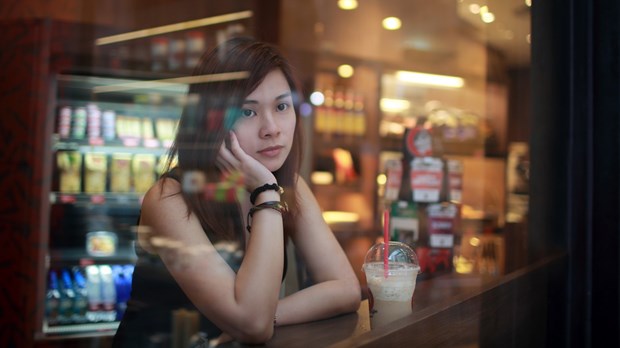 At the end of each day, after the bustle of working or parenting or even dating, a single woman is usually alone. In that vulnerable moment, what flickers of longing and temptation arise? What assurances of peace and love overwhelm? Five women—Karen Beattie, Deborah Nicodem Carsten, Dawn Eden, Connally Gilliam, and Valencia Wiggins—give their singular take on the single life.
Do you struggle with being content in your singleness?
Valencia: While I believe God wants me to serve him faithfully in this season, I've also cried out for him to change this area of my life. I often discussed the "gift" of singleness with my roommates in college, laughing about who did or didn't have it. One roommate thought she had this gift—and she's now married with three children. I never thought I did, and I'm still single.
Connally: We're all called to discover and appreciate the "gift" aspects of singleness. I liken myself to someone living in a war zone. I'm not necessarily "called" to live there as an end in itself. Instead, I'm called to make the most of my situation, confident God's at work in all circumstances.
Karen: Even though I made the most of my singleness, traveling to Puerto Vallarta with girlfriends and decorating my home according to my tastes, I often felt cheated out of a husband and family. Before I married at age 40, I vacillated between being content and blaming God for my singleness.
Deborah: I strive to embrace my life and be content with who I am today, not who I might be in the future. A while ago I posted this quote on my refrigerator: "You have more to learn from what's in front of you than from whatever it is you seek."
Dawn: If I live my entire life waiting in hope of marriage, I wouldn't see that as a tragedy, as long as, while I wait, I fix my eyes on Jesus, not on a fantasy of my future husband.
What do you see as your role in finding a husband?
Karen: One of my friends says we're "coauthors" with God. We take the first step, and he brings someone into our life. Initially, I wanted God to be matchmaker. I went years without a date. Then, as I got older, I tried being more pro-active. Eventually, I met my husband online—so, while I believe God was involved, I ultimately took some initiative.
Connally: I don't think I'm fundamentally responsible to find a mate. Rather, I'm responsible to be open to the men God brings into my life. I can freely decide whether or not to try Internet dating or accept friends' setups. In a metaphoric sense, my duty is to be a good dancer. I like to dance, so I put myself into the dance hall. But I can neither force a man to dance with me nor make us a good pair.
Dawn: Even if I situate myself in the largest possible pool of potential suitors, I still can't control whether I'll meet my future husband. Only God can. Rather than pray I'll meet someone, I pray I'll be conformed to God's will. Growing closer to God better prepares me for marriage than focusing on finding a husband does.
Valencia: I'm not ashamed to say I'm praying for God to bring that special man into my life. However, I've experienced a long dating drought. I jokingly whine to a friend, "I haven't had a date in years!" She always replies, "I haven't had a date since the last millennium!"
Deborah: After my divorce, I purposely steered clear of dating for seven years. I'd gone out with a couple guys I later discovered were married, so I decided to let God satisfy my desire for community through other relationships. Once I let go of my need for a mate, I met the wonderful man I'm currently dating.
Dawn: Learning to love friends and family better prepares the heart for marriage than "navigating" relationships with various romantic prospects. We learn intimacy through chaste love, not dating. God doesn't "navigate" us; he loves us. The biggest myth about singleness is that singles should try on different dating partners. Yes, we should learn from dating experience, but we shouldn't make an idol of variety.
Karen: In our culture, dating is a necessary process. Through dating, I learned to take the focus off myself and care for others. At first, I always worried about how I appeared; I couldn't see past myself to consider the other person's needs. But God taught me being with someone isn't about meeting my needs. So even though I was tired and therefore not very excited on the way to the first date with my husband, I prayed, "God, help me love this person tonight."
How do you deal with sexual urges and temptations?
Karen: Singles build sex into this huge thing they can't have. I worried I'd never have it, so I often wanted to abandon my Christian beliefs about sex, as many of my unmarried Christian friends had. But then one told me premarital sex wasn't worth the confusion and emotional pain. And I realized I really wanted commitment and a spiritual connection, not just physical gratification. Now I'm glad I waited.
Deborah: In establishing sexual boundaries, I've found no substitute for laying my life open to God and asking, "What do you want for me?" Then I examine with him all the questions that raises. The older I've gotten, the more I've changed my focus from wanting sex to wanting a great relationship. My priority is to love God and others. Grace covers the rest.
Valencia: God's command to save sex for marriage is for my protection. I make a deliberate, daily choice not to act on my desires, even though I'm a sexual being with sexual urges.
Connally: I was tempted to avoid the sexual aspect of myself for a short while, because, earlier, my desires had led to unintentionally crossing physical boundaries. But to shut down my desire, I'd have to shut down my heart, too, since sexuality is intimately tied to a woman's heart.
So I deal with my urges by naming them to others and God, thanking him my body and heart are alive. But there are sleepless nights spent tossing on my bed! Sometimes masturbation has brought me temporary relief, but it's not life giving. Hollowness always ensues, as if I've slow danced alone.
Dawn: I don't engage in any kind of sex, including self-gratification. My biological urges become less compelling when I stop seeing myself as deprived and start focusing on how I can share God's abundant love with others.
How do you keep from feeling isolated, especially at church?
Dawn: Church is an ideal place for singles to find fellowship. However, upon recently joining a new church's young-adult group, I found that many of the few members my age seemed too comfortable in their singleness, unable to help me grow spiritually in my continued hopes for marriage. So, to find sustaining fellowship and build character traits foundational for marriage, I'm looking to other events, such as lectures or volunteer activities, even if I'll be around mostly married couples.
Conally: While married friends may compose a single's primary community, a single will always be second to a married person's spouse and kids. Still, my happiest single friends are the ones integrated into a family within the church. Going to a family's home for meals or special occasions gives singles a sense of place and belonging. So one Sunday, while sitting alone at church, I took a risk and asked a couple if I could sit with them each week. I felt ridiculous, but my risk eventually resulted in a deep, authentic friendship.
Valencia: I don't wait for people to include or exclude me at my large church. Instead, I've slowly made great friends by getting involved in various activities and ministries.
Deborah: Unfortunately, churches seem to segregate people into ministries according to troubles. Programs that include divorced singles are usually for only divorced people, as if they'll infect others unless contained. But when I divorced after 23 years of marriage, I didn't want to be with only singles; in order to heal, I needed to witness healthy marriages. Plus, I had many gaps in my social life. I'd lost all connections related to my husband—my in-laws, his coworkers, our couples' small group. Churches will have real community only when they bring together the wounded with the healed.
Connally: The church often doesn't know what to do with single adults in this culture that pulls folks toward isolation. But we singles must remember to intentionally embrace the gifts of community and friendship. And if God doesn't give me the gift of marriage, then these other gifts will be exactly what I need to live well.
Read more articles that highlight writing by Christian women at ChristianityToday.com/Women
Dating is a Painful (Necessary) Process
Read These Next
The 36-Year-Old Virgin

How abstinence champion Lakita Garth kept the faith during the long years before her wedding night—and beyond.