Galatians 5:25
Become a purpose-filled woman by following the Spirit's leading in every part of your life.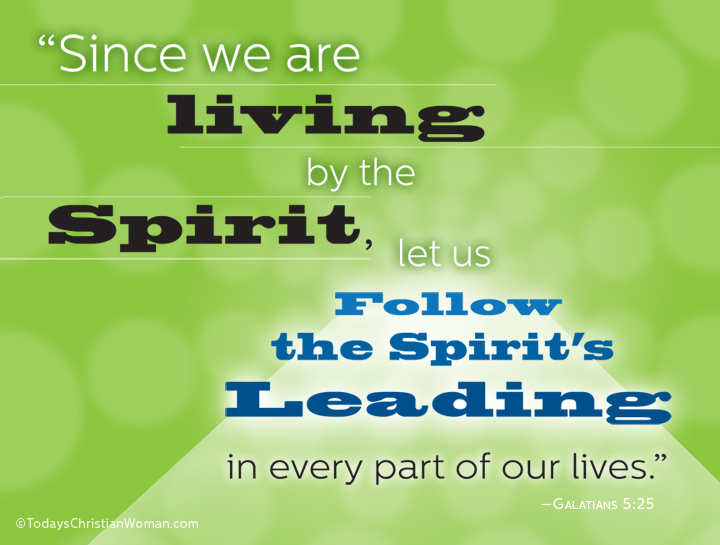 When we're in "robot mode," we let busyness, noise, fear, or impure motives drive out that purpose. We guilt ourselves into doing the hard work of becoming holy in the day-to-day grind instead of experiencing the reward of fulfilling the reason God put us on earth!
I know I used to be more concerned with religious to-do lists and endless faith-driven obligations than with unearthing the buried passion God instilled in me. There was a time when I'd routinely ask myself, Am I happy? I was so unhappy, I couldn't even get the question out before I started sobbing.
We women need to discover our purpose in life for two reasons. First, fulfilling our purpose gives glory to God. Second, it releases us from the captivity of hopelessness and despair.
For Christians, purpose is being and doing what God intends us to be and do: doing today what God asks us to do in our family, church, and community; being more like Christ; and then doing the distinct, bold work God designed us to do before we die!
Scripture reveals the "pathway" to follow. It's spelled out in the Great Commandment (Matthew 22:36-39) and the Great Commission (Matthew 28:19-20). In The Purpose-Driven Life, my friend Rick Warren says these verses tell us we're ultimately made for fellowship, discipleship, ministry, evangelism, and worship.
Our purpose is being a woman of God and doing what he asks. Our passions are meant to be godly purpose-indicators. They are the things that make our heart sing; they help us identify and complete our purpose. God wants us to heed the apostle Paul's counsel: "Since we live by the Spirit, let us keep in step with the Spirit" (Galatians 5:25). God wants us to be guided by the Holy Spirit.
I love the way God takes any willing Christian—no matter how broken or scarred her past—and weaves every thread of her life into his kingdom-building plan! He doesn't shy away from our hurts and failures but specializes in hope, second chances, and resurrections. Our ordinary routines and daily roles—no matter what they are—can provide incredible opportunities to help others become more like Christ.
Adapted from TCW article "Becoming a Purpose-Filled Woman" by Jane Johnson Struck.
Read These Next