Isaiah 33
The Lord is our strength and salvation.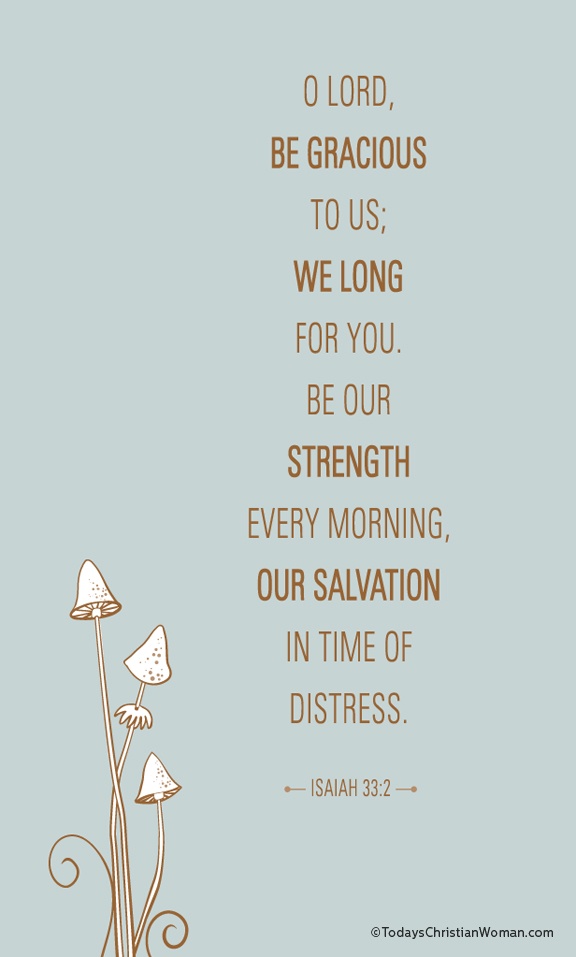 This was the Sunday after the shooting tragedy in Newtown, Connecticut. Yet everywhere hearts were heavy and confused. The sky was falling down, it seemed, and the world was coming apart. Or that's how it felt in this little Houston church we were visiting. Even the skies were crying. A heavy, Texas rain pounded the pavement outside. We were drenched, cold, and in need of consolation. So speak, Lord. Please.
As if in reply, here stood this Houston preacher. Kind of aging. Kind of ordinary. No fancy microphone. No sophisticated message. Just confidence in God. So he urged us to do the confident thing: pray.
"LORD, be merciful to us, for we have waited for you. Be our strong arm each day and our salvation in times of trouble."
Then pray again. Then keep praying. Morning by morning. Evening by evening. Tell God our frustrations. Believe he can hear them—and can do something about it all. That kind of praying, said this common-sense preacher, is how we find power to face and overcome fear.
According to this plain-faced, ordinary preacher before me, yes, praying was good enough. When we pray, we gain a new perspective and see God at work in a world that feels undone.
People in the Houston church started to applaud as the preacher closed by reciting God's resonant reminder to King Solomon, recorded for the ages in 2 Chronicles 7:14:
"If my people, who are called by my name, will humble themselves and pray …"
Many of us knew this Scripture by heart, and soon people were saying it aloud from memory with the preacher:
"… and seek my face and turn from their wicked ways, then I will hear from heaven, and I will forgive their sin and will heal their land."
The preacher smiled at us again. "And won't he do it?"
We smiled knowing he was right. We agreed to ask God to help our unbelief, and to show us again that he heals and overcomes, even in our crazy homes, our mixed up hearts, our foreclosed neighborhoods, our struggling nations, and in our fearful, messy situations. God heals despite our fear.
Adapted from TCW article "Praying Away Fear" by Patricia Raybon.
Read These Next