Intimacy Is More Important than You Think
Why it's the secret to feeling better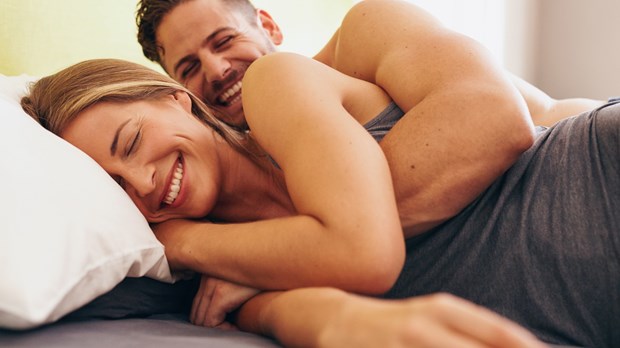 Image: JACOB LUND / SHUTTERSTOCK.COM
Wouldn't it be great if you could feel better with just one little secret? It sounds too good to be true, like those crazy weight loss pills, but I think I've found something powerful.
The past six months my husband, Caleb, and I have walked through some very real pain and loss. Coincidentally, while our inside lives have been torn apart and iced with depression, our outside lives have actually been picture perfect.
In the same six months of funerals, changes, and trials, my husband and I have hit some major milestones as young adults. I started an incredible job, my husband received a big promotion and raise, we got a beautiful new car, I received my master's level social work license, we took two vacations, and we got rid of our college futon and replaced it with real furniture (finally). On top of that, we spent countless hours socializing with people we love, went on dates to exciting places, and even hosted a party with 75 of our closest friends. Looking at this list of achievements, activities, and purchases, life looks pretty great!
It wasn't the new job that made me love my husband more; it was the honesty and vulnerability that he shared with me.
On our way back from our last trip to Texas last month, we sat down at the gate at the airport ready to fly back to Ohio. With my shopping bags on my left and my suitcase of my right, I looked up to see tears streaming down my husband's face. "It's just so hard," he whispered to me. "I can't do this anymore." I felt like screaming in frustration. I had planned this trip to help him get away! I insisted we buy all this nice furniture to cross something off Caleb's wish list! After all of this "great" stuff on the outside, why did we still feel so awful?
I have often believed the lie that "if I just get this" I will be happy. I've done this with getting in shape, buying a new pair of jeans, organizing my to-do list, and decorating my house. I have always loved the Lord and "knew" that satisfaction should be found in him, but the lie seemed to scream louder than his truth. However, through these past six months of pain and loss, there has only been one word that has been my secret to feeling better: intimacy.
It hasn't been the fancy dates that have brought my husband and me joy but the intimate moments of crying together. It wasn't the new job that made me love my husband more; it was the honesty and vulnerability that he shared with me. All of the outside stuff pales in comparison to building emotional and physical intimacy with my groom. The Lord has asked me to get rid of expectations that a "nice vacation away will fix Caleb" and instead ask God to continue to give me a heart that is intimate with my husband.
While this intimacy with Caleb has been a building block to our healing, the foundation has been a deeper kind of intimacy—intimacy with my Savior, Jesus Christ. Through this season of unspeakable ache, the Lord has called me into something deeper. Instead of obligatory Bible reading, I fall on my face and cry in sorrow. Instead of prayers asking for answers, I ask the Lord to reveal more of who he is. I'm not just in a relationship with my Lord, but I'm getting to know him like a dear friend.
The new promotion and fancy vacation cannot bring me long-term joy. They can't pull me out of depression. They can't fix my husband's grief, but building intimacy in my marriage and intimacy with my Father . . . that's the secret to feeling better.
Hannah Nitz is the Communications Coordinator with Authentic Intimacy, a women's media ministry focused on intimacy in marriage and intimacy with Christ, where she works with authors Dr. Juli Slattery & Linda Dillow. Follow her work on Authentic Intimacy's Blog, Twitter, and Facebook.
Read more articles that highlight writing by Christian women at ChristianityToday.com/Women
Intimacy Is More Important than You Think
Read These Next