Loved by a Listening Father
Psalm 141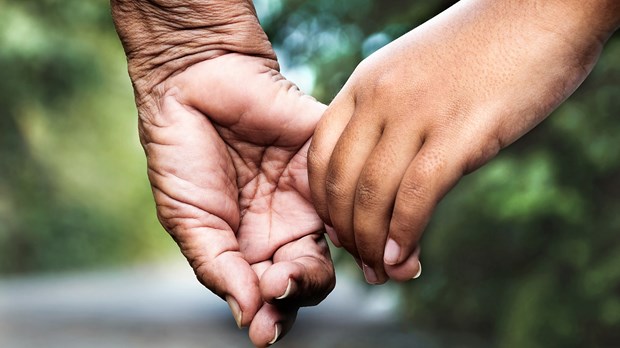 Image: TAKE PHOTO / SHUTTERSTOCK
"O LORD, I am calling to you. Please hurry! Listen when I cry to you for help!" (Psalm 141:1)
I'm just about to drift off to sleep when the phone on my bedside table rings. I sleepily answer and hear the voice of my 22-year-old daughter on the other end of the line. She's had a hard day and needs to talk.
I prop myself up with a pillow and try to listen. Lord, I silently pray, Please help me know what to say. I worry I'm too groggy to offer any kind of coherent wisdom. But after a few minutes, she says she's feeling better, and I realize she didn't need advice; she just needed a reminder that she's loved.
You see, my daughter became ours just after she turned 21. Before she became part of our family, her experience had been that there isn't always an answer when you call for help. There isn't always someone ready and willing to listen. There isn't always someone to say, "I love you."
It breaks my heart to know she lived that way for so many years. Yet sometimes I act as if that's my reality as well. I have a difficult day and want to call on my heavenly Father for help, but then negative thoughts interfere. I think of mistakes I've made. I wonder if I should just try harder on my own. I imagine God might be disappointed in me or simply busy with more important matters.
It brings me great joy every time my daughter trusts that we will be there for her. Surely it's the same for God and his kids! The psalmist seemed to have childlike faith when he insistently declared, "I am calling to you! Please hurry! Listen when I cry to you for help!" (Psalm 141:1). Those are words of someone who is confident he is loved. And they remind me of other words given to us in Hebrews 4:16: "So let us come boldly to the throne of our gracious God. There we will receive his mercy, and we will find grace to help us when we need it most."
As women, we're good at being there for everyone else. We're glad to offer a listening ear or a helping hand. But sometimes we need to remember there's help available to us as well. We have a heavenly Father who doesn't sleep. He is always watching over us, always waiting for us to call for him, and always willing to remind us how much we're loved. Let's give him the opportunity to answer the cry of our hearts today.
Holley Gerth is the Wall Street Journal best-selling author of You're Already Amazing as well as several other books. You can connect with her through HolleyGerth.com.
Read more articles that highlight writing by Christian women at ChristianityToday.com/Women
Loved by a Listening Father
Read These Next