Parenting Without Fear
Get rid of your anxieties and learn to trust God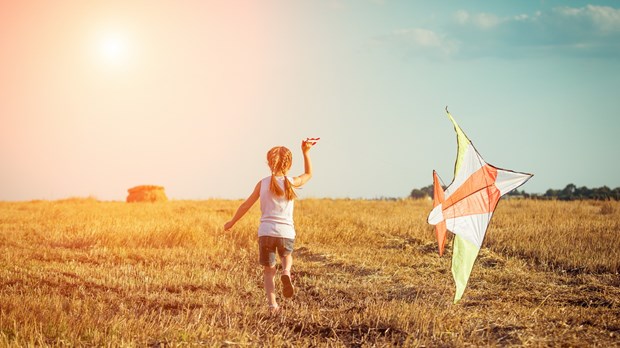 Image: SHUTTERSTOCK
Jonathan, don't run so fast!" Andrea called as we sat on the park bench watching our 3-year-olds play. It was tough to get a word in edgewise between all of her warnings to her son. When she realized that I had uttered far fewer "watch outs!" to my daughter, Andrea turned to me and said, "I guess you think I'm pretty paranoid. It's just so easy for them to get hurt, and Jonathan never looks where he's going."
Andrea's not alone in her "paranoia." Some degree of fear is natural in parents. We love our kids so much that the thought of anything bad happening to them sends us into a panic. Yet if we're not careful, this caution can become oppressive. When we let fear dominate our parenting, we can actually shield our kids from the very things they need to be dealing with.
It's important to let go of parenting fears if we want our kids to be confident and responsible. By acting as "watchdog" we run the risk of raising kids who are unable to look after themselves. Fear has a way of silencing the God-given instincts we all have for discerning what's right and wrong, safe and unsafe.
While being conscious of safety issues is important, we have to know when to draw the line and let our kids experience life, even the painful parts. That might mean letting your toddler climb on the jungle gym in the park, even when you're afraid she might stumble. Or you might need to let your 10-year-old ride his bike to a friend's house a few blocks away rather than drive him there. Ultimately, only God can completely care for our children. He trusts us to protect them and love them, but as Jeremiah 29:11 says, "'I know the plans I have for you,' declares the Lord, 'plans to prosper you and not to harm you, plans to give you a hope and a future.'" This is our hope as Christian parents: God is in control and we can trust him. He really does have only the best planned for our children.
The world is a scary place. A mere glance through the newspaper reminds us just how many dangers our children face. When you find yourself struggling to let go of your fears, take these steps to help you place your children in God's hands with faith and confidence.
Surrender Your Children to God
It's easy to think that we have control over our children's futures. The fact is, most of the time, our kids' lives turn out completely different than we plan.
Evelyn Christenson, author of What Happens When We Pray for Our Families (Victor), encourages parents to pray "releasing prayers" for their kids. By releasing your children to God in your prayers, you're acknowledging his sufficiency?a scary prospect. What if we surrender our kids only to have God respond by doing something awful? I had to pray a releasing prayer when I held my one-month-old son Christopher the morning of his open-heart surgery. I gave my son to God, and Christopher died five days later. But I know now that my prayer didn't cause Christopher's death. Instead, it prepared me for the loss because I'd already acknowledged that he belonged to God. Instead of anger, there was peace.
Thankfully, most of us won't have children who die young. However, God may ask you to release your kids in other ways. I have known parents who pray desperately for God to use their children?just not as missionaries. We must be prepared to trust God, whether he chooses to send our kids to the jungles of Africa, the inner city of Chicago or a quiet house around the corner.
Live with Hope
The next step is to mold our concept of hope to match God's. True hope isn't wishing for something, crossing our fingers and holding our breath until it comes true. To have true hope means believing that God will use your children and guide them through their lives, even if he never reveals how or why.
With this perspective, it's easier to view our children's difficulties as character-builders rather than obstacles. I'm sure Joni Eareckson Tada's parents never dreamed their daughter would be paralyzed in a diving accident. They probably also never dreamed she would impact the lives of hundreds of thousands of people. Tada's life proves that God can use even the most devastating situation for good. She demonstrates daily the paradox that God's power "is made perfect in weakness" (2 Cor. 12:9).
To parent with hope is to understand that the circumstances our kids face are not the final goal, but rather the tools used to shape their character.
Foster Responsibility
In order to parent with hope, we have to change our attitude from overprotection to one that teaches responsibility. Once we allow our children to suffer the age-appropriate consequences of their actions, even if it means watching them get hurt a bit, we give them the chance to learn a little more about how life works. A tumble off the swing set teaches them not to be so reckless. Failure to study results in a poor grade. It's through experience that our children learn which choices work and which ones don't.
Rebecca, our 4-year-old, runs to us constantly whenever a child won't share with her. Since we want her to learn to solve problems on her own, we rarely jump in and insist that the other child share. Instead, we encourage her to work out her own problems with her friends and ask her to think of ways to get along, whether or not she gets her way.
A child who learns to be responsible and independent is ultimately a child who knows how to succeed in life. But as a parent, it's tough to know when your kids are ready for more freedom. It's important to allow your child as much independence as possible without jeopardizing his safety. As you watch your child grow in confidence and ability, you'll be better able to trust his judgment. And the more you allow your children to build life skills, the more you'll find your fears subsiding.
Pray, Pray, Pray
The final step in overcoming fear is actually the most important: pray often and pray with purpose. Rather than simply asking God to keep our kids from harm, we need to focus our prayers on the character God's molding in our children.
When Paul prayed for his spiritual children, the Philippians, he didn't ask that they be spared from persecution. Instead, he told them, "My prayer [is] that your love may abound more and more in knowledge and depth of insight, so that you may be able to discern what is best and may be pure and blameless until the day of Christ" (Phil. 1:9,10).
By praying this way, you're reinforcing a fundamental truth: being a Christian is no guarantee that life will be easy or free from pain. As you show your children that you trust God to walk beside your family, no matter what life brings, you'll be showing them that they can trust God with their futures as well.
Sheila Wray Gregoire is a freelance writer. She and her family live in Belleville, Ontario.
Read more articles that highlight writing by Christian women at ChristianityToday.com/Women
Parenting Without Fear
Read These Next