Succeeding at Second Marriages
Remarriages are more complicated and at-risk than first marriages. Here's what you need to know to make it work.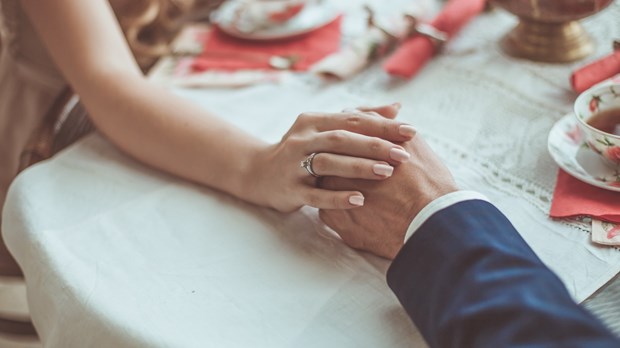 Couples entering a second marriage are often seen as lugging too much baggage to make a success of their next go-round. This assumes, however, that people can come into any relationship without baggage, or a history that impacts the relationship—an assumption that is, of course, untrue. Childhood, previous relationships, even relationships with siblings and friends over the course of life all impact spouse selection and the relationship that ensues from there onward.
Second marriages are by nature more complicated and more at-risk for divorce than first marriages (over 60 percent divorce rate, compared to around 50 percent for first-time marriages). Yet it's also clear that remarriages need the same strong and consistent nurturing as first marriages. No matter what your stage of life or circumstance, with some extra TLC and effective communication, your second marriage can succeed.
Remarriage with Young Children
Family life with small children is one of the most stressful times in any marriage due to the never-ending physical demands of small children. Consequently, remarriage at this time of life is a challenge.
Sandy* and Bill have four children between them. Bill has two girls, ages ten and six, and Sandy has twin boys, age five. Bill's kids live primarily with their mother, but come for visits every Wednesday and every other weekend. The six-year-old and twins get along pretty well, but the ten-year-old goes between feeling in charge and feeling left out of the group dynamic.
"It's just so hard to have to discuss everything," sighs Sandy in one session.
Bill and Sandy came in for a consultation to clarify family expectations, unify family rules, set-up their family's structure, and deal with the negative impact of their ex-spouses on their relationship. Much marriage time, at this stage of any couple's life, is devoted to parenting issues. For the remarried couple, the attention to four-parent, four-personality decision-making can make planning holidays, birthdays, and school-performance attendance an even greater challenge.
After laying out a number of strategies to deal with the parenting issues cooperatively, we turn to the marriage. "What are the aspects of Sandy that drew you to her?" I ask Bill.
"Her spiritual center in Christ, her love for not only her own, but for my children, and her commitment to making our family great," he says. Sandy beams.
Second marriages at this stage are strongest when the spiritual life in Christ between the couple is strong and nurtured regularly. These two know that God called them together after both their marriages ended (for "biblical divorce" reasons). They try to keep the knowledge that God has given them a second chance at a Christian marriage at the forefront when the aggravation from being a blended family surfaces.
When I ask when the last time they had a special date night was, the conversation stops dead. "Too long to remember," Bill offers.
Second marriages with children require weekly date nights and at least one weekend getaway a year to stay healthy. While this advice is good for first marriages, second marriages like these start with all the responsibilities of parenthood and step-parenthood attached. Time away from kids and talk of kids is vital to deepening the foundation of the couple.
Remarriage with Adolescents
Mark and Susan married when Mark's girls were thirteen and eleven years old. The girls lived with Mark's ex-wife; however, they spent summers and every other weekend with Mark and Susan. This was Susan's first marriage, and she had no children. Mark had been divorced for nine years before remarrying. They had met at a church singles event. Looking back ten years later, here's what they've learned.
"In the beginning we tried to have the same rules in both households for the most part," Susan remembers. "This changed in adolescence, with rules related to having boys over. We didn't know the boys well or their parents, so we were more protective."
Bill, as the biological parent, was the more strict of the two, which actually freed Susan to develop a friendly relationship with the girls at first. When the step-parent is thrown into being a disciplinarian right away, sparks fly for everyone. It is too much of a strain to begin a trust relationship with a lot of disciplinary responsibilities. It helps if the biological parent takes the lead with his or her own children and gradually, over a one- to three-year period, eases the other parent into a role where he or she feels comfortable disciplining. Bill included Susan in decision-making about the kids from the beginning, but took the lead on the implementation. This allowed the kids time to develop a relationship and gave Susan the status and involvement in parenting decisions for the kids.
But discipline isn't the only area that needs caution. "It is very important as a step-parent not to try to outdo your spouse's ex," Susan says. "We had more financial resources than the girls' mom since we were both working. I made a mistake once by buying a really nice gift for the girls. I noticed them explaining to their mom that it was not only from me but from some other relatives on my side. I realized that the gift had made them and their mother uncomfortable."
In addition, it helps if the step-parent can empathize with what it's like for the kids in the situation. Susan reports: "It was hard to know how difficult it was for them —and for us—to have them with us on weekends and vacations. Visitation schedules disrupt their time with friends and our time together as a couple. I felt God wanting me to spend time alone in prayer and to journal about this to work through my negative feelings about the cumbersomeness of the relationships. Then I said to the girls, 'I so appreciate you guys taking time out every other weekend to spend time with us because I'm sure there are times when you want to have a sleepover with friends and can't, so we appreciate it.' Both of these actions seemed to smooth the relationships a lot."
Living arrangements can also cause headaches. Couples in second marriages often do not realize the psychological impingement that can accompany the house of the first marriage.
Because Bill lived in the house where his children grew up, it seemed natural for Susan to move in after they were married. The mortgage was low, the kids were comfortable in the house; it seemed to be the perfect solution. But Bill and the kids had memories that predated the new marriage. So when Susan wanted to update and decorate the house to suit her tastes and style, she met with resistance, and it became clear that it was Bill's house. These two factors conspired to leave Susan feeling left out and uncomfortable in her own home. Over time, the two discussed it and moved to a new home with joint ownership where they both felt freer to create their own style as a couple. By this time, the kids were grown and on their own, and it became an adventure for the whole family.
These efforts paid off for Susan. The girls, now women in their twenties, seek her counsel and companionship often.
Remarriage with the Empty Nest
James and Elizabeth married each other when Elizabeth was fifty-nine and James was sixty-four. This was James' third marriage and Elizabeth's second. Both had been divorced for a while and had learned a great deal about themselves and about relationships in the process.
"When I was young, they said 'opposites attract,'" says James. "That is the biggest bunch of nonsense I've ever heard! You must have interests in common. It's essential to a good marriage."
Elizabeth adds, "You can't compromise your own being, your own psyche, in any way to 'hitch up.' Sometimes people have to realize that they can live on their own before they commit to living with someone." While this advice is great for any marriage, it is especially important after a failed marriage, where both individuals have to work toward trusting their own judgment in people again.
This is where money, a complicated issue in a second marriage, comes in. Later-life newlyweds are going to be focused on wills, retirement, trusts for their children, and heath care. Both may come into the marriage with established and perhaps different values related to money that will require the need to negotiate and compromise. Prenuptial agreements are common to protect the interests of grown children and to honor the preexisting and longstanding relationship with children. Each biological parent spending time with his or her children prior to a remarriage calms a number of fears, and frees up the relationships for getting to know each other and building trust without unnecessary worry.
"Finances require a working partnership," Elizabeth says. "It is essential for couples to figure out how to solve any problems. Full disclosure is needed."
When children, young or grown, want a remarriage for their parent, the relationships—financial and otherwise—with the step-parent smooth out faster. "Don't personalize the awkwardness of introductions to friends," Elizabeth warns. "Whether James's daughter called me Mom, step-mom, Dad's wife, or Elizabeth, I knew she was trying to get used to the new role as well as I was. It's so important to remember that the children are a part of your family now; you love them, nurture them, include them, encourage them, enjoy them when you are together, and accept them. There may be times when you don't click with a child, but it is up to the new partner to do everything he or she can to make it work—or to be quiet about it."
She adds, "You must give your partner privacy and respect while giving him help, listening, and counseling if he needs it. Respect the space that is needed. But overall, remember that there are many good, though different, ways of doing things."
* All names have been changed.
See also "11 Principles for a Better Second Marriage."
Karen L. Maudlin, Psy.D., is a licensed clinical psychologist specializing in marriage and family therapy as well as a regular columnist for Christian Parenting Today. She and her family live in the Chicago area.
Read more articles that highlight writing by Christian women at ChristianityToday.com/Women
Succeeding at Second Marriages
Read These Next