What Our Bodies Say About Our Identities
If we're truly to be the women of influence God has called us to be, then we must first make peace with our physical selves.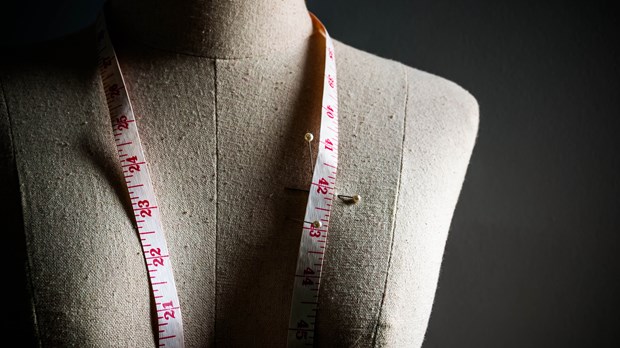 During one of the last golden days of summer, I watched the sun illuminate a forest of changing aspen leaves. Each aspen glowed as a piece of God's handiwork. As I sat in the silence I didn't hear any aspen bemoan their figure or their hair or their height.
God made the trees of the fields. He also made women. Female bodies are his handiwork, beautifully and wonderfully made by the same Maker of aspen trunks and leaves (see Psalm 139:14). But if you and I stood for hours before a light that illuminated our hair, chins, breasts, waists, and legs, would we glow with joy in the light?
Wouldn't our conversation turn to self-critique of our bodies and those of our neighbors?
The impulse to pick apart my body has become a regular temptation in my 17th week of pregnancy. As God knits my baby together, is he still delighted in my body, the vessel for this new life? Are my breasts, belly, and feet still wonderfully made?
All other created things bask in the light, unconcerned about their physical bodies: aspen, my three Welsh corgis, honey bees. Can you imagine aspen talking like women do?
"I can't get my leaves to lay right; her leaves are always perfect."
"Her trunk is the perfect figure. Doesn't matter what I do, mine will always be thicker."
The sturdiest, thickest aspen soaks up the sunbeams, honoring God as much as the sleek and svelte one. None complain.
Our bodies, Paul says, are the temple of the Holy Spirit (1 Corinthians 6:19). I think back to Solomon's temple and Moses' instructions for the original tabernacle. In these holy places God designed everything: curtains of twisted linen, embroidered blue, purple and scarlet yarn, bronze clasps, silver bases, gold hooks, fine gems, pomegranates, and bells—all for glory and beauty (Exodus 36-40). Our bodies, the new temples, are also meant for glory and beauty.
If you or I saw God's tabernacle, we wouldn't criticize its girth or color or stonework. If we came upon the trees of Mamre and saw a sign that read, "God's trees," we would not disparage their size or height. But when we read, "Your body is a temple of the Holy Spirit," we think this means something about serving God with our bodies, but we don't afford our bodies the same reverence and intentional appreciation we reserve for other sanctuaries.
God Uses Scarred Women
Women's bodies don't seem like temples because we're always bucking our sacred status. We're constantly dyeing, dieting, squishing, stuffing, ignoring, berating, or generally ignoring our bodies. We've marred the handiwork God made in our flesh. Our shame haunts us into buying cover-ups for our hips at the beach, concealer for our acne scars, creams for stretch marks. We buy pills to lose weight, shoes to lengthen and tone our legs, styles that flatter the parts of our bodies we want others to notice. But we all have places we firmly believe are not wonderfully made. Nothing I write will disabuse you of your conviction.
Although I know that Jesus still calls the parts of my body I've marred, yet thinking that my body is God's holy temple only deepens my shame. Surely, God doesn't want my scars.
The poet and rector, George Herbert (1593-1633), in "Love" gives me hope that my marred female body is something marvelous to God. If you're not much of a poetry reader, take these lines of verse as a story and read them aloud. Don't let the old English keep you from trying to imagine yourself in the poem.
Love

By George Herbert

LOVE bade me welcome; yet my soul drew back,
Guilty of dust and sin.
But quick-eyed Love, observing me grow slack
From my first entrance in,
Drew nearer to me, sweetly questioning
If I lack'd anything.
'A guest,' I answer'd, 'worthy to be here:'
Love said, 'You shall be (s)he.'
'I, the unkind, ungrateful? Ah, my dear,
I cannot look on Thee.'
Love took my hand and smiling did reply,
'Who made the eyes but I?'
'Truth, Lord; but I have marr'd them: let my shame
Go where it doth deserve.'
'And know you not,' says Love, 'Who bore the blame?'
'My dear, then I will serve.'
'You must sit down,' says Love, 'and taste my meat.'
So I did sit and eat.
The God of love invites his children who have broken and marred bodies to dine with him. One line in Herbert's poem has echoed in my mind for a decade now, "And know you not, Who bore the blame?" He's not shocked by my marred body and my disgusted thoughts for myself, for Love's body is also broken and marred. He wants scarred women, for he is the scarred Savior.
Now in the power of this Love, my body is for the Lord and the Lord is for my body. My task is to ask how, precisely, I am fearfully and wonderfully made (1 Corinthians 6:14). I ask it daily, especially as I watch my body swell with a baby being formed inside of me.
Few of us celebrate our unique female body parts that God made. This doesn't mean that Christian women don't have opinions about their womb, breasts, vagina, legs, height, and weight. Christians' silence, and perhaps embarrassment, means that we end up turning to fashion magazines to tell us what to think about our sexuality. These will never teach us how laugh lines on our faces and stretch marks on our breasts are honorable badges of this long warfare, earned because we have seasons and wisdom. Feeling ashamed, we hunt out any product to "fix" the evidence of where we've been. Without Jesus I will demand my pre-pregnancy body back as a need and right, forgetting to honor my body as God's temple and a vessel that brought us our firstborn.
I'd like to include our Savior in on my body image. I'd like to ask him, "How do I embrace my born identity as a woman, observing my body with more awareness and delight?" We need more discussion about women's bodies—the way our hips and legs, hands and height, womb and breasts are unique ways we can own the heritage of being made female, reflecting the image of God. I want companions who help me marvel at my body's value and wondrous power, and the worth and advantage of my scars in this broken world.
If we're called to influence, why not begin with influencing women to value their bodies—these gifts from God, that now belong to God? If God made us to stand in the light, like the aspen, then let's enjoy the warm brilliance illuminating our bodies.
Jonalyn Grace Fincher is co-founder of Soulation (www.soulation.org), a non-profit organization that helps others become more appropriately human. She is the author of Ruby Slippers: How the Soul of a Woman Brings Her Home (Zondervan, 2007) and co-author with her husband of the upcoming Coffee Shop Conversations: Making the Most of Spiritual Small Talk (Zondervan, 2010).
Read more articles that highlight writing by Christian women at ChristianityToday.com/Women
What Our Bodies Say About Our Identities
Read These Next