Learning to Love the Ugly in a Photoshopped Culture
Having a terrible day doesn't mean you're a terrible mother.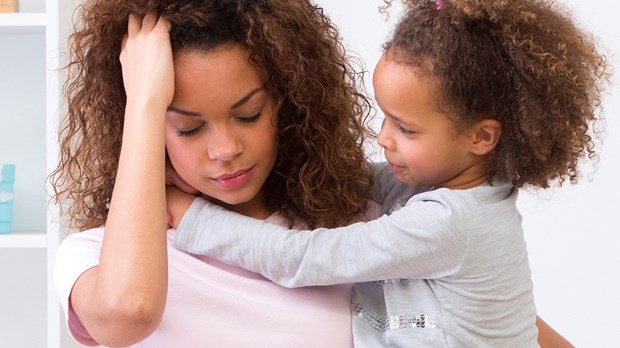 As a parenting blogger, I frequently share about how wonderful and lovely my kids are and how fortunate I am to be their mother. I enjoy photographing our outings and antics, then uploading them to social media with breezy captions such as, "Enjoying a beautiful hike!" or "Ice cream cones! Yum!" Being a mother to boys ages nine and seven is filled with laughter, hugs, sweetness, and light. Except when it's not.
Take, for example, a recent Sunday morning. Why my two boys turn into raving lunatics when they're sent into the bathroom to brush their teeth is beyond me. Pushing, shoving, splashing. I. Was. Done. You know that moment when you step outside of yourself and cast a sideways look at the real you and think, This is going to be ugly. That's what happened.
I went six kinds of crazy. I yelled the entire way to church.
Completely Losing It
I went six kinds of crazy. I yelled the entire way to church. I issued incredibly mature ultimatums, such as, "If you don't like our rules, you can move out!" Even though I had stopped making sense somewhere between our driveway and the first stop sign, I pressed on with the kind of passion seen in presidential hopefuls as they address awe-inspired crowds, and I finished in a crescendo of cursing. Truly top-notch parenting. Did I mention we were on our way to church?
Once I finally got them situated in Sunday school (those boys had never loved the sight of circle time more), I grabbed a coffee and called my husband.
"I hate our children." He understood immediately. My husband had been traveling for work, leaving the kids and me to our own devices. I don't do well when he is away; I never have. I prefer our family unit intact and depend on the daily face-time support I get from him. He knows this and offered to call later that afternoon to speak with the boys. I was grateful for his understanding, but I still felt fired up.
As I sat seething outside the sanctuary—feigning a smile to acquaintances, of course—I called my friend Anna and told her about my children. She empathized, consoled, and encouraged. Soon after hanging up with her, my dear friend Susan happened to come by on her way to the restroom and sat with me for a while. I recounted in ugly detail the laundry list of parenting mistakes I had made over the last nine years, which had culminated in our awful morning. She graciously shared some of her similar struggles with me. My pulse finally returned to its resting rate. It took three people over an hour to talk me down from a ledge.
We All Mess Up
After service, I picked up the kids and headed home. We had lunch and napped. Later in the afternoon the boys talked to their dad and played quietly in their rooms. I read, folded laundry, and made dinner. We all felt kind of beaten-up. The boys (sincerely) apologized, we hugged it out, and everyone went to bed. There's no moral of the story, no pink bow to tie up the day. It was a tough one. Praise God that the longest day only lasts 24 hours.
I share this because I never want anyone to think I have some magic formula for family happiness. I, myself, have mistakenly looked at other women, other mothers, other families and thought, I wish we were them. They have it all figured out. But no one does. Eventually, everyone loses their cool with their kids. It's not a point of pride; it's just a reality of parenting. A reality we often don't see in our photoshopped culture.
Before staying home full time with my children, I worked several different corporate jobs. No matter whom I worked for or what I worked at, I was bound to have a bad day every so often. Whether it was my fault or circumstances beyond my control, a bad day at work never made me feel like a bad person. Plus, people who complain about a bad day at work aren't villainized; in fact, coworkers, friends, and loved ones usually rally around the person who feels down and out, offering words of encouragement and love.
But when I had a major misstep as a mom, I was embarrassed to ask for help from my husband and two girlfriends. It was hard to talk about what a tough time I was having. Messing up my full-time job now feels criminal, especially when it looks like everyone else has the pictures to prove they are doing it so much better than I am. I struggle to separate my "work" from my identity; the two appear seamless. If I admit I had a terrible day now, if I show you all of my ugly moments, it must mean I am actually a terrible mother, right?
While the Bible assures us "no one on earth is always good and never sins" (Ecclesiastes 7:20), many of us seem to have convinced ourselves that mothers are exempt from this grace. Even though forgiveness and cleansing is available to us when we confess our sins (1 John 1:9), other mothers have confided in me that while they want to believe in God's blessing, parenting mistakes feel too monumental to bring to him. Turns out, where we need God the most, we let him in the least.
Real People—Not "Perfect" Profiles
Thanks to social media—the same place we love to publicize all the right things we are doing—we are even more sensitive to our mistakes. Women are notoriously self-critical. From our weight to our home decorating to our children's achievements, we have a terrible habit of keeping ourselves under the microscope. This problem is magnified when we compare ourselves to others' profiles and timelines. Glossy photos, cropped and edited, seem to mock even our best efforts. Surely no one with abs like that would ever yell at their kids! There's no way someone capable of decorating a homemade cake so beautifully could ever curse! That woman with the super-cute purse must have a significantly closer relationship with Christ than I'll ever have! Sound crazy? It is. But thanks to our photoshopped culture, there is a growing disconnect between who God created us to be and who we are claiming to be.
Our Lord did not create profiles; he created people.
Our Lord did not create profiles; he created people. Included in his creation were messy, moody, frustrated mothers cursing all the way to church. He created us to need him. He is not waiting for us to get it together and "look" great before he will love unconditionally. In fact, "Neither death nor life, neither angels nor demons, neither our fears for today nor our worries about tomorrow—not even the powers of hell can separate us from God's love. No power in the sky above or in the earth below—indeed, nothing in all creation will ever be able to separate us from the love of God that is revealed in Christ Jesus our Lord" (Romans 8:38–39).
This means we can trust that God already knows the details of our behind-the-scenes messes and loves us anyway; he is not interested in just our social media highlight reel. Instead of trying to hide the ugly outtakes from him and others, perhaps we should work toward laying our whole lives out in the vulnerable open. Only then will we see the big picture.
Helen Coronato is all about homeschooling her two boys, loving her husband, spending time with her girlfriends, and trying to become more like the person Jesus intended her to be. Check out her projects and connect at www.HelenCoronato.com.
Read more articles that highlight writing by Christian women at ChristianityToday.com/Women
Learning to Love the Ugly in a Photoshopped Culture
Read These Next