What Divorce Taught Me About True Love
Since my marriage ended, God has gently shown me what marriage really means.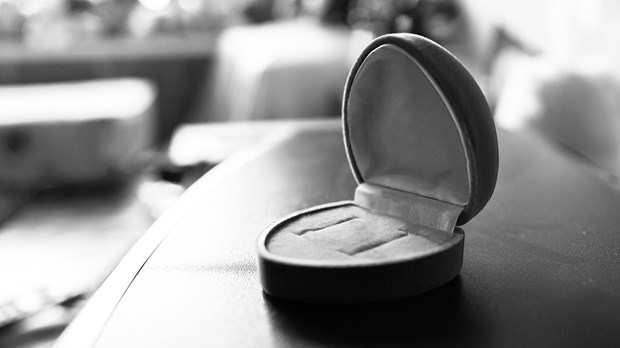 How many church pews have you sat in, watching a bride and groom gaze lovingly into each other's eyes, listening as the pastor recites this familiar verse?
Love is patient, love is kind. It does not envy, it does not boast, it is not proud. It does not dishonor others, it is not self-seeking, it is not easily angered, it keeps no record of wrongs. Love does not delight in evil but rejoices with the truth. It always protects, always trusts, always hopes, always perseveres. Love never fails. . . . And now these three remain: faith, hope and love. But the greatest of these is love. (1 Corinthians 13:4–8, 13, NIV)
And have you ever happened upon the uncomfortable scene, months or maybe only weeks after witnessing these vows, of that same happy couple at a dinner party fighting? I mean really fighting—even over something as silly as a toilet seat or the cap on the toothpaste.
Doesn't it make you wonder if anyone really knows what these verses are supposed to mean, and why they are spoken at nearly every wedding?
My own marital experience encompasses 14 years, 9 months, and 25 days.
And then it ended.
What I Know Now
Being in a marriage had no impact on my understanding of what love is supposed to be. In my own marriage, love became selfish, a matter of grabbing what we each thought was ours. My feelings were tread upon again and again by him, and I became an expert grudge-holder. I complained about everything, even his beard shavings in the sink. A hope-filled journey morphed into distrust, complacency, and boredom. The more we hurt each other, intentionally or unintentionally, the less we loved—and the more room there was for dysfunction.
These simple, but powerful words from 1 Corinthians, carefully chosen and lovingly spoken at my own wedding, quickly faded into memory. It was only after falling out of love—and subsequently ending my marriage—that God opened my heart to these five truths about love:
1. Love is patient. Patience waits. I'm learning, now, that I should have held my tongue when I was frustrated. I should have waited to expose the fault of my spouse when I was wronged. This means not spilling all of your husband's faults and foibles to your closest friends. Patience keeps quiet all the awful things you want to reveal about your husband because "dealing with it" isn't the same as sharing it with every woman willing to listen.
2. Love is kind. Kindness calls for sacrificial giving. It's submitting to one another—a contest, if you will—to see who can serve each other the best. Kindness is smiling when he walks in the door. Kindness is telling him you are proud of him—even when he leaves the toilet seat up for the one-thousandth time. Kindness listens.
3. Love does not insist on its own way. This is code for "controlling." Every marriage is made up of two broken people, just trying to make one whole piece. Your husband will have issues that you will want to fix. It doesn't matter how much your husband's choices upset or bother you, you have no control over his behavior. You cannot demand that he be exactly what you want him to be, because your husband's behavior is his to own. His choices are in no way a reflection of you. If you don't like a behavior, a hurt, a habit, or a hang-up, pray about it. Pray for him, pray for you. You have hurts, habits, and hang-ups God wants you to work on too. God didn't intend marriage to make you both look better to the world. God created marriage to make God look better to the world.
4. Love bears all things, believes all things, hopes all things, and endures all things. When we were little girls watching Cinderella, we thought, When I find Prince Charming, my life will be perfect. The truth is, marriage is hard. You and your spouse are going to hurt each other. The beauty of love is that when you really believe what God is telling you, he gives you grace to bear all things, believe all the best in your husband, hope for the best in your marriage, and endure all the hurtful things you've said to each other. I consider the hurtful and rude things I've done to God—yet he shows me, again and again, how he bears, believes, hopes, and endures all things in me, and he continues to love me unconditionally.
5. Love never fails. People often believe love is a feeling, but really, love is a demonstration. Love is bearing and believing—it's kindness and patience, even when your spouse has wronged you. Even when you're hurt.
I used to think being outside of my marriage would be the freedom I was hoping for, but now I know: loving well is freedom. It frees us from carrying unnecessary baggage and hurt. Love frees us from feeling guilty and hurting others. Love frees us to see the very best in our spouse and put blinders to the drinking-milk-straight-from-the-carton kind of moments, or the sideways glances he gives you when you are telling a story wrong at a party.
While I'm no longer "in love" with my former spouse, this side of divorce has taught me a lot about how to demonstrate love to the father of my children. Divorce isn't the end of love, after all. For me, divorce was the beginning of understanding that God's love never fails, it never gives up, and it never runs out. That kind of love will never leave me.
Lori Emery is the Ministry Director for the Community Uplift Partnership, a nonprofit helping inspire and educate people to find their place in God's plan. She's also a writer, speaker, and a divorced mama of two exceptional boys. To read about Lori's adventures as a 40something single woman, visit her at ASoftPlaceToLandBlog.com.
Read more articles that highlight writing by Christian women at ChristianityToday.com/Women
What Divorce Taught Me About True Love
Read These Next
Beautiful Anger

How can the same holy hands that punish the wicked pull the righteous to safety?