Transforming Experiences
Help your kids encounter God any time, anywhere.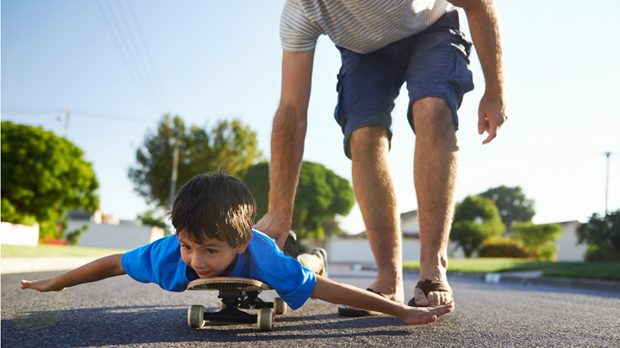 Image: DAXIAO PRODUCTIONS / SHUTTERSTOCK
Every so often we experience those surprising "God-moments" in our lives. Maybe it's seeing an arrow of birds fly across the sky at sunset. Maybe it's the heart-warming shock of a long-awaited answer to prayer. Maybe it's when a "coincidence" reveals God's sovereign hand working behind the scenes. Or maybe it's when, in the depths of your soul, you can just sense God's comforting presence.
Experiences like these cannot be manufactured, planned, or drummed up by us; they're all about God and his work in making his presence felt. God is going about this work in our kids' lives too! Even little ones without a vocabulary to describe it experience and encounter God's presence in their own childlike fashion: in dialogue spoken aloud to Jesus during playtime, in a look of wonder at the stars, in a sense of awe when first discovering basic concepts of math and science.
It starts with something simple: speaking aloud about God as often as possible.
Hidden in the backdrop behind the more notable "God-moments" is the reality of God's constant, faithful, and enduring presence in each moment of our normal, everyday lives. God is always there; we need only to pay attention. In Letters to Malcolm: Chiefly on Prayer, C. S. Lewis wrote: "We may ignore, but we can nowhere evade, the presence of God. The world is crowded with Him. He walks everywhere incognito." You can play a crucial role in helping your kids "find" God in those incognito experiences, cracking open mundane reality to discover a stunning treasure of spiritual joy.
Experiencing God … Monk-style
French monk Brother Lawrence worked in his monastery's kitchen in the 1600s. He wrote that he best connected with God not in corporate worship or personal devotions, but simply while going about his everyday routine in the kitchen. Though he valued contemplating Scripture or praying with others, it was in the setting of his normal routine that he tuned in to God's presence. In his book The Practice of the Presence of God, he taught that Christians ought simply "recognize God intimately present with us … [and] address ourselves to Him every moment."
Like Brother Lawrence taught, our kids can learn from us two foundational truths that will transform every moment of their lives: God is always literally and miraculously present (not just in Sunday school!); and one can always speak to and listen to God.
Everyday Life … with a Twist
Beyond simply telling our children these key truths, we can help kids experience them by intentionally sharing and framing key experiences. As we spend time with them in play, making crafts, cooking and eating, doing science experiments, talking, exercising, and more, we can capture the spiritual potential of those moments and lead our kids into a deeper connection with God.
Draw Attention
It starts with something simple: speaking aloud about God as often as possible. For example, when you point out a group of birds on your backyard fence, you could say, "Isn't God such an amazing artist and designer?" Or you could spontaneously tell your child, "Do you know God is here with us right now in this room? We can't see him, but he's here!" Every time your child hears you speak to or about God outside of prayer time or church, you've drawn her attention and focus to God's presence.
Meaningful Metaphors and Playtime Parables
Scripture is full of spiritual metaphors and similes. We're called to be the salt of the earth (Matthew 5:13), the light of the world (Matthew 5:14), a city on a hill (Matthew 5:14). The gospel is a seed and our hearts are soil (Matthew 13). Committing to Jesus is like building a tower (Luke 14:28-30). Jesus is a shepherd and we are his sheep (John 10:11, 14).These biblical comparisons connect everyday objects and experiences with powerful spiritual truth. And our own everyday lives are jam-packed full of similar spiritual connections to share with our kids.
First identify an important spiritual truth you want to help your child understand more fully, such as the idea that God is our trustworthy provider; God is the Creator (and he created you!); or the Holy Spirit lives inside us.
Next, put some creative thought into connecting this truth with your child's everyday activities. For example:
Connect the idea of trust with your child's unconscious "reliance" upon his bike. When he rides it, he automatically trusts that it will hold him up. And it does! After a fun bike ride together, talk about how he (unknowingly) showed trust by stepping on the bike, putting his full weight on it, and riding. Discuss together how we can fully rely on God with all of our heart and soul and brainstorm together all the many ways God provides for you.
Make something with your child, such as an art project or a Lego model. Afterward, talk about the care, attention to detail, creative passion, and ingenuity that went into the creative process. Emphasize how proud and delighted the child feels about the finished product. Connect this experience to God's delight, joy, and attention in creating each individual person (and all life on earth!).
Harness the power of the wind by making simple pinwheels or by flying kites for an afternoon. Use this fun experience to build upon Jesus' comparison of the Holy Spirit to the wind (John 3:8) and talk together about how powerful the wind is. Even though we cannot see it, we can clearly see its effects and evidence of its power! Use this discussion to inspire your child to be wowed by the Holy Spirit's presence in her own life.
Emotional Catalysts
Feelings are powerful—just like us grown-ups, kids experience strong emotions that connect deeply with their sense of who they are and their view of the world. So how can you frame emotion-charged moments to help your child connect more deeply to God?
Wonder. Those awestruck moments when a child looks at a star-filled sky or a nearby butterfly or a lightning storm are already instinctive God-moments in which their hearts are filled with amazement. Build upon that natural feeling of wonder to help your child know and worship God by asking questions like, "What does that show you about God?" Or, "How does that make you feel about God? Why?"
Joy. Laughter, chuckling, and fall-on-the-ground giggling can be just as spiritual as prayer as we help our children discover our God of joy. In spontaneous happy or silly moments, verbally remind your children of God's joyfulness. You could say things like, "I bet God is laughing right along with us. Isn't this so silly?" Or, "Isn't it great to feel happy? Did you know that God created happiness?"
Compassion. Compassionate feelings often come naturally to children—they instinctively feel sad or worried when someone else is hurting or in need. It's your privilege as a parent to model compassionate action in response to those feelings. When your child is worried by the sight of a homeless person, for example, plan together to donate toys to a local family shelter. When an ambulance drives by with sirens blaring, pray aloud together for whoever is in need of help. When a sibling gets hurt, send another of your children to get the Band-Aids. Affirm for your child that she's following God's own example of compassionate and merciful love (Exodus 34:6).
Listen
As you actively seek ways to help your kids connect with God, God will lead you to just the right moments. Simply start each day by inviting God, Help me pay attention to you, God. Nudge me when it's a good time to help my kids connect with you. As you go through the day with an attitude of soul-listening, your eyes will open to the abundance of opportunities to talk about God with your kids, talk to God with them, and to simply experience the reality of his presence.
Start each day by inviting God, Help me pay attention to you, God. Nudge me when it's a good time to help my kids connect with you.
Your kids can do the same thing. One of the most freeing realizations I've had as a parent is that, though teaching my kids about God is my job (Deuteronomy 6:4-9), God himself is at work in my kids' lives. He loves them, nurtures them, guides and shapes them in ways I may never realize or see! Yet as a parent, it's a privilege to build and draw out each child's interest in listening to God. You can invite your children to be on the lookout for God and to pay attention to him. They'll be delighted as they learn to see God's character in the created world, hear his voice in Scripture, and listen to his nudgings in the quietness of their hearts.
And finally—and this is absolutely key—is the principle of listening to your child during God-moments. At times you'll want to speak truths and teach important ideas about God, but ultimately put your focus on listening. Ask open-ended questions, then just create space for your child to respond. Be okay with silence or incomplete answers. The goal is for you to help your child connect with God, and then for you to step out of the way. Over time, your demeanor of honest and curious listening will set the tone for a healthy spiritual life your child will carry with her long after she leaves your home.
A Rhythm, Not a Project
Creatively capturing God-moments certainly takes intention and at times requires planning, but it should never be something that's one more stressful burden on your life as a parent. This isn't about spiritual to-do lists or loading yourself with unrealistic expectations! Just as God is present in each moment for your children, he is also present for you. As you seek to live in greater awareness of God's presence and as you reflect on how God is connecting with you through the experiences of your life, your joy and confidence in ushering your kids into God-moments will grow and become a natural rhythm in your family life.
Jesus' promise to the disciples is true for you and your kids; it's true in the sandbox, on the bus, in the middle of finger-painting, during a soccer game, doing chores, and taking a bath: "And be sure of this: I am with you always, even to the end of the age" (Matthew 28:20).
Kelli B. Trujillo is a TCW regular contributor and author of Faith-Filled Moments: Helping Kids See God in Everyday Life. www.kellitrujillo.com
Read more articles that highlight writing by Christian women at ChristianityToday.com/Women
Transforming Experiences
Read These Next