Mothers, Daughters, and Sex
6 tips for "the talk." Hint: You'll need to have it more than once.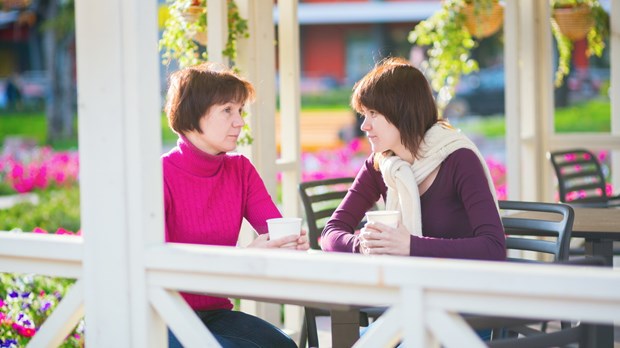 "I remember the night like it was yesterday," my friend said. "I was tucking my daughter in, and I leaned over to hug her and noticed her body was starting to develop. My first thought was, NO. Stop growing!
Somewhere in our hearts we know they'll grow up and become women, but it catches us off-guard. When bodies start changing, and questions start coming, and emotions hit the spin-cycle, will you be ready to help your daughter embrace and express her sexuality the way God intended?
Most of us do not feel ready for these conversations. Here are a few suggestions for approaching the topic of sex with young girls:
1. Sexuality is as much a part of us as personality.
Our understanding of sex is complex, with roots in biology, psychology, family dynamics, and in the culture around us. Psychologists consider sex a primary drive in humans, along with hunger, thirst, and pain avoidance. Our drive toward sex is built-in and instinctual. Sex is also a primary drive in the creation narrative. In Genesis, God creates land, sky, animals and humans, and his first blessing for men and women is the ability to "be fruitful and multiply" (Genesis 1:28). Understanding the primary nature of ourselves as sexual beings, blessed by God for the enjoyment of sex within the safe bounds of marriage, helps us orient the way we speak with our daughters about love, relationships, and their sexuality.
2. Being sexual is normal and good.
Being sexual is not only a normal part of who we are, but it is also good. Sexuality is normal and good. Some of us need to read that again. Sexuality is normal and good. In my counseling practice, I noticed a striking trend with mothers and daughters. While parenting a teenage daughter, women often realize their own deep issues with sexuality. As your own daughter begins to mature and you notice men noticing her, something can be triggered inside of you. A memory or an unhealthy or abusive relationship may surface from your childhood that makes you feel tension and conflict around your daughter's maturity. If you are sensing that your emotional upheaval is beyond what's normal, don't rush your daughter to counseling—bring yourself! A healthy mom is better equipped to raise a healthy daughter. Let this be a time for you to heal from your past and move forward in freedom in the area of healthy sexuality.
3. What culture has hijacked, we can claim back with love, authority, and affection, but it starts with our own lives.
One reason why we often run away from conversations about sex is our own ambivalent feelings about it. Think about what your parents told you (or didn't tell you) about your own sexuality. As it's often said, "More is caught than taught." If you have a contentious relationship with your own sexuality, this will be expressed in the way you instruct your daughter.
Discussions about sex that are good and appropriate are one way we can claim back God's place and plan for intimacy. If you are currently married, you can express affection for your husband in appropriate ways, teaching your kids by example that the marriage relationship is different than any other relationship. Date nights and choosing to spend a night away from the kids are ways you express the importance of intimacy. If you are divorced or single, try to widen your circle of influence for your children through church and other friendships, and discuss the components of a healthy relationship with your kids. Don't shy away from the conversation because of your own struggles. Everyone—married or divorced—is a flawed person who can't do anything perfectly, including sexuality. We must all approach this topic with humility and sensitivity, and discussing our "lessons learned" from failures of all kinds is a way that we express to our kids that we don't expect them to be perfect.
4. Scripture clearly states a difference in expressing sexuality inside and outside a relationship with God.
"But people who aren't spiritual can't receive these truths from God's Spirit. It all sounds foolish to them and they can't understand it, for only those who are spiritual can understand what the Spirit means" (1 Corinthians 2:14).
One of the mistakes I see parents make is using Christianity as a behavior-modification tool for their children. Scripture makes it clear that those who are living by the Spirit live under a different set of rules. If your child has affirmed her own belief in Christ, the conversation about her sexuality should involve God's very clear instructions in this area. But it's important to understand that your daughter's expression of her sexuality can be a rebellion to the Lord or a place of need in her heart where she has not accepted Christ's authority. "Because it's God's plan" might not be the best approach with your daughter if she's far from God.
'Because it's God's plan' might not be the best approach with your daughter if she's far from God.
The good news is a healthy self-image and appropriate boundaries on sex are important for anyone, regardless of her relationship with God. Consider common-sense approaches to talks on sexuality that still communicate God's design for sex without over-spiritualizing the conversation. Think of the many reasons God designed sex for marriage that make total sense (protection of body, pregnancy, protecting powerful emotions, and so on). Using these reasons can help you keep the conversation going with your daughter even if she's struggling in her faith.
5. We must contextualize an understanding of self-control, as it pertains to a woman's sexuality.
Most of us rarely hear women share honestly about their own struggles with temptation or lust. Women's sexuality is a powerful force, and your daughter will experience this power as she matures. This is a time where she will have to wrestle with what feels good versus what is good. Your daughter can use her sexuality in all kinds of unhealthy ways, whether that's by using guys to make her feel affirmed, using her body for attention, or using her reputation for popularity. But what feels good in the moment can quickly become enslaving, "For you are a slave to whatever controls you" (2 Peter 2:19). Helping your daughter understand the concept of self-control is an important way you shape her understanding of sex. Her sexuality is important and powerful and must be used appropriately—and that is no one's responsibility but her own. This is a character-shaping season of life, and talking with your daughter about freedom and responsibility with the way she dresses, talks, and acts is part of you helping her understand self-control and maturity.
6. We can ask God to heal us so that we can accurately express his heart toward our daughters.
My pastor once said, "We live in a culture that calls truth a lie, and calls lies the truth." As women, it is our privilege and responsibility to courageously and compassionately shepherd the next generation of women, helping them uncover the lies about their sexuality, and gently leading them into an accurate and beautiful picture of God's intended design for sex. It's a little mysterious and sometimes scary, but we can change the story for our daughters. And that redeemed story begins with us.
Sign up for TCW's free e-newsletter at this link for weekly updates and opportunities to win free books and music.
Nicole Unice is a regular contributor for Today's Christian Woman and the author of She's Got Issues (Tyndale, 2012) and co-author of Start Here: Beginning a Relationship with Jesus (David C. Cook, 2014). She is a ministry associate at Hope Church in Richmond, VA, and mom of three, including one awesome daughter. Find her speaking calendar at www.nicoleunice.com.
Read more articles that highlight writing by Christian women at ChristianityToday.com/Women
Mothers, Daughters, and Sex
Read These Next